The second estimate for first quarter GDP was no better than the first estimate. It was worse - much worse.
With more complete source data, the Bureau of Economic Analysis estimated that first quarter GDP declined 1.0% on an annualized basis versus the first estimate that revealed a paltry 0.1% growth rate.
That was the weakest reading since the first quarter of 2011 when GDP declined 1.3%.
In that light, we can say the report on our domestic product was literally gross. We can also say that it was a quantitative reminder that the Federal Reserve's quantitative easing has failed to produce sustainable economic momentum. That's no small revelation either considering the Fed's balance sheet is now one-fourth the size of nominal GDP.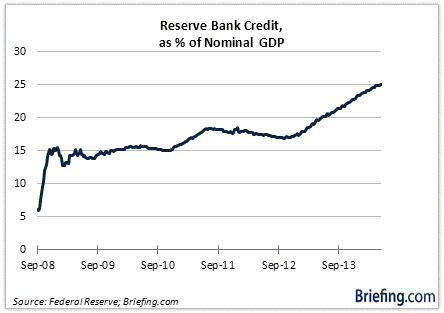 Running Hot and Cold
We understand that there will be recriminations that first quarter GDP wasn't as bad as the headline number implied. That view is as hot right now as the polar vortex in the first quarter was cold.
Still, even if we allow for the assumption that severe winter weather conditions subtracted as much as 1.5 percentage points from GDP, as some reports have suggested, that would leave first quarter GDP up just 0.5%.
If the change in inventories, which subtracted 1.6 percentage points, is also removed from the equation, real final sales would be up 2.1% versus the lowly 0.6% growth rate reported. That's not bad, yet it's still no better than the 2.1% average for real final sales for the prior 12 quarters when real GDP growth averaged just 2.2%.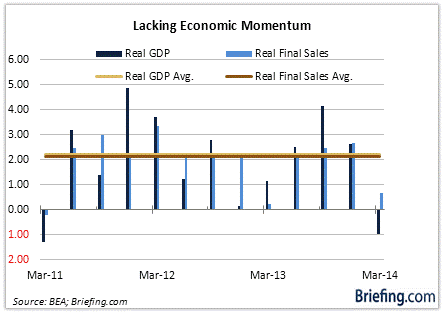 What about personal spending?
Personal spending, or PCE as it is known in GDP terms, accounted for 69% of first quarter GDP and was up 3.1% versus a prior 12-quarter average growth rate of 2.1%. That growth contributed 2.09 percentage points to first quarter GDP.
Tough to argue with that headline, but we can thanks to the details below the headline that show personal spending was not fueled by discretionary spending.
The breakdown of the PCE component showed goods spending (durable and nondurables) added only 0.16 percentage points to GDP while services spending accounted for 1.93 percentage points. Out of the latter total, housing and utilities spending (think heating) contributed 0.77 percentage points while healthcare spending contributed 1.01 percentage points in the wake of the implementation of the Affordable Care Act. That was the largest contribution from housing and utilities since the first quarter of 1985 and the largest contribution from healthcare ever.
It all helps drive GDP, but that isn't exactly the type of increased spending the Fed's quantitative easing dreams are made of. In those dreams, not only is discretionary spending increasing rapidly along with equity and home prices, but so, too, is business spending. In the first quarter, spending on business equipment, which isn't influenced by short-term factors like the weather, declined 3.1%.
Holding Our Opinion
Why get so hung up on the first quarter GDP report when there is just one more month left in the second quarter? There are 4.3 trillion reasons why.
The Fed has created a whole lot of money to buy Treasuries and agency mortgage-backed securities in an effort to stimulate activity by keeping interest rates low. We imagine that the Fed's paper-based return on its own investments is pretty darn good. The problem is that the real economic return on that investment continues to underperform.
The first quarter GDP report suggested as much and the majority of GDP reports since quantitative easing began in late 2008 have as well. There have been a few periods when GDP has exceeded potential growth, but regrettably there has been nothing sustainable about that growth.
The Fed nonetheless has been cutting back on its asset purchases on the advertised belief that cumulative progress toward maximum employment has been made since the launch of QE3 in September 2012 and that "...there is sufficient underlying strength in the broader economy to support ongoing improvement in labor market conditions."
We said last September in our column, Federal Reserve Ready to Act with Its Comedy-Tragedy Mask, that the Fed's decision to taper its asset purchases would be motivated by the recognition that the costs of its quantitative easing program have greatly outweighed its benefits, but that it wouldn't be explicit in stating as much because that would be tantamount to admitting its policy approach was inadequate. We averred that the Fed would take the sunny-side way out and emphasize the improvement in the labor market.
The first quarter GDP report - with or without weather effects - did not alter our opinion.
The second quarter GDP report won't either because it still won't be enough to prove economic momentum is being sustained. What it will prove is that the economy bounced back notably from a lower-than-expected base of economic activity in the first quarter. To that end, the big drag from inventories in the first quarter should pivot to a big boost in the second quarter. We've bumped up our Q2 GDP forecast to 3.3% from 2.4% on account of the inventory variable.
Our forecast will still leave us on the low side of most forecasts since we continue to think that there isn't as much pent-up demand from the weather issue in the first quarter as most economists think there is. The Personal Income and Spending report for April did not alter that opinion either. Real PCE declined 0.3%, with spending down versus March for durable goods, non-durable goods, and services.
What It All Means
The only statistic that matters for a lot of people, though, is that the S&P 500 hit a new record high in spite of the lowly first quarter GDP report. That move was yet another indication of the split between the real world, which has not been helped in a convincing manner by the Fed's monetary policy, and the stock market's virtual reality world, which has.
Quantitative easing and interest rates at the zero bound are the stuff the stock market's dreams are made of. In that regard, the Fed has been very successful in boosting wealth for those who own stocks and a home. The wealth effect, however, has not been the boon for the real economy that was envisioned because less than half of all US households own stocks and roughly a third of occupied homes are not owner occupied.
In other words, the trickle-down effect of the wealth effect has indeed been a trickle in broader economic terms. The longstanding ebb and flow of GDP reports since the Fed went to the zero bound and instituted quantitative easing suggests as much.
The first quarter GDP report, while dated, was still informative. Generally speaking, it revealed that growth wouldn't have been that strong even without the debatable effect of the severe winter weather. Specifically, and more importantly, it showed that the Fed's policy approach is still falling grossly short of reviving potential growth on a sustained basis.
Disclosure: I have no positions in any stocks mentioned, and no plans to initiate any positions within the next 72 hours. I wrote this article myself, and it expresses my own opinions. I am not receiving compensation for it. I have no business relationship with any company whose stock is mentioned in this article.