By Sumit Roy
Natural gas and palladium rallied, but all other commodities we cover fell. On the flip side, stocks, as measured by the S&P 500, hit a fresh record high above 1,921. The index rose a little less than 1 percent for the week, bringing its year-to-date gain up to 3.8 percent.
Macroeconomic Highlights
This week's economic data were mixed, but investors continue to believe that the U.S. economy is on a slow and steady growth path. According to the Commerce Department, durable goods orders in the U.S. rose by 0.8 percent in April, much better than the 0.7 percent decline that was expected. Additionally, the sales increase for March was revised higher, from 2.6 to 3.6 percent.
Meanwhile, according to the S&P/Case-Shiller home price index, U.S. housing prices rose by 1.24 percent in March. That leaves them 12.37 percent higher than a year ago.
Also on the positive side, the Labor Department reported that the number of people filing for unemployment benefits fell from 327K to 300K last week.
However, the government surprised many by sharply revising its estimate of U.S. first-quarter growth lower. According to the Bureau of Economic Analysis, U.S. gross domestic product in the first quarter contracted by 1 percent annualized, down from its initial estimate of 0.1 percent growth. Economists say that adverse weather was largely responsible for the dismal performance in the quarter and that growth will pick up throughout the rest of the year.
Finally, the BEA had a mixed message when it came to personal income and spending. According to the bureau, personal income in the month grew by 0.3 percent, as expected. However, personal spending edged down by 0.1 percent, below the 0.2 percent gain that was anticipated.
Commodity Wrap
| | | |
| --- | --- | --- |
| Commodity | Weekly Return | YTD Return |
| Natural Gas | 3.40% | 7.80% |
| Palladium | 0.68% | 16.76% |
| Brent | -0.98% | -1.21% |
| Soybeans | -1.39% | 13.86% |
| WTI | -1.46% | 4.48% |
| Platinum | -1.56% | 5.94% |
| Copper | -1.89% | -8.24% |
| Corn | -2.51% | 10.43% |
| Gold | -3.64% | 3.31% |
| Wheat | -3.68% | 3.97% |
| Silver | -4.01% | -4.06% |
Gold and silver plunged this week as a rising dollar and soaring stock markets sapped investor demand for the safe-haven duo. The yellow metal hit a four-month low and the gray metal hit an 11-month low (see UBS' Brian Nick: Macro Outlook Not Supportive Of Gold, Earnings To Drive Stocks).
Next week, on June 5, the European Central Bank is widely expected to ease its monetary policy to combat the strong disinflationary trend in the eurozone. Anticipation of the move has been euro-negative (and dollar-positive), and depending on how currencies react next week, it could have an impact on gold and silver.
Gold's break of the $1,275 support level leaves it in a precarious position. The next support lies at the current cycle low of $1,180. Similarly, silver's break of $19 leaves a clear path to its next support level at $18.
GOLD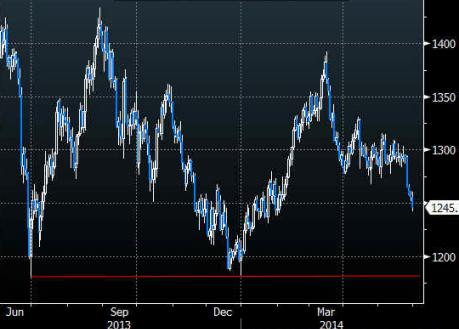 SILVER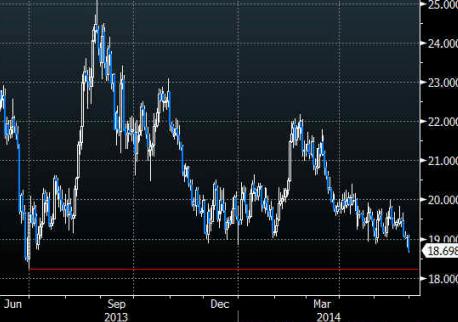 PLATINUM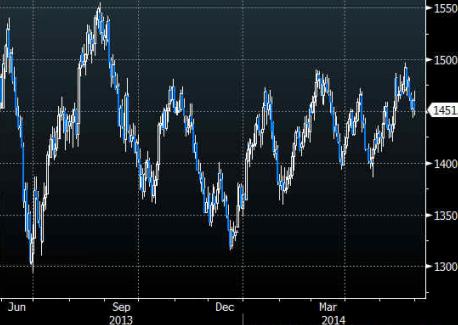 PALLADIUM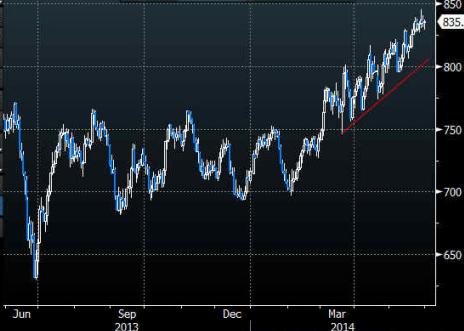 Crude oil sagged this week as what remained of the Ukraine-Russian risk premium came out of prices. Overall, however, Brent and WTI remain locked in their respective trading ranges of $105 to $112 and $97.50 to $105.
BRENT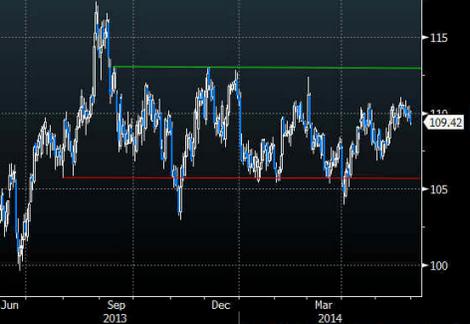 WTI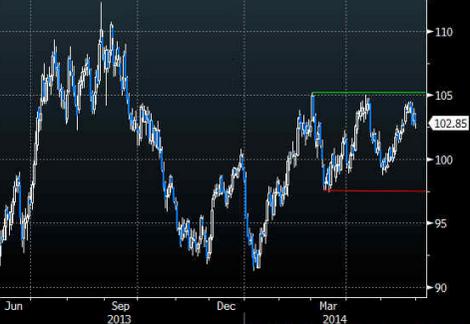 Grains tumbled as favorable weather conditions allowed farmers to make progress on their plantings in the U.S. About 88 percent of the corn crop had been planted as of last week, a pace that is ahead of last year.
Additionally, with the Russia-Ukraine situation moving out of the headlines, supply concerns are in turn fading. In our view, prices may continue to edge steadily lower as long as weather conditions in the U.S. remain favorable.
CORN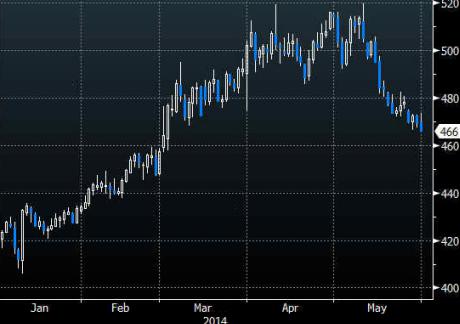 SOYBEANS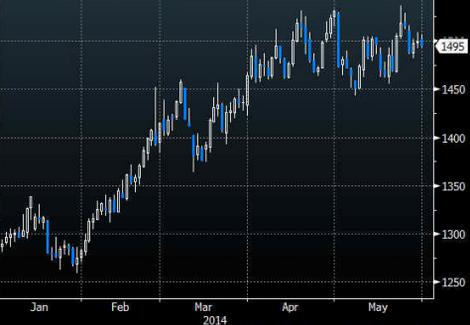 WHEAT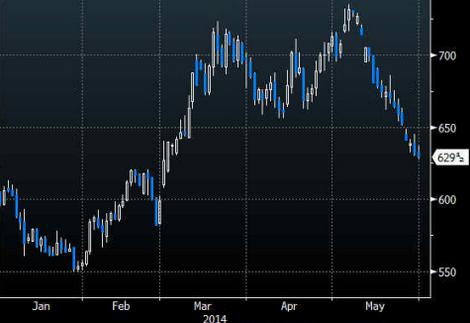 Copper's rally stalled after prices were unable to break through the $3.20/lb level. Traders continue to keep a close eye on the Chinese economy. The Asian giant consumes roughly 40 percent of global copper supply annually.
COPPER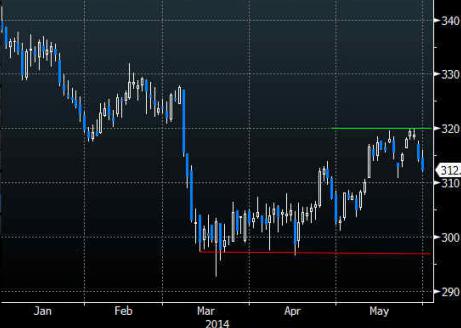 Natural gas was the top-performing commodity of the week. Forecasts for warmer-than-normal temperatures during the early part of June more than offset a big inventory build reported on Thursday (see Big Inventory Build Doesn't Push Down NatGas Prices As Summer Heat Looms).
Prices may continue rallying to the $4.85/mmbtu resistance level. If summer heat lasts into July, prices could top $5.
NATURAL GAS