Focus on Chipotle Mexican Grill
Chipotle Mexican Grill (NYSE:CMG) is not a restaurant chain.
It is a high-speed, high-efficiency machine designed to squeeze every ounce of profit out of 15 feet worth of counter space and a few hundred pounds of fresh meat, vegetables, and tortillas per store per day. This machine works very well. Over the past few years, profit margins have been consistently high-higher than any firm operating wholly-owned chain stores and more than a few operating as a franchisor. Truly, its ability to convert revenues to profits is impressive -- almost perfect in fact.
However, the curse of perfection is that it is hard to measurably improve. If Chipotle wants to increase its profits, then, there is no way for it to do so than to generate more revenues.
The market is pricing Chipotle as if it will grow forever. How far and how fast can it actually generate more revenues?
How Chipotle can Generate More Revenues
There are only three ways Chipotle can continue to generate the robust revenue growth for which it is famous -- sell more burritos at current stores, open more stores to sell burritos, and open new stores to sell something else.
Let's take a look at each of those options and see if we can develop a view as to reasonable limits to Chipotle's future revenue growth.
Sell More Burritos at Current Stores
There are a few pieces of data that the firm… spoon feeds… to the investor community to give it a sense of how effective Chipotle locations are at slinging burritos. My favorite is average annualized sales per restaurant. We graph that quantity, along with the net number of stores added (which we discuss more in the next section) since Chipotle's IPO: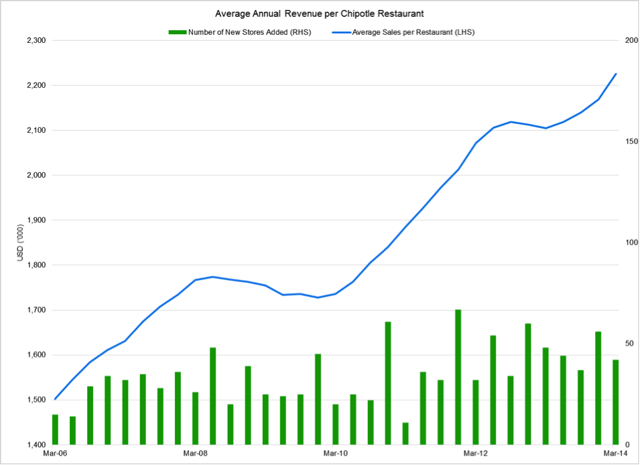 Figure 1
Source: Company Statements, YCharts Research
The average sales trend has been consistently upward with a compound annual growth rate of just over 5%; in the most recent quarter, the figure topped $2.2 million. In terms of locations, Chipotle now runs about 1,500 of them (from 500 in 2006) and the CEO believes there is room in the marketplace for about 3,000 domestic Chipotle locations all together.
A big factor of the impressive graph above is actually an artifact that has to do with the lifecycle of a restaurant and an expanding chain. When a new store opens, sales tend to be lower than at maturity. As word of the new restaurant spreads, more people begin to patronize it and sales increase. Eventually, sales growth flattens out if for no other reason than a single restaurant can only serve so many people in a given span of time. Graphically, this lifecycle can be represented in this way: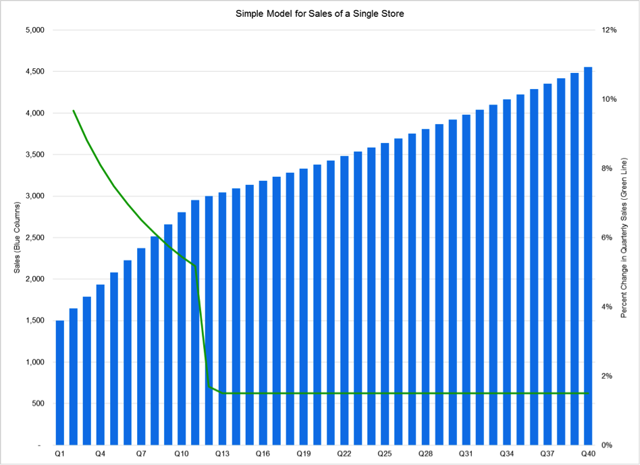 Figure 2
Source: YCharts Research
This simple model says that first quarter sales will annualize to around $1,500 per year and grow to a maturity sales rate of $3,000 per year in three years. After this point, we assume that quarterly sales will increase at 1.5%. It is a simple model (which we have built based on statements by Chipotle's managers and the firm's financial statements), but conceptually valid.
Chipotle is a growing chain, so the average sales number is affected by the dynamic of adding new locations overlain on this business life cycle dynamic. Extending the above simple model to a 20-store chain, we get the following: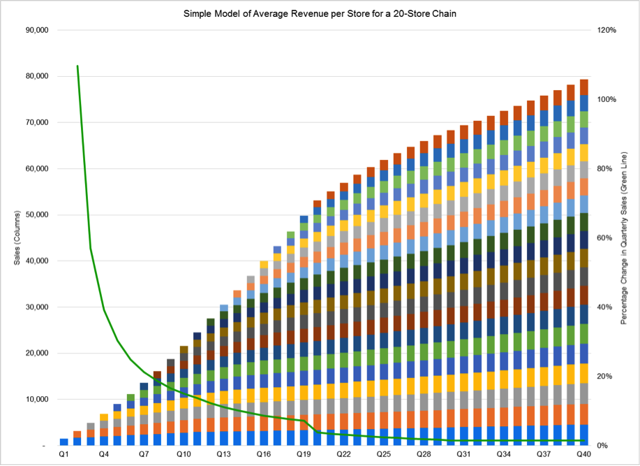 Figure 3
Source: YCharts Research
Here, we can clearly see the effect of more and more locations heading toward maturity-initial growth is rapid, but as all stores in the chain reach maturity, the trajectory slows notably.
Using this same simple model, we have graphed our hypothetical 20-store chain's average revenue per store (the same statistic as listed in Figure 1):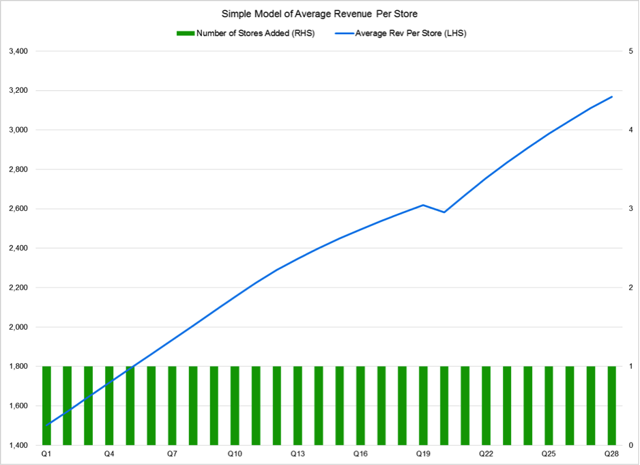 Figure 4
Source: YCharts Research
From this illustration, it should be clear why extrapolating past results might give a misleading impression regarding Chipotle's revenue growth potential. Chain growth interacts with the single-location maturity cycle to make it seem that each individual store is doing better and better over time, but indeed, this result is partially an artifact of more stores with overlapping maturity cycles.
Chipotle clearly has a good business, but its locations must still obey physical laws of time and space. Only a certain number of people can be served at any one location -- a quantity that Chipotle terms "throughput." According to management, the highest throughput locations can serve meals to over 300 customers in an hour -- an average of one meal every 11 seconds -- and it is hard to believe that a meal could be served much faster than that.
Keeping this fact in mind, realize that most of Chipotle's business is generated during two fairly short time windows -- lunch and dinner. Let's say that a very busy location will have a throughput of 600 people during both lunch and dinner, for a total daily burrito volume of 1,200. If the average check for a Chipotle is somewhere around $8, that would mean a single location could generate a daily revenue of $9,600. Let's say the location could generate that daily revenue 360 days out of the year (deducting something for holidays, rainy days, etc.). That calculation brings us to an estimated maximum annual per-store revenue of roughly $3.5 million -- about 50% greater than the present average.
While it is technically possible for each of Chipotle's locations to generate this level of annual revenues, it is difficult to believe that all present Chipotle locations will be able to do this in practice. If we assume that a reasonable upper limit for per-restaurant annual revenues is somewhat less than $3.5 million and somewhat more than $2.2 million -- say closer to $3 million -- Chipotle's present aggregate revenue capacity for the 1,458 stores that have been open at least a year is $4.4 billion and for the 1,637 stores open as of the latest quarter is $4.9 billion. These figures represent a sales increase of 30% and 45%, respectively.
A revenue increase of between 30% and 45% would be breathtaking if generated over one year, but keep in mind that this is our approximate total revenue capacity for present Chipotle locations, meaning that once this capacity is reached, growth will be mostly flat, all things held equal. Also keep in mind that we are assuming that all Chipotle locations will eventually operate with nearly the throughput of its most high-traffic super stores.
These numbers may not be exactly right, but it does suggest that Chipotle's present locations are generating a fairly large proportion of their potential revenue, implying there is not a terrific potential for sales growth from existing stores -- perhaps high single-digit or low double-digit growth over the next three to five years.
This brings us to the second way Chipotle may be able to boost revenues -- by opening more burrito stores.
Open More Burrito Stores
This is a great plan.
Chipotle has terrific, fresh food that represents a healthy (well, sort-of…) change from other fast-food choices (like McDonalds (NYSE:MCD)) and more filling and economical than other fast-casual choices (like Panera (NASDAQ:PNRA)). This author and others in the author's socio-economic cohort can't get enough of Chipotle's sublime foil-wrapped goodness.
Chipotle knows it has a good thing going and is adding enough stores each year to make it 3,000 locations within another five to seven years.
If we build on our earlier calculations, we would have 3,000 locations that are fully mature 10 years from now and each of them is generating an inflation-adjusted $3 million per store ($4 million per store assuming a straight 3% inflation increase), we would have aggregate revenues of $12 billion. This implies a 10-year compound annual growth rate of 13.6%, and we think this is a reasonable expectation for growth, as long as the 3,000 store estimate is valid.
How valid is the 3,000 store estimate?
The big problem with Chipotle, in terms of classic ideas about business strategy and competition, is that the chain has no natural protection for its business (i.e., patents, monopoly access to means of production, etc.). Chipotle has a good idea -- limited menu and high throughput, transparent, customized preparation of meals, fresh ingredients, and a minimalist décor in its stores. None of those things are difficult to replicate, and competitors are replicating it every day.
Hasty offices are close to the Merchandise Mart in Chicago. Alongside high-end architectural products stores and offices, there is a food court with, among other things, a Pret a Manger, a Starbucks (SBUX), an Au Bon Pain, and a Dunkin' Donuts (NASDAQ:DNKN). There is also a "Haba Nero Baja Grill."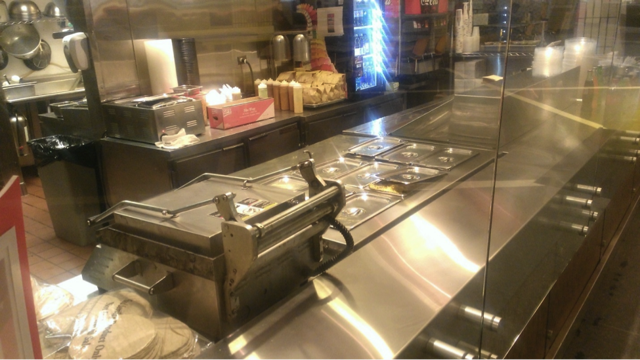 Blurry photo courtesy of author. Thanks to the manager of Haba Nero Baja Grill
If Haba Nero (and countless shops like it) was a music download, it would be sued by Sony. Everything about it is the same as Chipotle. The menu consists of Burritos, Burrito Bowls, Tacos, and Salads -- same as Chipotle. The ordering process is the same and the throughput, while perhaps not as good as some of Chipotle's legendary 11-second meal super-locations, is about what the author would expect at a "normal" Chipotle restaurant.
Knowing that the Chipotle formula is easy to copy, if I were a Chipotle executive, I would be trying to figure out how to put a Chipotle location at the number one best location for each area that met my demographic criteria while preserving the customers' quality of experience and Chipotle's brand image.
What is Chipotle doing? Issuing its co-CEOs and other executives tons of stock and soaking up dilutive effects by using owners' money to buy back shares.
Ridiculous.[1]
What is the cost to owners of this ill-conceived strategy to enrich the founder (Steve Ells), his childhood friend (Monty Moran), and their inner management circle?
First, there are the direct costs to shareholders, which we estimate have averaged at around $100 million per year since 2009.
However, the direct costs may not be those most deleterious to owners; in our opinion, it is the cost of growth opportunities management is foregoing that really hurts.
We estimate it costs roughly $300,000 for the construction and outfitting of a new, strip-mall location.[2] An average of $100 million per year spent on a backdoor management compensation scheme implies that over 300 stores per year cannot be built. If, in fact, it costs four times our estimated amount -- $1.2 million -- for each new store opened, this is still 80 locations that cannot be built.
80 additional new stores a year may not be logistically plausible or strategically wise, but the point is that Chipotle's management compensation policy is, in fact, a bane on Chipotle's growth, not a boon to it.
Every time a Haba Nero or other knock-off springs up, it is essentially revenue growth forever lost to Chipotle owners. Burritos are not lattes; it's not as though most population centers have room for fast casual burrito stands at every street corner.
Let's say that Chipotle's executives are right and there is room for 3,000 locations selling fresh burritos in the US. If 10% of these locations are non-Chipotle restaurants, we end up with a maximum Chipotle store count of 2,700, and an implied maximum growth rate over the next 10 years of around 12.5%.
Even if, for strategic reasons, Chipotle management did not believe it prudent to expand[3] so quickly every year, it might use the misspent management compensation to issue dividends ($3.33 on each CMG share outstanding[4]) or to buy or build a chain that sold something else.
Open More Stores Selling Something Else
Chipotle bought or built a few other chains -- one Asian, one soul food -- but the aggregate store counts are small. If these work out spectacularly, they will contribute to Chipotle's growth, but not for years. Chipotle was a private company for 13 years and had about 500 locations before going public; revenue that first post-IPO year was $471 million. That's nothing to sneeze at, but $471 million is only about 4% of the aggregate revenue figure we calculated above. In short, Chipotle is starting to bump up against the law of large numbers (the finance version, not the proper statistical one), so it will be harder for it to materially increase its revenues without a very large investment. (This same argument, by the way, applies to Chipotle's overseas strategy. The chain has only a dozen foreign locations, so even if management did want to embark on an aggressive cross-border expansion program, it will take a long time before its revenue contribution becomes material).
Of course, one other idea is that Chipotle could use its current locations to sell something slightly different such as breakfast tacos. This may be a way to squeeze a bit more revenue out of its existing store base, but this author cannot help thinking that serving breakfast will… take a bite out of… lunch sales. How many times per day would you eat a Chipotle burrito?
Summing it All Up
Considering the back-of-the-envelope calculations made here, unless the firm can figure out a way to apply the principles of quantum entanglement to burrito manufacture, it seems hard to imagine Chipotle's revenue growth over the next ten years running too much over the mid-teens percentages. Even this figure represents somewhat of a Goldilocks scenario, in our opinion.
[1] The author is not the only one who thinks so.
[2] This calculation comes from an analysis of the "Pre-Opening Costs" line item on Chipotle's financial statements and also conversations with an executive at a commercial construction company. The executive, while never having been involved on a job for Chipotle, has built out jobs for similar restaurants and thought the $300,000 mark was in the right ballpark for construction costs at least.
[3] There is a good case to be made that overly-aggressive growth is damaging to a company in the long run.
[4] Own three shares, get a free burrito…
Disclosure: I have no positions in any stocks mentioned, and no plans to initiate any positions within the next 72 hours. I wrote this article myself, and it expresses my own opinions. I am not receiving compensation for it. I have no business relationship with any company whose stock is mentioned in this article.