I've been on vacation these past two weeks, and now it's that last leg of the holiday used to recover from the first phase of holidaying. And as I returned home, my phone died on me. This is most annoying. It is also very, very hot. The day I landed back in Delhi, the temperature hit 47⁰ C (that is near 116.6⁰ F).
Just before I left on vacation, El Nino chatter was running high. My first thought was energy and hurricanes: a strong hurricane season normally supports elevated energy prices. In prior El Nino years, we had terrible Ivan during 2004, in 2006 we had the less deadly Helene and Gordon, and in 2009 we had Bill, who was a softy. But as it happens, El Nino suggests odds are for a weak hurricane season - this post at NOAA says as much - they predict a weak Atlantic hurricane season, while highlighting that it takes but one baddie to make a difference. El Nino is believed to cause long and cold winters in Northern Europe (though this does not hold true if it is a strong El Nino year), and a warmer winter in Southern Europe. So we could reasonably expect El Nino to cause elevated gas prices this winter, and this expectation is also supported by the present Russia/Ukraine/Europe situation. I am done with hurricanes and cold weather, so I decided to move on to hot weather - because it is hot, hot, hot, and getting hotter!
The first hints came in March this year as the price of lime shot through the roof as the major soft drink beverage makers bought ahead of the season. El Nino makes things hot in almost all of South America, India, and South East Asia. We will be drinking lots as we swelter in the heat through the summer. And this provides some scope for upside surprises to earnings estimates for the Beverages - Soft Drinks industry. It will be good for the beer makers too, but today I am looking at soft drinks because I want hydration, not dehydration.
This is a list of the Beverages - Soft Drinks makers with AOM scores of over 60%. AOM is a quantitative scoring model made up of 15 sub-models, which seeks to analyze behavior of a variety of market participants. It is intended as a tool to understand the behavior of different market participants using quantitative techniques, and then bring that data together so that users can hear the voice of the market through the noise.

Source: GetAOM
Dr Pepper Snapple (DPS), Monster Beverage (NASDAQ:MNST) and Pepsi (NYSE:PEP) make it to the list. Dr Pepper Snapple derives about 88% of its sales from North America, and since I am looking specifically for an El Nino play, it is not quite what I am looking for. Monster Beverage derives about 23% of sales from outside North America and so they are a potential El Nino beneficiary. And of course Pepsi is a major global player and will stand to benefit from hot weather which might be delivered by El Nino.
Valuation
Pepsi is not cheap at near 18 times 2015 earnings estimates. But it is cheaper than the 23.5 times multiple of 2015 earnings estimates we see for Monster. Pepsi comes with a Value Line Beta of 0.65 compared with 0.80 for Monster, and so it comes with a lower perception of risk. Pepsi is also safer since it comes with a healthy dividend yield of near 3%.
Monster's edge lies in the growth adjusted valuation: it comes with a lower PEG ratio compared with Pepsi. Growth, however, is no longer as exciting as it was a few months ago, because in recent times, growth has started underperforming value.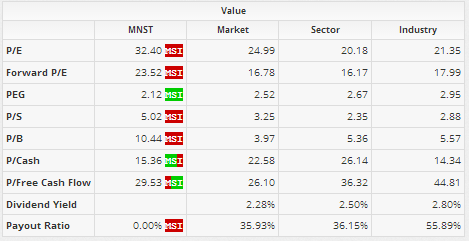 Source: GetAOM
Source: GetAOM
Growth
As far as growth is concerned, Monster has outdone Pepsi in all of the key growth indicators, except for the current year EPS growth, which is a slight concern. All said and done over the coming five years, Monster can be expected to outperform Pepsi: they have a relatively low presence outside North America and this provides an opportunity for continued growth acceleration.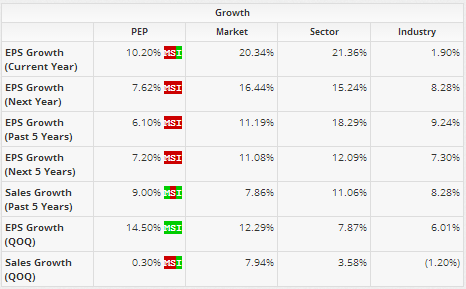 Source: GetAOM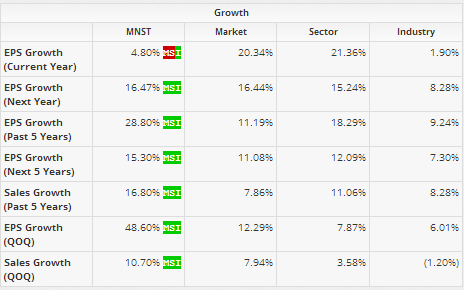 Source: GetAOM
Quality
Monster's quality is impeccable. Insider and institutional ownership are high in comparison to Pepsi and the soft drinks industry. Return on assets, equity and investment also outperform the industry and Pepsi. And while gross margins underperform Pepsi and the industry, the operating and net margin at Monster are ahead of industry as well as Pepsi.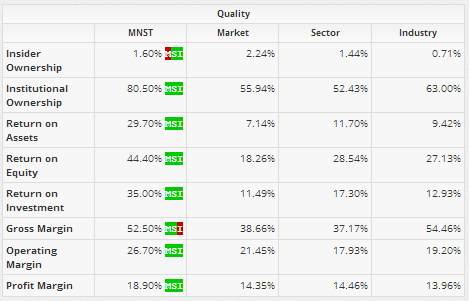 Source: GetAOM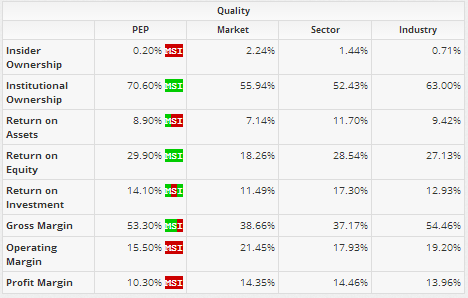 Source: GetAOM
Momentum
Momentum at Pepsi has been stronger lately. Monster's underperformance on momentum is most likely as a result of investor preferences shifting from growth to value and a swing in interest towards mega cap stocks.
Source: GetAOM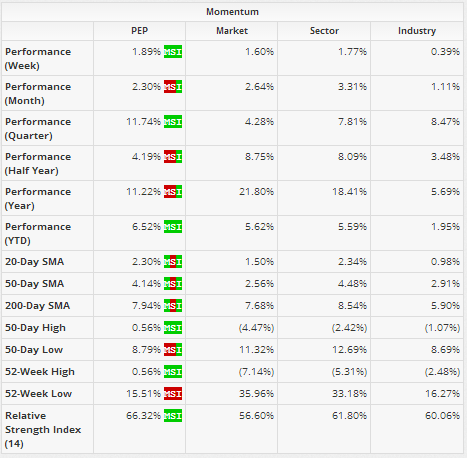 Source: GetAOM
In my view both Monster and Pepsi are good companies. I also believe that long-term investors will get a better price opportunity to buy in time to come. But if I had to choose one now, it would have to be Pepsi: the implied growth risk premium offered to investors in Pepsi offers a far better alpha creation opportunity in comparison to Monster.
An El Nino investor looking for trading gains from an earnings surprise in the coming two quarters could be pleasantly surprised with both stocks. Given my perception of present risk appetites and where the stocks and markets are priced, if I had to select one, it would have to be Pepsi.
Disclosure: I have no positions in any stocks mentioned, and no plans to initiate any positions within the next 72 hours. I wrote this article myself, and it expresses my own opinions. I am not receiving compensation for it (other than from Seeking Alpha). I have no business relationship with any company whose stock is mentioned in this article.