Visa (NYSE:V) has seen incredible growth in recent years, with wide profit margins, strong and consistent revenue growth, and high returns on capital. Operating one of the world's most advanced processing networks, it grew revenues by more than 65% over the last five years, at an annual rate of 14%. And despite such remarkable growth, it has a number of factors favoring further uptrend. Below I discuss three compelling reasons to buy and hold this payment giant.
International opportunities, especially in emerging markets
Although Visa has been around for decades, it is still not a popular way of transacting in many parts of the world. The developing markets of Asia, Africa, Latin America and the Middle East significantly lag mature markets of North America and Europe that account for about two-third of global non-cash transaction volumes.
Nevertheless, according to Capgemini's World Payments Report 2013, CEMEA, Latin America and Emerging Asia regions are seeing a massive surge in adoption and usage of credit/debit cards or other forms of cashless transactions. The transactions volume in these economies is expected to double in the next five years.

At the end of FY2013, Visa generated about 56% of its revenue from the United States and Europe, while only 44% from rest of the world. About 85.2% of the world's population reside outside the US and Europe, which means the potential for growth is immense and we can expect growth rates to remain high.
A large part of the company's growth is attributable to the shift from cash and checks to electronic payments. The good news for its shareholders is that cash remains the way much of the world still pays for goods and services. Around 41% and 62% of consumer spending, respectively, in developed and developing parts of the world are made in cash and checks, once again, indicating a significant growth potential.
According to the report by Capgemini, volume growth in global non-cash payment transactions has accelerated in recent years, with developing markets fueling the rise - a trend it forecasts to continue in years to come.
Innovation in payments
For years Visa has been misperceived as some financial institution or as a credit card company. In reality, it is a digital payments network that enables commerce across the globe by digitizing the exchange of value, supported by advanced payment technologies that can authorize, clear and settle transactions in more than 175 currencies within seconds. To do so, it has to have technology that is not only scalable but also reliable.
Innovation in payments led Visa to credit/debit cards - for which it's famous - along with prepaid and other commercial products. However, now the company is working to accelerate the shift from cash and check not just to cards but also to all other digital channels.
Mobile commerce, a market that was nonexistent about 6-7 years ago, is now generating transactions volumes of tens of billions. In fact, it is seen as a key growth driver of cashless payments in financially underdeveloped countries where mobile phones are more prevalent than credit/debit cards. To that end, Visa is working to accelerate innovative mobile payment solutions around the world. Its Visa Ready Program paves the way for non-traditional payment partners, such as mobile device manufacturers, mobile network operators, wallet providers and other technology partners, to breeze through the complexities of payments ecosystem.
Increased penetration of smartphones and Internet usage, advances in technology, and innovative products and services, are likely to drive the growth in mobile payments in years to come. Industry expectations are that m-payment transactions will grow 58.5% annually to $28.9 billion transactions in 2014. Uniquely positioned to advance financial inclusion around the world, Visa believes that innovating "at the edge of the network" is a powerful catalyst for the growth of its business and continuing migration from cash to electronic payments.
Commitment to shareholder returns
That Visa has a mouth-watering business model - with staggering margins and enormous potential - is very much evident. With a solid history of profitability and potential for sustainable growth in future, commitment to shareholder returns only adds to its appeal. To that end, Visa is quite shareholder friendly. As illustrated in the chart below, it paid an annual dividend of $0.42 per share in 2009, which compares to quarterly dividend of $0.40 per share now.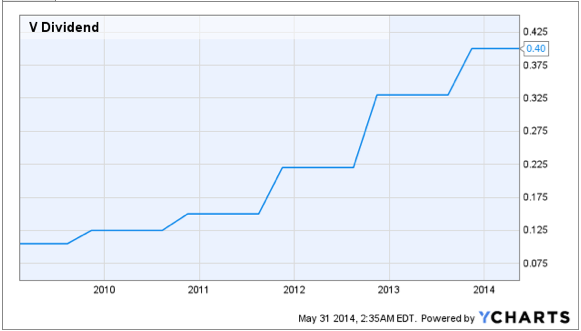 The company believes the highest and best use of its excess capital is reinvesting organically into its business, followed by acquisitions to further its growth. After supporting growth, Visa's management believes in continuing to grow its dividend, targeting for a 20% payout ratio of trailing 12-month net income. So at a payout ratio of 17.9% (present), we can expect more hikes in upcoming years. Followed by a 50% increase in 2012, Visa increased its dividend by 21% to $1.60 per share last October.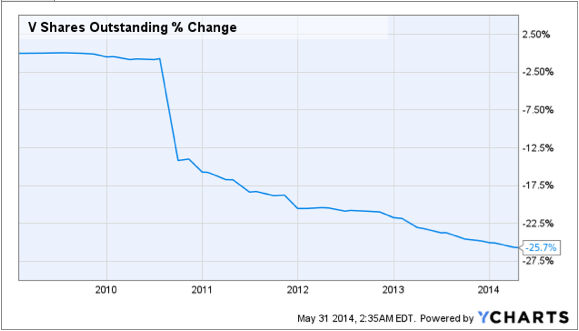 Overall, it returned nearly $6.2 billion to its shareholders through dividends and buybacks last year, which is quite impressive considering its assets at the beginning of the year. The chart above shows that the company has reduced its shares outstanding by as much as 25.7% since 2009. And yet there is no indication the company would stop its buybacks anytime soon. Visa had announced its tenth and most significant share repurchase authorization to date - $5 billion - last year. During the fiscal second quarter that ended March 31, 2014, the company repurchased shares worth $1.1 billion, leaving $3.0 billion of remaining funds available for share repurchase under the current program. While both these actions (dividends and buybacks) are consistent with the company's views of capital management, they also reflect the confidence it has in its future.
Final thoughts
Over the years Visa has exhibited the potential to consistently grow its top and bottom line as well as increase its profitability. Its business is people-light and technology-heavy. Its revenues per employee are among the highest of any large-cap company in the world. And seeing the incredible potential in international markets and innovations in payment systems, I firmly believe the company would sustain its high growth rate well into the future. Of course, it's always nice to see a company focus on shareholder returns while growing at such a phenomenal rate.
Disclosure: I have no positions in any stocks mentioned, and no plans to initiate any positions within the next 72 hours. I wrote this article myself, and it expresses my own opinions. I am not receiving compensation for it (other than from Seeking Alpha). I have no business relationship with any company whose stock is mentioned in this article.