The Dividend Champions spreadsheet and PDF have been updated through 5/30/14 and are available here. Note that all references to Champions mean companies that have paid higher dividends for at least 25 straight years; Contenders have streaks of 10-24 years; Challengers have streaks of 5-9 years. "CCC" refers to the universe of Champions, Contenders, and Challengers.
New Champion Crowned
For the first time in almost a year, a Dividend Contender was promoted to Champion status when First Financial Corp. (NASDAQ:THFF) increased its semi-annual payout. Ironically, though, the company's press release cited the action as its 26th consecutive year of increases, so there are still no Champions with exactly 25 years of higher payments. That should change soon, however, since National Retail Properties (NYSE:NNN) is fast approaching the anniversary of its 24th straight increase, which had an Ex-Dividend Date of 7/29/13. Meanwhile, American States Water (NYSE:AWR) recently became the second company to record 60 straight years of higher dividends.
As mentioned in the Comments section of last month's article, I made a change to the configuration of the Champions spreadsheet, eliminating the column for Price/Free Cash Flow (or P/FCF) due to a prevalence of distorted numbers (and a widespread absence of others). Consequently, the column for FCF % Payout also was removed, as those results were largely questionable. So a number of columns will have shifted one or two columns to the left. Please adjust any references you may have made to those alignments.
CCC Listing Continues Expansion
The pace of dividend-increase announcements continued in May, raising the number of Dividend Champions, Contenders, and Challengers to 540 companies by the end of the month. So the CCC roster remains on a pace to finish 2014 at more than 600 companies. But again this month, the Near Challengers listing wasn't diminished by the latest "graduations," thanks to a continuing wave of firms headed toward declaring a fifth year of increases in early 2015. In Appendix B (on the Notes tab), you'll see 25 "NEW" notations, bringing the number of Near-Challengers to a new record of 256 companies, a strong indication that the CCC universe should expand to over 700 companies by this time in 2015.
May took some stocks to new all-time highs, and the average price of CCC stocks, which dipped by 35¢ in April, rose by 67¢ in May, although the new Challengers pushed the average "age" of the dividend streaks from 16.7 down to 16.5 years. The average yield dipped from 2.79% to 2.78%, the reverse of what happened in April, and the average of the Most Recent Increases moved from 9.65% up to 9.77%, again benefiting from the influx of new companies.
As always, please use the CCC only as a starting point for more in-depth research. Feel free to leave any suggestions in the Comment area below.
Quick Summary
The Summary tab includes a table comparing the composite numbers from the latest update to those from the previous month and the end of the previous year. Below that is a summary of the latest month's activity, in terms of companies added, deleted, or promoted. That is reflected below:
Quick Summary:

5/30/14

Champions

Contenders

Challengers

Total

No. of Companies

106

231

203

540

Ave. No. of Years

40.1

14.5

6.4

16.5

Average Price

64.80

64.71

59.12

62.63

Average % Yield

2.53

2.67

3.03

2.78

Ave. MR % Increase

8.17

8.43

12.38

9.77

4/30/14

Champions

Contenders

Challengers

Total

No. of Companies

105

229

192

526

Ave. No. of Years

40.1

14.5

6.6

16.7

Average Price

64.30

64.06

58.18

61.96

Average % Yield

2.52

2.69

3.04

2.79

Ave. MR % Increase

8.57

8.36

12.09

9.65

12/31/13

Champions

Contenders

Challengers

Total

No. of Companies

105

210

161

476

Ave. No. of Years

39.8

14.5

7.1

17.6

Average Price

64.42

65.14

57.74

62.48

Average % Yield

2.49

2.60

3.06

2.73

Ave. MR % Increase

8.68

8.78

11.10

9.49

MR = Most Recent

Additions:

ABB Limited (NYSE:ABB) to Challengers

Ametek Inc. (NYSE:AME) to Challengers

Colony Financial Inc. (CLNY) to Challengers

Extra Space Storage Inc. (NYSE:EXR) to Challengers

Invesco Limited (NYSE:IVZ) to Challengers

Lennox International Inc. (NYSE:LII) to Challengers

Marriott International Inc. (NYSE:MAR) to Challengers

Marsh & McLennan Companies (NYSE:MMC) to Challengers

Monarch Financial Holdings Inc. (NASDAQ:MNRK) to Challengers

Omnicom Group Inc. (NYSE:OMC) to Challengers

Protective Life Corp. (NYSE:PL) to Challengers

Riverview Financial Corp. (OTCQX:RIVE) to Challengers

Telenor ASA (OTCPK:TELNY) to Challengers

Territorial Bancorp (NASDAQ:TBNK) to Challengers

Tractor Supply Company (NASDAQ:TSCO) to Challengers

Viacom Inc. B (NASDAQ:VIAB) to Challengers

Deletions:

R.G. Barry Corp. (NASDAQ:DFZ) from Challengers

United Financial Bancorp (NASDAQ:UBNK) corrected to Near Challenger

Promotions:

Daktronics Inc. (NASDAQ:DAKT) from Challenger to Contender

First Financial Corp. from Contender to Champion

Monro Muffler Brake Inc. (NASDAQ:MNRO) from Challenger to Contender

Safeway Inc. (NYSE:SWY) from Challenger to Contender
(Table from author; may include underlying data from FinViz.com)
Every Picture Tells a Story
As a bonus, I'm inserting one of Chuck Carnevale's F.A.S.T. Graphs below, highlighting one of the companies listed above. When the price line is in the green area, it suggests possible undervaluation.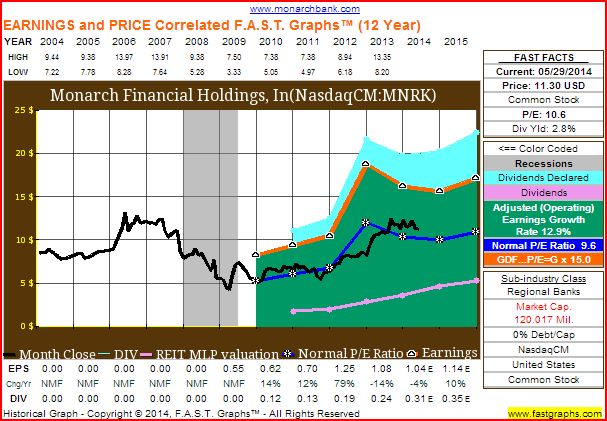 Disclosure: I have no positions in any stocks mentioned, and no plans to initiate any positions within the next 72 hours. I wrote this article myself, and it expresses my own opinions. I am not receiving compensation for it (other than from Seeking Alpha). I have no business relationship with any company whose stock is mentioned in this article.
Editor's Note: This article discusses one or more securities that do not trade on a major U.S. exchange. Please be aware of the risks associated with these stocks.