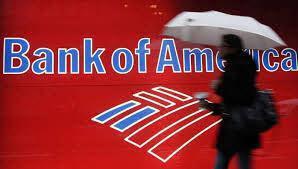 I have written a series of articles recently stating the selloff in Bank of America (NYSE:BAC) was unjust and a significant buying opportunity. On May 15th I published an article titled, 'Bank of America: The Crowd Is Dead Wrong.' At that time the stock has been beaten down to within an inch of its life, so to speak. The stock was trading at its lowest point since November of 2013. A plethora of bad news had revealed itself just as the bank's turnaround appeared secure. This knocked the stock off its pedestal causing a 20% dive in the name.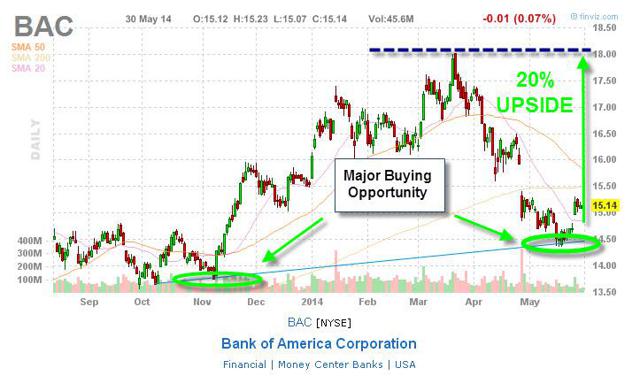 (Source: Finviz.com)
I was sure the storm clouds were only temporary and the drop in share price actually presented a tremendous buying opportunity. My intuitions seem to be coming to fruition and fortunately for investors, there is still plenty of meat left on the bone. In the following sections, I will highlight the positive developments for the bank and the stock that underpin my bull case.
Positive Developments
The Capital return plan debacle turns out to be much ado about nothing
Bank of America recently released a SEC CCAR submission documenting the results of a third party investigation into the impact of the error regarding the bank's regulatory ratios. This report states:
"The third party review has been completed and resulted in additional adjustments that had a de minimis effect (less than one basis point reduction) on the Corporation's reported regulatory capital ratios for the period ended September 30, 2013, and no effect on such ratios for the period ended March 31, 2014."
The Fed has up to 75 days to review the resubmission. As I stated previously, the accounting error had zero impact on operations and now appears to have had no impact on capital ratios as well. I surmise the bank's capital return plan regarding a higher dividend payment and initiation of a stock buyback plan will soon be re-approved. Bank of America's capital plan consisted of a boost in the dividend to $0.05 per share from a penny, and a $4 billion share buyback program.
This was the primary reason for the selloff. Once the plan was revoked, the bears came out of the wood works and attacked the stock relentlessly. This drove the stock to lows not seen for months. This caused many to sell first and ask questions later. When I published a bullish article on the stock, I was severely berated by many. This only bolstered my conviction that the stock was oversold and presented a contrarian buying opportunity. It appears I may have been correct. If the plan is reinstated, this will be a major catalyst for the stock going forward. I expect it will be.
Major Uptick in Merger and acquisition activity
Head of Global Corporate & Investment Banking for Bank of America, Christian Meissner, just stated at a recent Deutsche conference:
"Bank of America management expects the resurgence of mergers and acquisitions thus far in 2014 to continue."
The number of announced global M&A deals above $5 billion now stands at 42. This is more than twofold higher than last year's 18 deals over the same time frame in 2013. Furthermore, Bank of America has secured the lion's share of these deals. The bank has secured 22 of the 42 deals, or 52%. The major factors driving the uptick in M&A activity are attractive pricing, low interest rates, and improved balance sheets. This is great news for the stock going forward.
The stock is fundamentally undervalued on a historical and relative basis
The stock is trading for a price to tangible book value of 1.0 versus the industry and peer average of 1.5. This implies the bank may have 36% upside from current levels. That puts the share price at $20.

(Table provided by Scottrade.com)
Furthermore, Bank of America is trading for a PEG ratio of a little over one.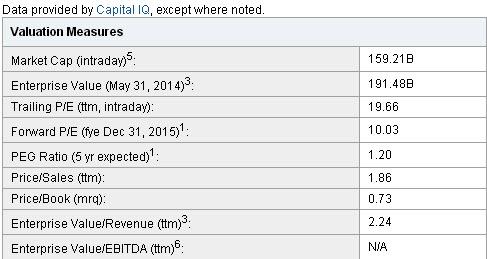 (Source: Yahoo.com)
The PEG ratio is a broadly-used indicator of a stock's prospective worth. It is preferred by numerous analysts over the price/earnings ratio because it also accounts for growth. A PEG ratio of approximately one is believed to be favorable. As Benjamin Graham would say, "Price is what you pay, value is what you get." I submit Bank of America is the best buy among of all the banks currently.
The stock's underperformance presents an opportunity
The stock's underperformance as compared to its peers is noteworthy.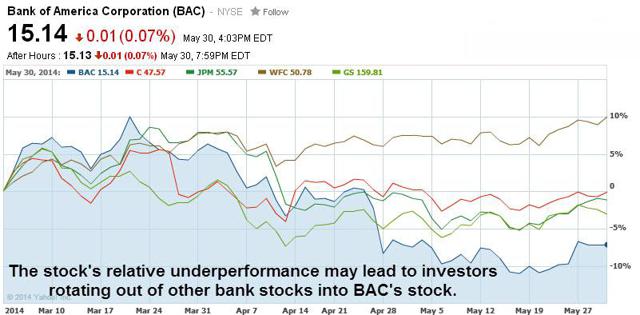 (Source: Yahoo.com)
With the potential for the capital plan to be reinstated on the rise and Bank of America taking the lion's share of recent M&A deals, savvy investors may rotate out of other banking stocks and into Bank of America's stock. This bodes well for current shareholders.
Initial signs of a trend reversal
The stock has shown the first sign of strength by trending upwards even though bad news is still being reported.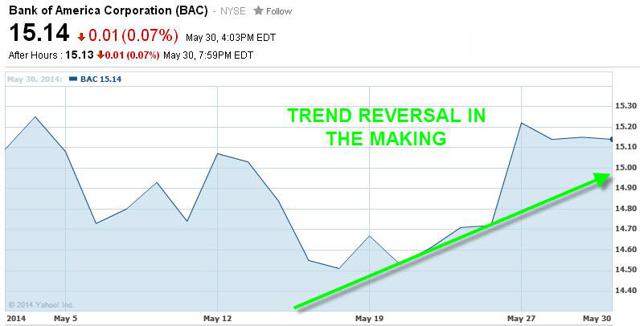 (Source: Yahoo.com)
The Other side of the coin
Resident Bank of America bear Don Dion just published an extremely bearish note regarding several downside risks he sees for the bank going forward. It would be remiss of me not to highlight the major ones for investors in this article. Don states in his piece out Friday:
"A tough, correlated lending and trading environment has made it even more difficult for BAC to recover YTD. BAC also faces billions in fines in the National Mortgage Settlement and a sullied public image."
I have provided a link to his article and suggest you read it as well in order to obtain a balanced view of the bank's prospects.
Conclusion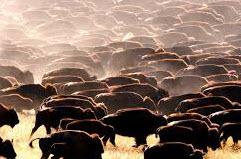 A contrarian is one who attempts to profit by investing in a manner that differs from the crowd, when the crowd appears to be wrong. A contrarian believes that a certain herd mentality exists amongst investors which may lead to exploitable mis-pricings in stocks.
Widespread pessimism about Bank of America's prospects has driven the price so low that it has overstated the bank's risks, and understates the prospects for returning to profitability. Identifying and purchasing distressed stocks, and selling them after the company recovers, can lead to above-average gains. I believe Bank of America currently presents such an opportunity.
Final Thought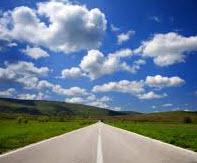 I am bullish on Bank of America in the long run. The bank's legal issues are coming to an end. Furthermore, the bank has shown numerous areas of improvement. Bank of America did beat earnings estimate, pass the stress test, is trading for less than book value, has significant core business momentum, a fortress balance sheet and serves a significant amount of households and businesses globally. You have to go against the grain to be successful. With the bank trading at approximately $15 and sporting book value per share of $20.69, your margin of safety is more than sufficient at this time. Nevertheless, layer into any position as the market is trading at all-time highs and seems at an inflection point.
Disclosure: I have no positions in any stocks mentioned, and no plans to initiate any positions within the next 72 hours. I wrote this article myself, and it expresses my own opinions. I am not receiving compensation for it (other than from Seeking Alpha). I have no business relationship with any company whose stock is mentioned in this article.