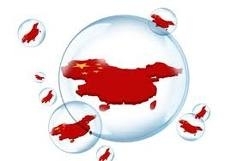 There is no denying the fact the China has risen metaphorically like no other nation has in the recent past. The Chinese growth model has not only attained enormous success for the citizens and investors worldwide but has also been an envious state for many other developing countries that have literally failed to do anything with their moribund economies, whereas the Asian giant successfully managed to bring about a change in common man's life.
China's GDP has multiplied while exports have risen exponentially, so much so that the country has been labeled the factory of the world. But change is the only thing that is constant in this world, and same is true for the Chinese growth cycle. Whatever comes up goes down just as night gives way to day and life gives way to death. The problem is that just about everyone wants to go to heaven but no one quite wants to die, just as everyone is talking about the China growth story but not many are actually able to understand the haze of uncertainty surrounding the Chinese economy and its growth story.
Even though China has attained enormous highs, the growth of 200 to 300% of past 2 decades has reached a critical point where the growth has attained a peak and the only way forward is an imminent decline.
China's harsh reality is that after decades of double digit GDP growth, average household incomes still trail miles behind many emerging economies.
Not only is China marching towards the greatest bubble in history of mankind, the massive misallocation of wealth is also accelerating at an alarming speed. One doesn't need to be an economic genius to understand the fact that the wealth gap epitomized by the Chinese economy and Real estate segment is dividing the Chinese society's social fabric.

China's Society Divide And Rising Black Money

A recent Credit Suisse-sponsored study by a top economic think-tank has revealed that China's richest citizens may hold as much as 9.3 trillion yuan ($1.4 trillion) of hidden assets. The report has confirmed fears that nearly two thirds of all the unreported income goes into the pockets of the richest 10 %, widening China's wealth gap alarmingly.

Another very important element of the Chinese growth story is the government-sponsored abuse of the country's human resource, the largest in the world. China is the manufacturing base of the world with cost effective products but not many people seem to understand that China has cheap labor mainly because the government literally robs most of their hard earned money by printing trillions and trillions of Yuan that were used to finance infrastructure project and to maintain cheap labor through a cheap currency. Not only are the Chinese workforces fighting with their lives, a majority of Chinese peasants are hand to mouth farm laborers who have no other alternative but to work at any cost to survive or to sustain their families in rural areas. What's more shocking is that the migrant workers are forced to commit suicide in order to get a raise, but with the growing high misallocation of wealth, a petty wage increase is unlikely to solve the problem.
China Manufacturing Sector

There is no debate that Chinese factories have mastered the art of producing cheap goods but with most global markets being saturated, Chinese factory owners are offering their products below cost price just to sustain the factories. As the world markets become tired due to high unsold inventory, reducing desire to consume non-essential items and high import bills, all the above factors are collectively reaching a breaking point soon that would definitely deflate the China bubble.

Analysts feel that the popping of the Chinese bubble is expected to have a global impact across major sectors of world trade. The great Chinese buying boom of raw materials and storing them has created big market bubbles in shipping, freight, raw material markets. If the factories are not able to sell their products, the buying revolution is destined to slow down, and thus prices of raw materials come to more realistic levels with global repercussions.

Environmental Damages
The Chinese industrial base is causing distress to urban landscape with heavy pollution, smog and extremely foul air with industrial residue entering into the water base, air and the general environment, causing extreme strain on the Chinese ecosystem. The average concentration of particles in city air during 2008, for example, was six times the ideal standard recommended by the World Health Organization . The Chinese economy may be witnessing a definite boom... but at what costs? Perhaps, the Chinese economy revolution has done more harm to the environment in the last 15 years than what Europe possibly did in 150 years, or USA in the last 75 years.
China's coal consumption jumped more than 7.6% last year, boosted in large part by increased demand for energy from smokestack industries.
Sixteen of the 20 worst cities in the world for air pollution are in China; acid rain falls on 30% of the country; and more than a quarter of the land is subject to desertification, an area that increases by 2,000 sq km every year.
The World Bank estimates that environmental degradation already shaves China's annual GDP growth by about 7% due to lost productivity from sick workers and wasted resources.
Chinese Stock Markets
As the world fought the global financial crisis, China was busy boosting government spending on infrastructure and social welfare projects, engineering a lending boom and re-peggin its currency to the U.S. dollar to support exports in response to the fallout of the global financial crisis. The measures might be effective in the short term with China's economic growth likely to exceed 9 percent in 2010, but have surely aggravated the imbalances that are at the heart of China's development story. The Shanghai composite index has been the worst performer in Asia this year. China's growth model is based on government-led investment and foreign enterprise-led export. As exports grew in the past, the government channeled income into investment to support more export growth. Now that the global economy is weak and China's exports are not coming back to earlier attained highs, there is not much income growth to support investment growth.

Investing In China

Market bubbles have been a part of financial markets globally and China is no exception. There are surely definite signs of an overheated Economy and a risky property bubble in China but it doesn't change the long-term picture of what's happening in China

Investing in China carries many risks as witnessed by Internet giant Google (NASDAQ:GOOG), but what's also true is that the pessimists have missed out on a lot of wealth creation opportunities in the dragon nation. According to the latest official figures, China's GDP expanded by 10.7% in the fourth quarter of 2009, the fastest gain since 2007. Whether or not its actual performance matches these rosy figures, the larger point is that China is on a roll going into 2010, offering a slew of opportunities for savvy investors.

If you want to invest in the Chinese market, you have a number of homegrown alternatives. Some 152 Chinese stocks now trade on U.S. stock exchanges. Investing in China now isn't the brilliant move it was a year ago. But there is still enough level playing field left for money creating opportunities for the serious investor.

Major Chinese Companies listed on U.S. Stock Exchanges

Baidu (Nasdaq: BIDU)
PetroChina (NYSE: PTR)
Yanzhou Coal Mining (NYSE: YZC)
China Petroleum & Chemical Corp., "Sinopec" (NYSE: SNP)
Huaneng Power International (NYSE: HNP)
Guangshen Railway (NYSE: GSH)
China Life Insurance (NYSE: LFC)
Aluminum Corp. of China, "Chalco" (NYSE: ACH)
Other Chinese ADRs
* 3SBIO (NASDAQ:SSRX)
* 51job (NASDAQ:JOBS)
* 7 Days Group (NYSE:SVN)
* Acorn (NYSE:ATV)
* Actions Semiconductor (NASDAQ:ACTS)
* Agria Corporation (NYSE:GRO)
* Airmedia (NASDAQ:AMCN)
* ATA Inc (NASDAQ:ATAI)
* Changyou.com (NASDAQ:CYOU)
* Charm Communications Inc (NASDAQ:CHRM)
* ChemSpec International (NYSE:CPC)
* China Digital TV Holding (STV)
* China Distance Education (NYSE:DL)
* China Eastern Airlines (NYSE:CEA)
* China Finance Online (NASDAQ:JRJC)
* China GrenTech (NASDAQ:GRRF)
* China Hydroelectric (NYSE:CHC)
* China Mass Media (NYSE:CMM)
* China Medical Technologies (CMED)
* China Mobile (NYSE:CHL)
* China National Offshore Oil (NYSE:CEO)
* China Nepstar Chain Drugstore (NYSE:NPD)
* China Nuokang Bio-Pharmaceutical (NASDAQ:NKBP)
* China Real Estate Information (NASDAQ:CRIC)
* China Southern Airlines (NYSE:ZNH)
* China Sunergy (NASDAQ:CSUN)
* China Techfaith Wireless Communication (NASDAQ:CNTF)
* China Telecom (NYSE:CHA)
* China Unicom (NYSE:CHU)
* ChinaEdu (NASDAQ:CEDU)
* CNInsure (CISG)
* Concord Medical Services (NYSE:CCM)
* CTrip.com International (NASDAQ:CTRP)
* Duoyuan Global Water (DGW)
* E-House (NYSE:EJ)
* eLong (NASDAQ:LONG)
* Focus Media (NASDAQ:FMCN)
* Giant Interactive Group (NYSE:GA)
* Gushan Environmental Energy (NYSE:GU)
* Home Inns & Hotels Management (NASDAQ:HMIN)
* Hurray! (HRAY)
* IFM Investments (NYSE:CTC)
* JA Solar (NASDAQ:JASO)
* Kingtone Wirelessinfo Solution (NASDAQ:KONE)
* KongZhong (KONG)
* LDK Solar (NYSE:LDK)
* Linktone (NASDAQ:LTON)
* Longtop Financial Technologies (NYSE:LFT)
* Mindray Medical International (NYSE:MR)
* Netease.com (NASDAQ:NTES)
* New Oriental Education & Technology (NYSE:EDU)
* Ninetowns Internet Technology (NYSE:NINE)
* Noah Education (NYSE:NED)
* Perfect World (NASDAQ:PWRD)
* ReneSola (NYSE:SOL)
* Shanda Games (NASDAQ:GAME)
* Shanda Interactive Entertainment (NASDAQ:SNDA)
* Simcere Pharmaceutical (NYSE:SCR)
* Sinopec Shanghai Petrochemical (NYSE:SHI)
* Solarfun Power (SOLF)
* Spreadtrum Communications (NASDAQ:SPRD)
* Suntech Power (NYSE:STP)
* The9 (NASDAQ:NCTY)
* Tongjitang Chinese Medicines (NYSE:TCM)
* Trina Solar (NYSE:TSL)
* VanceInfo Technologies (NYSE:VIT)
* Vimicro International (NASDAQ:VIMC)
* VisionChina Media (NASDAQ:VISN)
* WSP Holdings (NYSE:WH)
* WuXi Pharmatech (NYSE:WX)
* Xinhua Sports & Entertainment (NASDAQ:XSEL)
* Xinyuan Real Estate (NYSE:XIN)
* Yingli Green Energy (NYSE:YGE)
Some Of The Better Known China Exchange Traded Funds (ETFs) Offering Exposure To Chinese Stocks
FTSE/Xinhua China 25 Index Fund (NYSEARCA:FXI): The index measures the performance of the largest companies in the China equity market.
Expense Ratio: 0.74%


SPDR S&P China ETF (NYSEARCA:GXC): The S&P China BMI Index is a market capitalization weighted index that defines and measures the investable universe of publicly traded companies domiciled in China, but legally available to foreign investors.

PowerShares Golden Dragon Halter USX China Portfolio (NASDAQ:PGJ): The Index is comprised of the U.S.-listed securities of companies that derive a majority of their revenue from the People's Republic of China.
Expense Ratio: 0.60%

Claymore/AlphaShares China Small Cap Index ETF (NYSEARCA:HAO): Expense Ratio: 0.70%

Claymore/AlphaShares China All-Cap ETF (NYSEARCA:YAO): The index is designed to measure the performance of Mainland China companies with a market capitalization of at least $500 million.
Expense Ratio: 0.70%

Global X China Financials ETF (NYSEARCA:CHIX): The S-BOX China Financials Index is designed to reflect the performance of the financial sector in China. It is made up of securities of companies that have their main business operations in the financial sector and are domiciled in China or have their main business operations in this country.
Expense Ratio: 0.65%
Some Other Chinese Exposure ETFs
* Morgan Stanley's China A-Share Fund (NYSE:CAF) * Taiwan Greater China Fund (NYSE:TFC) * The Greater China Fund Inc. (NYSE:GCH) * China Fund Inc. (NYSE:CHN) * JF China Region Fund Inc. (NYSE:JFC) * Claymore China Technology (NYSEARCA:CQQQ) * Claymore/AlphaShares China Real Estate (NYSEARCA:TAO) * SPDR S&P China (GXC) * WisdomTree Dreyfus Chinese Yuan Fund (NYSEARCA:CYB) * ProShares UltraShares FTSE/Xinhua China 25 (NYSEARCA:FXP) * Direxion Daily China Bear 3x Shares (CZI) * Direxion Daily China Bull 3x Shares (CZM) * Global X China Technology (CHIB) * Global X China Energy (NYSEARCA:CHIE) * Global X China Industrials (NYSEARCA:CHII) * Global X China Materials (NYSEARCA:CHIM) * Global X China Consumer (NYSEARCA:CHIQ)
Chinese Markets And Retail Investors
Just like all market trends worldwide, the Chinese investment scene is also full of investors who have never been through a bear market. A full 10% of them, according to a recent survey, have never even considered the thought of losses. Just as in the past, most ignorant retail investors are being sucked in by the rising Chinese momentum and just as in the past, retail investors are more likely to lose.

The new retail investors have been joining the markets attracted by the numbers and the growth rates also supported by the psychology that the Chinese government would not allow the markets to drop. The fact however is that Chinese stock market has big ups and downs in the past as well, which clearly underlines the government's inability to stop the market from falling. Although market observers also feel that the Chinese leaders are forced to keep their GDP growing at 10%, as a slowing of growth might trigger a social chaos among the hundreds of millions of peasants coming to the bigger cities for jobs. In China, the government fears that angry investors can be a social problem. And so, while the state-run media report on the ups and downs of the market, and even warn investors of the risks and pitfalls of investing, the press does not usually report on investors' anger. Whatever way the markets move, more and more global investors are now beginning to sense that Chinese officials may not be able to realize their objectives of a high growth rate, cooling the real estate market and curbing inflation at the same time.
China Real Estate Bubble

A growing number of economists and market analysts have expressed deep concern regarding the possible bubble in Chinese real estate, that can potentially rattle the world economy that is still struggling to recover from the global meltdown. Soaring real estate prices in China's coastal cities, with prices rising as much as 50% a year, have lifted some rent prices to unprecedented levels. The biggest risk to China's economy is the desire of the Chinese government to maintain past economic growth rates by maximizing investments in property.
Experts have expressed concern that when the China Real estate bubble pops, countries with economies heavily dependent on exporting commodities to China-- like Australia and Brazil-- are likely to go down with the China ship.
Economists say one significant driver of China's soaring real estate prices has been wealthy investors in China snatching up property, because they have few other investment options.
According to the investment bank Goldman Sachs, in recent years housing prices in Beijing have risen 80 percent faster than wages.
China- Too Much, Too Soon: Sudden Progressive Decline
With the inclusion of Hong Kong-- the former colonial territory, which Beijing reacquired from the British along with all the asset base and balance sheets-- made China quite rich overnight in the year 2000. The real Main Land China's growth has mainly been in past 15 years since 1995. Savings, exceeding exports and huge raw material imports have created a few trillion dollar assets which, when combined with the Hong Kong assets, equal to a large capital base, converting the total Chinese capital power significantly. Yet with all the growth and the huge numbers, only a few large provinces of Mainland China have really benefited from the hyper industrial factory production, and many provinces are still very backward.

According to the McKinsey Global Institute , Chinese cities are expected to add more than 350 million people by 2030, which will bring their urban-dwelling population to more than a billion. In the next 20 years, McKinsey estimates that China will have to build around 50,000 skyscrapers and literally millions of apartment buildings, as well as thousands of hospitals and universities, 170 new mass-transit systems, and hundreds of thousands of parks, schools, fire stations, and community centers. These cities must be built with levels of efficiency and sustainability that has never before been achieved. There simply is no other option. China must innovate or, essentially die.
China Foreign Policy
It would not be unfair to term China as the most secretive nation in the history of human civilization. Most of China's domestic and foreign policies are never revealed, even to the local Chinese media.
China's growing secrecy plans not only give rise to extreme misunderstanding and miscalculation with other global nations but also make for a bad investment destination for the global investors.
Whether it's the South China Sea dispute or a difference of opinion with neighboring nations like South Korea, India or Japan, China is one common factor.
The fact is the China sees itself as a global power which already controls global business supply chain mechanisms and is now ready to control and subjugate the entire Asian continent.

According to Pentagon's recent report, China's military is on an unparallelled secret expansion mission. The Red Army poses a great challenge to many other countries like South Korea, India and Japan and even parts of central Asia and Russia. China already has client states including parts of Indo-china, Myanmar, Pakistan, Bangladesh, Nepal, North Korea. Through capital, projects and entrepreneurs it literally controls Thailand, Indonesia and various other areas. Chinese foreign policy is clear and very expansionist and its military has risen to an extremely dangerous level. There is also a distinct possibility that the Chinese Red Army can plan an aggression just to divert attention of the masses from the Chinese market crash as and when it happens.

China Human Rights

Despite all good economic growth numbers and some progress, China's dismal human rights record and its continued cap on freedom of speech and expression acts as a deterrent for foreign investors and companies to continue their China operations.

The world today does not understand the real intent of the Chinese regime. This business cover may be temporary, or a way to hold global world markets to ransom . Hence, once this cover is exposed, business could be in troubled waters causing investors enormous losses.
Why China Can Never Be Like the United States

There is no denying the fact that China is indeed a large economy that is centuries old. It has always been isolated and eclipsed from the rest of the world, mainly due to the Chinese psyche of doing things secretly. There is absolutely no question that despite all its hidden progress over the years, China's modernization in the past two decades is remarkable but there are doubts whether the progress of China as a nation has really been a progress of a common Chinese citizen.

Just on Gross Domestic Product (GDP) figures, even though China has now passed Japan as the world's second-largest economy behind the United States, considering the growth on individual per capita, China is lagging far behind the United States and is, at best, not much different from neighboring India and other developing economies of the world.

Only a minor less than 0.3 % of the elite Chinese business owners own or manage business and capital worth approx US $2 trillion while the majority of the population trails far behind. China's harsh reality is that after decades of double digit GDP growth, average household incomes still trail miles behind many emerging economies.

So while China may project itself as the world's largest economy in the next ten to twenty years, passing even the United States Of America, China in reality would very well be still lagging behind and may actually take a long time before it can really be counted as a fully rich nation with a rich Chinese middle class.
China Post Industrial Society

The Chinese manufacturing base (which contributes about 26 % of the country's GDP) is already prematurely entering into a 'Post Industrial' society. Henceforth we believe that China is already a developed nation industrially, and it has reached a breaking point where it may enter into services and reduce dependence on its manufacturing sector. So far China has been sprinting a short distance race but it remains to be seen if the country and its policies can sustain the stamina of a long marathon runner.

Worldmarketpulse analysts believe that China is the perfect example of attaining too much too soon. The problem of such huge growth is that the country never had the time to pause or reflect, causing enormous inequalities, a vast distance between people. Now a new super rich elite class has emerged clearly showing that Maoism failed, and the Chinese elite went many steps ahead of what Ten Xiao Ping professed two decades ago, that the primary goal of any business should be to bring prosperity to the common people.

It's time that China take a time out from all the maddening hoopla surrounding its economy to digest all this exponential growth to consolidate and settle down with economic disparities that have suddenly caused fissures and conflicts.
Future Outlook
The current cycle of debt of developed nations will turn around in about 2 to 3 years and while Russia, China and India are likely to grow exponentially, the United States of America is likely to retain its command over world affairs. But unlike most democratic nations, China due to its military and communist nature of the Chinese leadership and its century old mindset of secrecy might lead to potential conflicts with the US and other European nations, including old rival Japan, in the next couple of years. If left uncontrolled for long, this potential conflict may turn into an ugly war. If the Chinese think tank and communist government chooses military aggression and a collision course and forces a giant war on the world due to their stubborn and secretive mindsets, all the achievements of the Chinese economy are at danger of losing out and would also prevent any new investment opportunities from outside to enter the dragon kingdom.
Sometimes looks can be quite deceiving, and even though a lot of China 'sellers' appear to be extreme believers in the China growth story and are awestruck with a physical urban landscape which looks very modern but the deep rooted real realities of China are pretty invisible. The ongoing rush to invest directly in China can turn out to be a real nightmare ,even though it appears to be a dream investment today.

Disclosure: No positions