On May13th, 2014, Painted Pony Petroleum Ltd. (OTCPK:PDPYF) (PPY.TO) released its Q1-2014 financials. While the financials were essentially as expected, the company did report some noteworthy operational results.
As of May 27, 2014 it is trading at C$11.04/share resulting in a market capitalization of C$983 million.
[Please refer to my prior report dated March 5th, 2014.]
Q1 Drilling and Production Results
Late last year the company reported exceptional improvement in drilling success associated with the shift to ball-drop frac technology. Despite only four months of production experience at the time, they were experiencing about a 35% increase in production as compared to perf and plug finished holes. This repeated success led the company to choose ball-drop exclusively going forward. These wells continued to show this incremental improvement in production into 2014.
However, the production story gets better, as the company informed that it has successfully coupled the ball-drop frac technique with an additional drilling technique referred to as 'paired parallel' drilling. This combination of drilling techniques was utilized in four wells at their Blair property this spring. Two wells drilled at the Blair 11-F pad had an aggregate combined production rate of more than 21 mmscf/d during the week prior to the press release. After debottlenecking, the production at Blair 11-F increased to 26 mmscf/d for the last 24-hour period. Equally impressive results were also reported for the pair drilled at the Blair 41-F pad where the pair had a 7-day combined production rate of 20.8 mmscf/d. These results are impressive especially when compared to the IP30 5.5 mmscf/d production rates utilized in PPY's 2013 independent reserve report.
Potential for Increased Reserves
The robust production results from the last eight wells drilled clearly suggest that future incremental increases in reserves are very likely. Note that PPY added a '10 Bcf type well' curve to its website presentation on the May 15th, 2014 update (see below). It is also clear that PPY has experienced materially better drilling and production results especially when compared to its own planning basis that assumes a '7 bcf type well' which represents the average production curve for all of its Montney wells drilled since inception.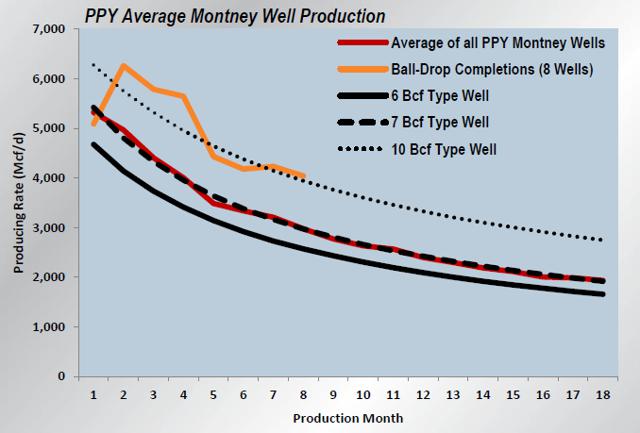 Source: Painted Pony Petroleum Ltd. website, May 15th, 2014.
Increased Capex Plan
Due to strong cash flow as a result of higher than forecast natural gas prices and improved production results, PPY announced two capex-related changes for 2014. First, the total capex budget will increase by $31 million to $169 million. This will fund drilling of 2.5 (net) additional Montney wells to 19.5 (net) wells for the year. In addition, in order to better match its gas processing facilities with its growing production profile, PPY decided to move forward the construction of a 25 mmscf/d compression/dehydration facility at Blair to Q4 2014 from 2015. The updated production capacity table is provided below.
| | | | |
| --- | --- | --- | --- |
| As At | Capacity (Mmscf/d) | Capacity (Boed) | Explanation |
| 12/31/13 | 58 | 9.7 | Capacity at year end 2013 |
| 1/31/14 | 65 | 10.8 | Additional 7 mmscf/d secured from existing third party provider (AltaCorp) |
| 3/31/14 | 90 | 15.0 | Constructed 25 mmscf/d facility at Townsend |
| 9/30/14 | 102.5 | 17.1 | New 25 mmscf/d at Daiber (PPY share 50%) |
| 12/31/14 | 127.5 | 21.3 | Construct 25 mmscf/d facility at Blair |
| 6/30/15 | 227.5 - 317.5 | 37.9 - 52.9 | Conducting engineering study on 190 mmscf/d plant at Townsend to be owned and operated by a third-party. Expect final decision by June 2014. PPY's anticipated minimum share of facility is 100 mmscf/d. Table also shows sensitivity if PPY contracts for entire new facility. |
Increased Credit Facilities
To support the accelerated drilling and facilities investment, PPY announced a $50 million increase in their bank-syndicate credit facility to $175 million. This would still leave PPY's leverage ratios below plan maximum.
Disclosure: I am long PDPYF. I wrote this article myself, and it expresses my own opinions. I am not receiving compensation for it. I have no business relationship with any company whose stock is mentioned in this article.
Additional disclosure: I have a long position in Painted Pony Petroleum Ltd. and do not plan to sell my current position nor add any additional positions within the next 72 hours. This article is for informational purposes only and does not constitute an offer to buy or sell any securities discussed in the article. As such, this article does not represent financial advice. Investors are recommended to conduct further due diligence before committing capital to any investment.
Editor's Note: This article discusses one or more securities that do not trade on a major U.S. exchange. Please be aware of the risks associated with these stocks.