On the question of its undervalued currency China may have finally overplayed its hand. Following a number of impolitic moves on the geo-political front, it looks like the U.S. is finally in the mood to walk the talk and force China to revalue its currency – even if it means slapping import tariffs on Chinese made goods. If Premier Wen Jiabao really is offering to "vigorously" increase imports from the U.S. in an effort to aid economic recovery and ward off American protectionism, one can only imagine the real message America has been drumming home behind the scenes: it's dead serious about balancing trade between the two countries.
China has been under pressure to revalue its currency for years. Global imbalances have played a big role in getting Western economies into the financial mess they're in. Determined to run large trade surpluses so they'd never be dictated to by the IMF again - as they were during the Asian crisis of 97 - Asian countries rigged their exchange rates and forced the U.S. to run budget deficits, whose scale has destabilized financial markets.
Accused of costing the U.S. manufacturing jobs, there has been a lot of talk but little action. As pressure on it to act mounted, China announced it was revaluing the Juan in June, but once again progress has been limited
One senses though, that America's patience has finally worn through. Pressure is building in both the House of Representatives and Senate over China's flagrant flouting of WTO rules, and addressing the trade deficit looks like a clear vote winner in the midterm elections.
What's preventing the U.S. from lowering either unemployment or the budget deficit is China's under-valued currency, argues Charles Dumas at Lombard Street Research in a new report: "The American people's standard of living could well be improved by surcharges on imports, to permit higher domestic output and employment with lower budget deficits. The resulting fuller use of resources would probably outweigh the drawback of less effective market price mechanisms and signals."
Trade issues will top the agenda at a meeting between Premier Wen Jiabao and President Obama on the sidelines of the annual session of the U.N. General Assembly, between 21 Sep-1 Oct. Obama wants to double U.S. exports in five years, but a flurry of recent diplomatic activity – with National Economic Council Director Lawrence Summers and Deputy National Security Adviser Thomas Donilon in meetings with top Chinese officials earlier this week; including Wen - suggests he's still looking to Beijing for concessions, rather than simply naming China a currency manipulator.
Judging by the noises China is making, it is getting the message; and seeking ways to buy-off Congress. A sign of China's willingness to accommodate Obama may be the large spike in U.S. exports to China earlier this year (see chart).
Beijing says it wants to repair ties and will pledge to step up efforts and take appropriate measures to cut the mainland's huge trade surplus with the U.S. – already $145 billion in the first seven months of this year. It is promising to vigorously expand imports of advanced U.S. technology, while pledging to make it easier to import goods by streamlining non-tariff measures. This week deputy international trade representative Chong Quan said China would loosen regulations governing imports and lower import costs, among other measures.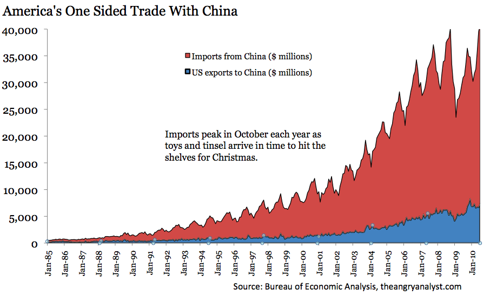 Assuming such pledges will appease U.S. legislators is a dangerous game, though. If Wen sticks to the existing policy of only reforming the currency regime once its economy recovers – as Chinese diplomats suggest – he find the U.S. introducing import tariffs sooner than he thinks.
Possible retaliatory measures against China's currency policies could even be agreed next week according to the Washington Times. The House's Ways and Means Committee is holding a hearing on 15 September, and the Senate Banking Committee may also hold a hearing, the following day. And with desperate Democrats now openly campaigning against the President there is a very real possibility that lawmakers may take matters into their own hands.
Democratic leaders in Congress have joined union and business leaders to put pressure on the White House to confront Beijing. Only last week a bipartisan group of senators led by Democrat Sherrod Brown from Ohio, called on Obama to take stronger action against unfair trade practices, such as the finding by the U.S. Department of Commerce that USD 514 million of Chinese aluminium products imported in 2009 were unfairly subsidized. And today we read that the United Steelworkers union have filed a complaint with trade officials charging that China is unfairly subsidizing its clean-energy technology sector, and asking U.S. Trade Representative Ron Kirk to take action.
Disappointed by the Administration's failure to act, Brown is committed to addressing Chinese currency manipulation through legislation – having in March introduced bipartisan legislation with New York Democrat Charles Schumer that would amend the Exchange Rates and International Economic Policy Coordination Act of 1988.
With "currency manipulation" becoming an election issue, it may not only be the Administration who seizes what Hillary Clinton called "this new American moment" to lead the World. New York Democrat Charles Schumer and Republican Lindsey Graham say they have more than enough votes to win approval for a bi-partisan China currency bill.
Should America take action the implications will be profound - and confound all those investors who have piled into Asian emerging market funds. Asian surplus countries will be badly hit, as their growth prospects and real incomes are hugely reduced for years to come. Protectionism hurts the net exporter far more than the net importer as was demonstrated in the 1930s.
The geopolitical consequences are also incalculable at a time when the Chinese Navy is demonstrating a rising assertiveness, and China's draconian export curbs on rare earth minerals needed by the rest of the world for frontier technologies is escalating into a serious diplomatic and trade clash. But as Clinton said, "Working with these emerging powers is not always smooth or easy. Disagreements are inevitable."
Disclosure: No positions