There is a lot of excitement about the Bakken shale. Companys like Kodiak Oil (NYSE:KOG), Oasis Petroleum (NYSE:OAS), Triangle Petroleum (NYSEMKT:TPLM) and Northern Oil (NYSEMKT:NOG) have shown spectacular production growth rates. However, all this growth was financed with debt. The fundamental value of the play remains hard to assess.
In this article I will look at Kodiak Oil . KOG is a prototype pure Bakken player with a reasonable acreage position in the core Bakken. After years of debt financed growth KOG announced last year its intention to live within cash flow. This provides us with an opportunity to measure the fundamental value of Kodiaks business model from a different view than the standard PV-10.
PV-10 discounts the future net revenue of all wells with a 10 % rate. Then we subtract overhead costs, interest costs and debt. The remaining value represents a fundamental indication for shareholder value.
An excellent attempt to calculate Kodiaks share value via PV-10 is done by SA contributor Richard Zeits in this article.
Unfortunately this method has limitations in its application to horizontal drillers like KOG. As horizontal drilling with long laterals is a quite new technique, there is a lack of data about the typical decline rates in the long run. The PV-10 value depends to a large degree on the long-tail production of a well, even if a large amount of the horizontal well costs is recovered in the first few years due to flush production.
We have to make assumptions about the decline rate and the EUR (estimated ultimate amount of recoverable oil and gas). At the moment this is a rather inexact science for horizontal drilling.
Some people are even skeptical about the business model of horizontal drilling in the Bakken shale in general.
So here the new ultimate test comes for Kodiak:
If KOG can drill enough new wells with the free cash flow of existing wells to offset production decline and still grow production at a reasonable rate, only then KOG has proven the validity of its business model. Otherwise the question must be allowed, whether all the debt has been used to finance uneconomic drilling.
Table 1:
Kodiak Outspending vs Production growth
| | | | | |
| --- | --- | --- | --- | --- |
|   | Q2 in 2013 | Q3 in 2013 | Q4 in 2013 | Q1 in 2014 |
| BOE/D | 23,200 | 35,400 | 36,100 | 34,000 |
| Capex | 248.7M | 305M | 254.15M | 208.6M |
| Oper. Net Cash | 118.3M | 152.6M | 168.1M | 163.5M |
| Interest Expense | 15M | 21M | 23.6M | 31.6M |
| Outspending | 145.5M | 173.4M | 109.65M | 76.7M |
Kodiak was not able to grow in the last 2 Quarters despite Capex outspending cash flow.
This is a very troubling sign at first sight. Is the whole business model in doubt? Not so fast.
During the Q1 conference call management gave good reasons for the poor performance:
Severe winter in North Dakota coupled with drilling in second tier acreage.
The harsh winter had a negative impact on all operators in the Bakken, no doubt about that. Completions were delayed, operating costs were higher, shutdown times for maintenance have been longer.
So let's take a look at Q4 and Q1 in detail:
Q4/2013:
In the fourth quarter KOG still completed 26 net wells, right on track for the projected 100 wells per year, and missed badly.
Guidance (Statement from Kodiaks news release from Oct. 22, 2013) was:
"The Company projects an exit rate for 2013 sales volumes of approximately 42,000 BOE/d."
Actual exit rate was 36.000 - 37000 BOE/D. A huge miss in Q4, and that with 26 wells completed.
Q1/2014:
In the first quarter 2014 Kodiak completed only 19 net wells. Of those 19 completions, 5 were in the Wildrose project, which is viewed as second tier acreage. Kodiak had to drill there to make all acres HBP. This explains in part the production decline in Q1.
However, as management knew they had to drill at Wildrose, I am still surprised about the huge miss on their own guidance.
Guidance (Statement from Kodiak news release from Fe. 11, 2014):
"Kodiak expects first quarter 2014 sales volumes to average between 36,000-38,000 BOE/d which is on pace to achieve the Company's stated full year guidance of 42,000-44,000 BOE/d."
Actual Q1 sales volume averaged 34.000 BOE/D and guidance had to be revised to full year average of 39.000 - 42.000 BOE/D.
Clearly these are huge misses. Can it all be attributed to winter?
I don't think so. Remember that there were still 45 completions in Q4 and Q1 combined, net cash outspending by 185 million USD combined , for a production growth rate of zero.
The company completed additional 10 wells in April and estimates the actual production in April at 36.000 - 37.000 BOE/D, still very little growth compared to Q3 2013.
So what are the additional reasons?
First, the Wildrose acreage is indeed second tier. Maybe not economic at all at current drilling costs. Any sale of this acreage for a reasonable price would be very good news for KOG
Second, the legacy wells could be declining faster than anticipated. Maybe there is no leveling off to the long tail at all and the long life thesis of 20-30 year wells and 600-950 MBOE EUR is way to optimistic. This would be very bad news for Kodiaks current valuation. The stock would be severely overvalued.
I will demonstrate this with a PV-10 calculation based on more pessimistic assumptions.
PV-10 Calculation
I will do a PV-10 valuation attempt based on the actual Company presentation.
As Kodiaks guidance would be way to optimistic, I will make some corrections to their assumptions.
Kodiak guides us to a total of ca. 1300 actual remaining drilling locations with EURs ranging from 325 MBOE at Wildrose to 950 MBOE for the best wells in Dunn County.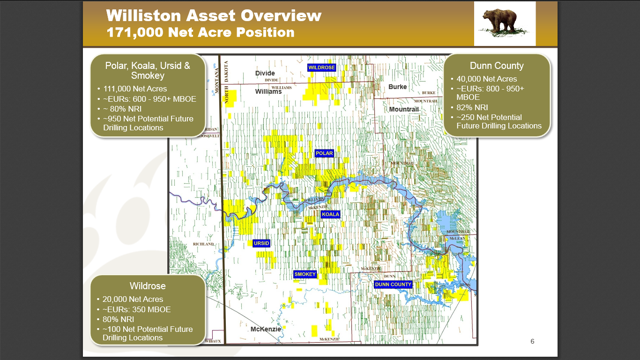 I will not give Wildrose any value as potential drilling location. Instead, I assume Kodiak will be able to sell the Wildrose asset for 100 million USD.
The number of drilling locations at the other countys is based on full downspacing to 10 wells per DSU (drilling space unit). The results of the pilot tests for downspacing have been in line with expectations in the Polar area, but more to the downside at Smokey. Smokey tends to underperform especially for the Three forks wells. So while full downspacing may be possible in the better areas, I don't see it for the whole acreage. I will reduce the potential downspacing locations by one third. That leaves us with ca. 800 future potential drilling locations.
Now we calculate the potential PV-10 of the drilling locations.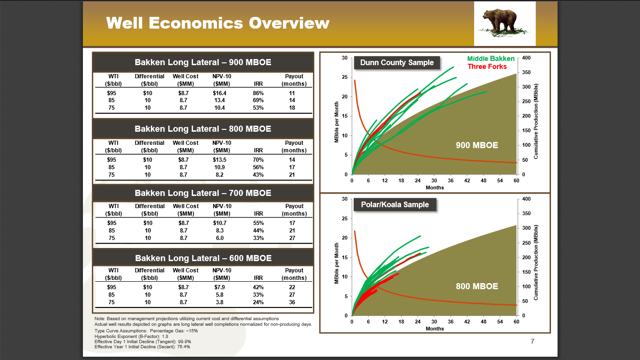 In this slide Kodiak gives an estimated NPV-10 per well with different assumptions. On the right hand side of the slide we see a selected sample of good performing wells.
For our calculation we assume an average EUR of 500 MBOE per well. Kodiak guides to 600 -950 MBOE EUR per well, but in the light of the poor production numbers and downward corrections in production guidance we will be careful.
Kodiak plans to drill 100 wells per year, that means there are 8 years drilling left. The average Nymex futures price for WTI over the next 8 years is approximately 85 $.
Looking at the table we interpolate the NPV-10 of approximately 3.6M for a well with 85 $ WTI and 500 MBOE.
3.6M x 800 wells = 2,880 billion USD new value in the next 8 years.
Looking at the financial report, Kodiak estimates the PV-10 for its already producing wells at 2,437 billion USD. I will make a haircut of only 10 % to that figure to adjust for the lower EURs.
Table 2: Calculation NAV per share
All figures in $ millions
| | |
| --- | --- |
| PV-10 value generated from future wells | 2,880 |
| plus PV-10 value existing wells: 2,437 x 0,9 | 2,193 |
| plus Wildrose sale | 100 |
|   |   |
| Total value generated | 5,173 |
|   |   |
| Minus Debt | 2,430 |
| Minus Overhead cost for 8 yrs 45M x 8 | 360 |
| Minus Interest expense for 8 yrs 100M X 8 | 800 |
Resulting Net Asset Value: 1,583
1,583 million USD divided by 266 million shares = 5.95 USD/share
Furthermore, management doesn't seem to believe in its own goal of living within cash flow anymore.
Proof from the Q1 conference call:
Jimmy Henderson , CFO:
"we look to fund most of our capital expenditures within internally generating cash flows."
Comment: Most does not mean all, which means there is more debt to come. The goal to fund Capex with free cash flow in 2014 will not be reached.
"Regarding the revolver facility, we just completed the spring redetermination and left the borrowing base and aggregate commitment to $1.35 billion. As a reminder, we had just recently set that borrowing basin in November, so we didn't expect a change this time around."
Comment: The banks did not expand the revolver. Why not? Are they also worried about the poor last quarters?
"We ended the quarter with about $700 million drawn on the revolver, which leaves us with over $650 million undrawn. We continue to believe this provides us with sufficient liquidity to meet our commitments."
Comment: This indicates that they will use a good chunk of the undrawn 650 million. Does not sound good. Kodiak better stops heavy outspending or they will need additional capital soon.
The very important Q2 numbers will bring some light. There are no more weather excuses and KOG has announced to drill only in their "core" area, meaning their most productive acreage.
So what am I looking for in Q2 to gain back confidence into KOG?
If they can stay within cash flow and still grow, all my concerns are gone.
If they produce on pace to keep their new revised lower guidance, but keep their heavy outspending, I will surely stay out. And depending on the amount of outspending I will consider a short.
If they will have to revise the production guidance again to the downside, this is a short. (coupled with a hedge against higher oil prices.)
Conclusion:
Kodiak had two really bad quarters. There was no growth and they missed their own guidance badly. The days of high growth are probably gone forever. The debt load is too high to finance further growth with debt. The company has to prove that they can live within cash flow. So far Kodiak has failed to do so.
Is this only a winter bump in the road? Will downspacing and further technological advances outweigh high decline rates and high debt?
Possibly. But the uncertainty is bigger than 6 month ago. Maybe the Kodiak acreage is not as lucrative as advertised. Stay out until the picture is clear.
Disclosure: I have no positions in any stocks mentioned, and no plans to initiate any positions within the next 72 hours. I wrote this article myself, and it expresses my own opinions. I am not receiving compensation for it (other than from Seeking Alpha). I have no business relationship with any company whose stock is mentioned in this article.