So last we reported back on April 22nd, Skechers (NYSE:SKX) reported a blow out Q1, and the stock ripped from 36.80 to over 42 before falling back to the 40 area. Over the last 2 weeks, the stock has been very strong along with the overall market and is now at 44.50 up over 30% on the year.
So what is going on recently that has taken the stock to new highs? Investors are starting to believe in the story and the significant potential revenue and earnings growth rates over the next few years. Our previous articles chronicled the toning shoe crash from 2010-2012, and we were very firm believers that the company had completely transformed itself in nearly every way as they came back from steep losses and inventory writeoffs of toning shoes. But that experience has made the company stronger and smarter, and they never stopped investing in new products and vastly more efficient and expanded distribution. And with that, they have developed some of the hottest products in the shoe industry(go walk, go run, Bob's, relaxed fit), and they currently sport the fastest growth rate of any footwear company.
So where is the growth coming from? Ask the company and they will say basically everywhere. Skechers has 3 components of revenue: domestic wholesale (famous footwear, DSW (NYSE:DSW), Kohl's (NYSE:KSS), Macy's (NYSE:M), Shoe Carnival (NASDAQ:SCVL), etc), international wholesale (the company sells its product through wholly owned subsidiaries and distributors in over 100 countries), and company owned retail stores (Skechers ended last year with 400 company owned stores and plans to own 60-70 stores in 2014 and 40-50 stores per year starting in 2015). The growth rates within their 3 components of revenue are determined by how their products are received in the marketplace by consumers, and at the present time, consumers are buying Skechers products like never before in the company's history. Their designs, colors, comfort and broad diversity of product at very reasonable price points are strongly resonating with consumers here in the US and internationally. The company has cut the time to market of their shoes so they can capture emerging trends within the industry. This is leading to significantly higher growth rates than the industry, and the company is taking market share from competitors. The company's foray into performance athletic shoes which seemed like a long shot, now seems to be gaining traction on the back of the Boston Marathon win by company sponsored Meb Keflezighi. Basically, everything is going very right for Skechers.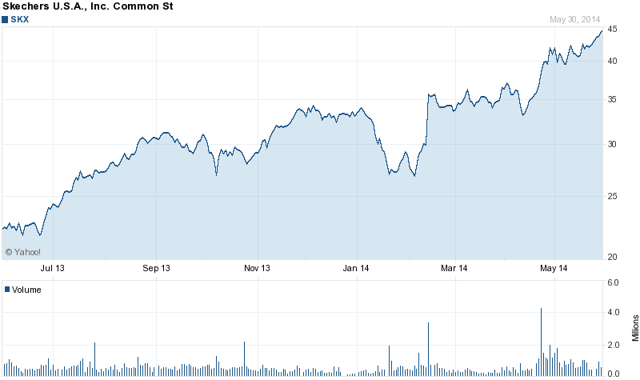 So how much of this is priced into the stock at the present time? At nearly 45 dollars per share, obviously a lot more is priced into the stock than at 30, but in our opinion, the company still represents a solid value based on the high revenue and earnings growth rates for 2014 and 2015. We still believe the company's growth rates are vastly underestimated by the analyst community. The 7 analysts that follow Skechers have become more bullish on the story, but we believe the company's revenue growth and operating leverage is vastly underestimated at the present time.
For the upcoming second quarter, analysts look for approximately 20% revenue growth- 507 million versus last year's 428 million. We believe the recent action in the stock price is indicative of strong channel checks showing that revenue and earnings for this quarter could far surpass current estimates. Knowing how much Skechers crushed earnings last quarter, we think the analysts will be more proactive this quarter and actually raise numbers as we head into late July's report. This should fuel further gains in the stock. The company reported that backlogs were up 35% over the prior year coming into this year's second quarter. We do not believe that interpolates to 20% revenue growth this quarter. We believe that could interpolate to 25-35% revenue growth for this quarter. With zero excess inventory, tightly controlled operating expenses and no new sales and marketing initiatives, we think the strong revenue growth rates mean even stronger net income and operating margins than are currently forecast. The current earnings estimate for Q2 is .40 cents. We believe the company should easily beat .40 and .50 cents per share or higher is very possible. Of course, all of this remains to be seen.
At this point, the momentum clearly favors Skechers. The stock is making new highs on a daily basis. Product reviews have been solidly positive, and the company is firing on all cylinders and on all components of revenue. With a stagnant economy, strong growth deserves a premium valuation. At 20 times current earnings and 17 times next year's earnings, Skechers current valuation still represents a good entry point. With an improving domestic and global economy, growth rates could accelerate from the current 20% rate. The current market cap for Skechers is 2.2 billion. We see a market cap of 3 billion as very reasonable based on the results to come in the very near future. This interpolates to a 60 dollar stock price. The momentum in Skechers operating results and stock price should continue.
Disclosure: I am long SKX. I wrote this article myself, and it expresses my own opinions. I am not receiving compensation for it (other than from Seeking Alpha). I have no business relationship with any company whose stock is mentioned in this article.