The following is an overview of analyst opinion on the S&P 500 index. A rating of 1 indicates a strong buy, while a rating of 5 indicates a strong sell.

This kind of data is often a useful starting point if you're a contrarian. Analysts don't always get it right, and interesting ideas can come from looking at the stocks at the extremes of analyst opinion...

Analyst rating data sourced from Finviz.

Sector Overview: Average Analyst Recommendation

By averaging out analyst ratings over each sector, we can identify the sectors analysts think will outperform. As it turns out, analysts are most optimistic about Conglomerates, Industrial Goods and the Services sector. They are least optimistic on Utilities and Financials.
Basic Materials: 2.28 (based on 56 stocks)
Conglomerates: 2.12 (based on 6 stocks)
Consumer Goods: 2.33 (based on 60 stocks)
Financial: 2.42 (based on 80 stocks)
Healthcare: 2.22 (based on 43 stocks)
Industrial Goods: 2.21 (based on 41 stocks)
Services: 2.26 (based on 101 stocks)
Technology: 2.28 (based on 78 stocks)
Utilities: 2.44 (based on 35 stocks)
For each stock, we'll list the average analyst rating.

Top 10 Stocks To Sell, According to Avg. Analyst Recommendation
Eastman Kodak Co. (EK): 4
Sears Holdings Corporation (NASDAQ:SHLD): 3.6
Diamond Offshore Drilling Inc. (NYSE:DO): 3.4
Airgas Inc. (ARG): 3.4
American International Group, Inc. (NYSE:AIG): 3.4
Nicor Inc. (NYSE:GAS): 3.4
Apartment Investment & Management Co. (NYSE:AIV): 3.3
Cincinnati Financial Corp. (NASDAQ:CINF): 3.3
Eli Lilly & Co. (NYSE:LLY): 3.2
Ameren Corporation (NYSE:AEE): 3.2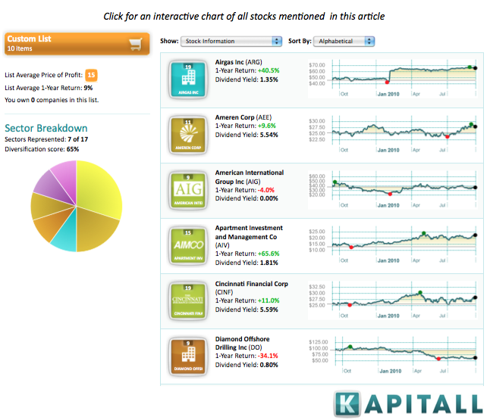 Top 10 Stocks To Buy, According to Avg. Analyst Recommendation