Last week Bank of America (BOA) initiated coverage on Gramercy Property Trust (NYSE:GPT) with a BUY rating at $6.25 per share - on the day of the coverage news, GPT shares climbed by over 5%.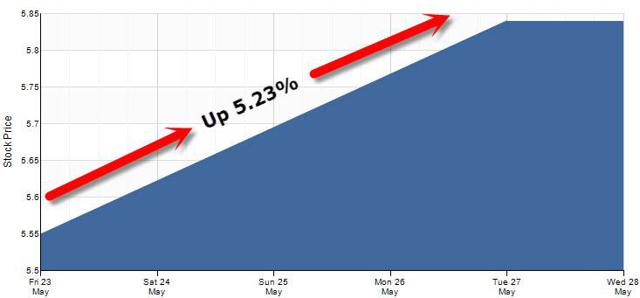 I'm glad to see BOA covering this small cap REIT as I have been bullish on the shares for a few years. In December 2012 I wrote an article on GPT titled, Gramercy Capital: A Former Mortgage Meltdown REIT Begins To Fire Up The Net, and I summarized the investment thesis as follows:
In summary, Gramercy looks like it could turn into another high-quality net lease REIT. The company is beginning a new chapter and the business model is sound. The shares are trading at $2.74 and there is NO DIVIDEND BEING PAID NOW. The experienced management team should be able to get this company back on the REIT track and start paying dividends again. Once Gramercy gets the stigmatized mortgage mess behind them (aka "the dark side" REIT), the new Gramercy REIT should enjoy success again by executing a triple net strategy of "nothing but net.
In September 2013 I decided it was time to "put some skin in the game" and I purchased shares at $4.19. Since that time, my investment (in GPT) has paid off handsomely with a total return of over 48%.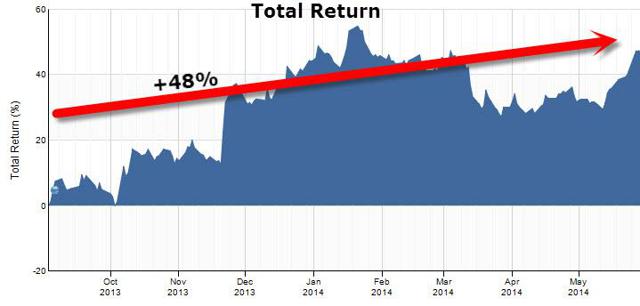 In fact, GPT is not only my best REIT pick, but my best stock, period. I wish I had gone against my small cap limit rule and "loaded up the truck," but at the time, GPT was not paying a dividend and I had to remain cautious since there was no recent dividend record and GPT was still a diamond in the rough.

Let's Revisit Gramercy
As some may recall, GPT had a painful past in which the company's previous missteps cost investors a lot of money. Notably, in 2009, the marriage between Gramercy and American Financial began to unravel, primarily due to the combined company's significant leverage as well as the growing distressed loans originated by Gramercy's legacy lending organization.
After adding significant leverage to the failing multifaceted platform, lenders (Citigroup, Goldman Sachs, SL Green Realty, and LBS Debt Holdings) started closing in. Gramercy, previously a financing unit run by executives from SL Green (NYSE:SLG), was the largest shareholder, followed by Citigroup and Goldman Sachs. All of the investors ended up losing and had it not been for the "hard net lease assets" owned by American Financial, Gramercy would have likely evaporated into thin air (since the toxic paper originated by the CDOs was virtually worthless). This FAST Graph below illustrates the "crash and burn":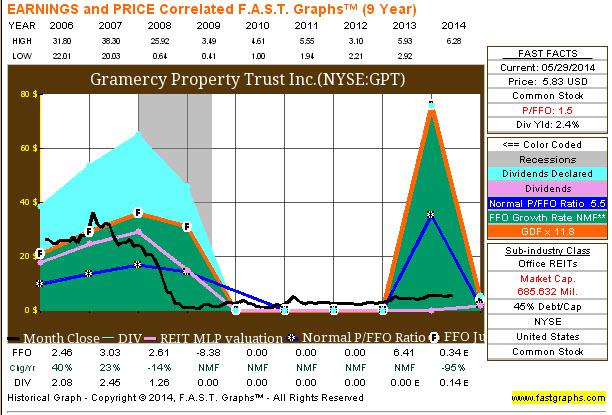 In 2012 Gramercy installed a new management team led by veteran REIT executive, Gordon Dugan. Dugan placed a strong emphasis on reducing leverage and building a durable portfolio of high-quality net lease assets. Along with the new team (many experienced former W.P. Carey employees), Dugan was hired to reposition GPT and reposition the company from real estate finance (legacy was Gramercy Capital Corp.) to net lease property owner rebranding GPT into Gramercy Property Trust.
With just a few years under his belt, Dugan has done an excellent job at not only rebranding Gramercy but more importantly, providing investors with enhanced returns. Compared with the broader net lease peer group, GPT is a relatively small REIT with a market cap of under $700 million.

As of the latest quarter (Q1-14) GPT has 110 properties consisting of Industrial (46%), Office/Banking (46%), and Specialty (8%). The portfolio is 99% occupied and the weighted average remaining lease term in 10.8 years. The portfolio is over 10.3 million square feet with an annualized straight-line NOI of $75.5 million.

GPT's portfolio spans from Florida to California to New York and markets in between. Here is a snapshot of the portfolio breakdown by geography.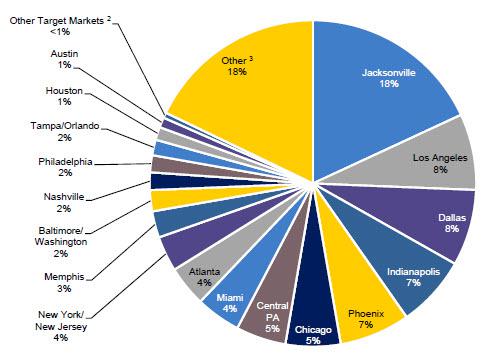 GPT's portfolio has over 55% of investment grade rated tenants and Bank of America is the top tenant with around 38% in exposure. Here is a snapshot of the top 10 tenants: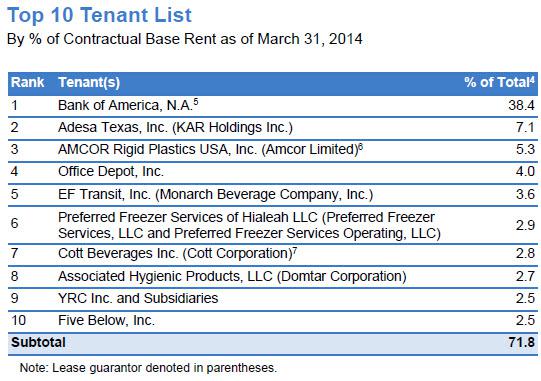 GPT owns two critical BOA operations center campuses in Jacksonville and Phoenix as well as a large number of retail branches in California (leased to BOA) with below market rents and/or redevelopment opportunities. Many of the bank branch rents go to fair market value upon initial term renewal, subject to a 10% overall cap rate.
Since GPT acquired the BOA portfolio (in a JV structure), the portfolio has been pruned through the sale of 41 buildings bringing BOA occupancy from 84% to 96% and total occupancy from 89% to 97% as of March 31, 2014. Also in June, GPT plans to acquire the JV partner's 50% stake in the BOA portfolio for $197.5 million. At that time, GPT will repay the JV's existing $200 million flowing rate mortgage, funded with a new $200 million unsecured term loan.
The BOA lease structure is a single master lease (BOA rated A2/A-) with 9 years remaining with six, 5-year renewal options. The BOA master lease has contractual base rent of $8.87 per square foot as of March 31, 2014. Here is a snapshot of the BOA site locations: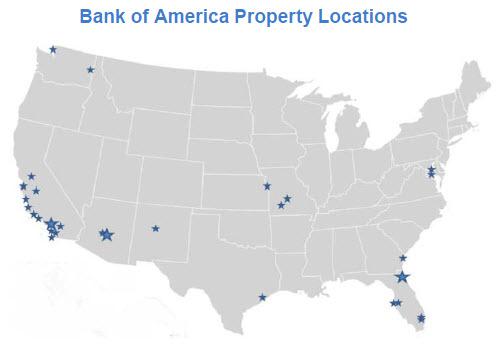 The Jacksonville portfolio consists of a 10-building operations center campus comprising 1.2 million square feet and a 6,700 square foot office building. The campus has many separate stand-alone buildings that could be easily multi-tenanted if BOA were to vacate (lease runs through June 2023). The Phoenix portfolio consists of a five-building operations campus comprising 540,000 square feet and a 20,000 square foot office building in Mesa, AZ. Here is a snapshot of GPT's contractual BOA base rent by market: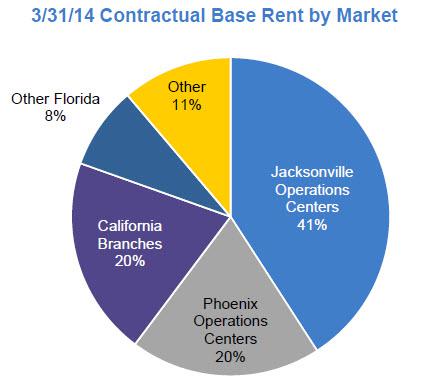 Gramercy's Differentiated Investment Strategy
GPT has a few competitive advantages that should be considered:
First, the company sources smaller transactions from $5 million to $50 million. This is a competitive advantage because GPT is able to source smaller deals that the larger Net Lease REITs never see.
Second, by focusing on industrial and office, GPT obtains higher risk adjusted yields (cap rates) by also staying away from the more competitive retail oriented sites. Accordingly, that presents the most interesting opportunity because the relative value of retail and industrial and office changes over time; GPT opts to allocate capital according to where the company thinks office and industrial offer the most compelling economics, specifically on the industrial side.
In 2013 GPT closed on over $360 million of acquisitions and in the first half of 2013 the company has closed or will close on over $340 million of new deals (includes JV purchases). GPT targets to close on over $600 million in 2014.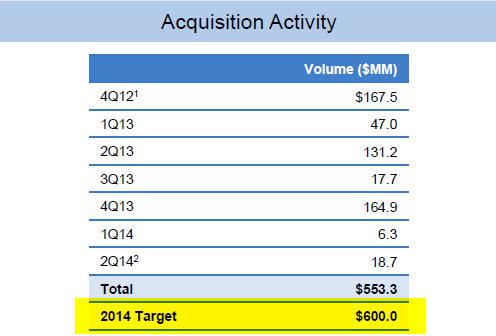 GPT recently closed on three separate transactions totaling approximately 423,000 square feet for an aggregate purchase price of $39.6 million. The properties are an approximately 309,000-square-foot packaging and distribution facility in Elk Grove Village, Ill., which is 100% leased to an independent bakery and contract food manufacturer through December 2023; an approximately 89,000-square-foot operations center in Nashville, Tenn., which is 100% leased to a services provider to the food, facilities management and career apparel industries through June 2029, and an approximately 25,000-square-foot office and retail bank branch in St. Louis. The property is leased to two tenants with a weighted average lease term of five years. GPT said that the properties' first-year NOI totals approximately $2.8 million and they carry a weighted average lease term of approximately 11.5 years.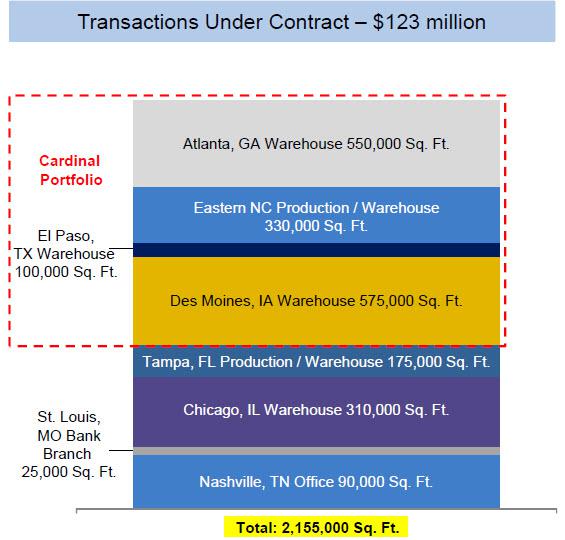 Another differentiator for GPT is its Asset Management business model. The company earns fee revenue from managing real estate assets for third parties through its Gramercy Asset Management segment. These management fees, administrative fees and property management fees are derived from the realty business, and they all provide a sustainable value to the overall operations.
In 2014 the net contribution for Gramercy Asset Management is expected to be around $5 million pre-tax with additional incentive fees ($16 to $22 million expected range of incentive fees to be realized in 2014, 2015, and 2016). GPT asset management business is scalable (58 people on staff) and the $1.4 billion portfolio (of assets under management) should grow significantly over time.
Finally, GPT said in its recent Investor Presentation that the company pals to enter Europe to source new deals. As explained in the presentation:
Currently, significant capital or trophy assets and distressed assets. Less competitive for medium-return, cash flow assets. Corporations own significant real estate on balance sheets - estimated at approximately 70% of commercial real estate in Europe versus 40% in the US.
GPT's CEO, Gordon Dugan, has deep experience in originating deals in Europe and he established the first W.P. Carey (NYSE:WPC) office in Europe in 1998. GPT intends to leverage its relationships, contacts and market knowledge to gain scale and diversification.
In the broader net lease REIT universe, GPT intends to carve out a niche as one of the largest Industrial/Office landlords: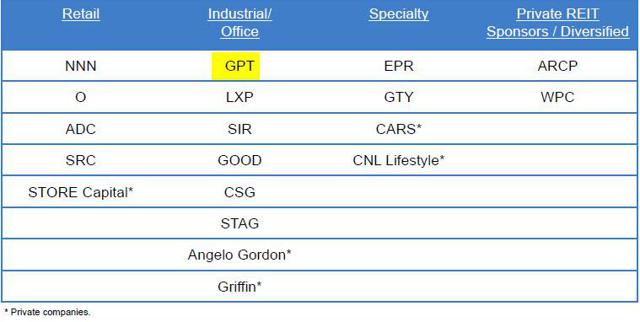 The company's goal is to be the leading Industrial/Office Net Lease REIT.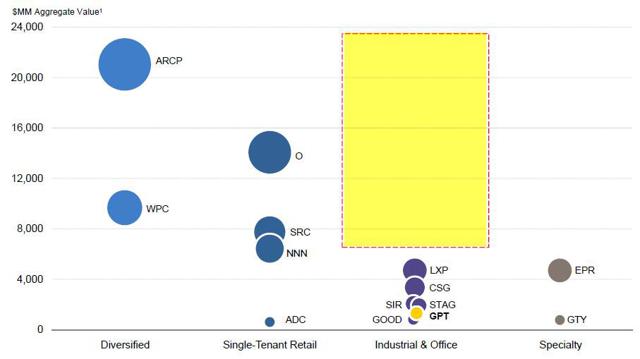 Gramercy's Balance Sheet
At quarter end, GPT maintained liquidity of $153.4 million, included in that is cash of $61.9 million and availability under the revolving secured credit facility of $91.5 million. The company recently exercised an accordion to take the secured credit facility up to $150 million (only pledged and encumbered enough assets such that the company could draw down around $91.5 million of it today).
At year end, GPT had $45 million borrowed under the facility. At one point during this quarter, the borrowings did reach $68 million, but proceeds from the convertible debt offering were used to fully extinguish the amounts under the facility. Here's a snapshot of GPT's pro forma capitalization: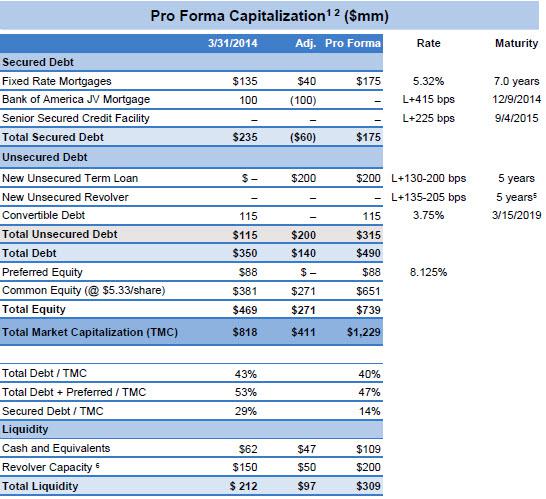 Here's a snapshot of GPT's secured debt versus the peer group:

Here's a snapshot of GPT's Total Debt to Total Capitalization versus the peer group:

In May GPT priced an upsized public offering of 40 million shares of its common stock at a public offering price of $4.98 per share. The previously contemplated number of shares was 34.0 million. Based on the offering price, the transaction, including a full exercise of the underwriters' overallotment option, represents a maximum offering size of about $229.1 million.
The company intends to use a portion of the net proceeds to fund the cash purchase price for its acquisition of the remaining 50% joint venture interest held by affiliates of Garrison Investment Group LP (BOA portfolio). The remaining proceeds are expected to be used for general corporate purposes. The offering closed on May 19th. This equity offering and refinancing significantly enhances GPT's liquidity and reduces overall leverage.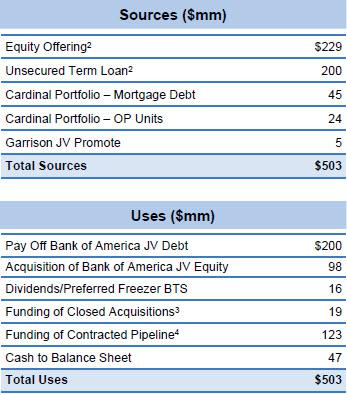 Moving the Needle
GPT generated Adjusted Funds from Operations (or AFFO) during the first quarter of $3.6 million or $0.05 per diluted common share. That compares to $3.4 million or also $0.05 per diluted common share in the prior quarter. FFO was $3.2 million or $0.05 per diluted share. That compares to a negative $947,000 or $0.01 per diluted common share in the prior quarter. The company said that its estimated FFO run-rate for Q3-13 and Q4-14 will be between $.09 to $.11 (per quarter).

As illustrated below, you can see the historic and estimated FFO per share trends and the solid growth forecast for the company:

During Q1-14 GPT's rental revenues increased to $7.5 million from $5.7 million and that's due to the growth in the real estate portfolio, primarily related to acquisitions that occurred in the latter part of the fourth quarter of 2013 (there was only one small property acquisition in Q1-14). Remember that GPT has $123 million under contract and $28 million under letter of intent (as of Q1-14) and the company has guided $600 million year-end.
Concerning the dividend, after a hiatus of more than five years, GPT announced (in March 2014) that the company was resuming its dividend payment to common stockholders (beginning with the first quarter of 2014). Although I was hoping for a higher payout, the board of directors authorized and declared a dividend of $0.035 per common share.
Gramercy said previously that it would likely payout 85% of AFFO and a dividend yield of 5.7%, more aligned with the peer group. However, the company opted to maintain a more conservative payout ratio (likely less than 50% of AFFO), as the company has positioned itself as a high-growth REIT.

I would suspect that GPT will boost its dividend this year. As illustrated below, you can see that GPT will have plenty of juice (estimated AFFO of $.33 per share) to boost its payout in 2014.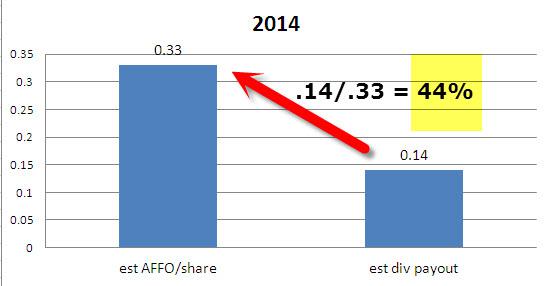 Even without a big dividend payout, GPT has been able to crush the peer group - that proves that a small peer generating solid acquisitions can move the needle. GPT's share price has grown by 25.4% in one year.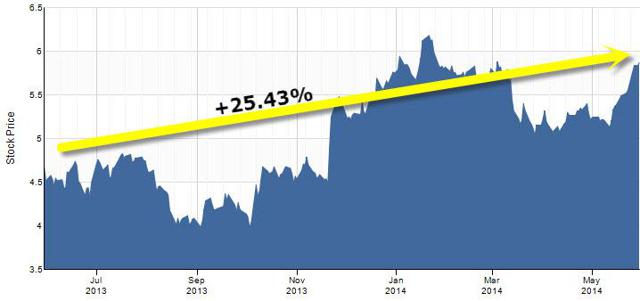 Looking in the rear view mirror, you can see that GPT left about everyone else in the dust.

Even in the last month, GPT shares ran up another 12.45%.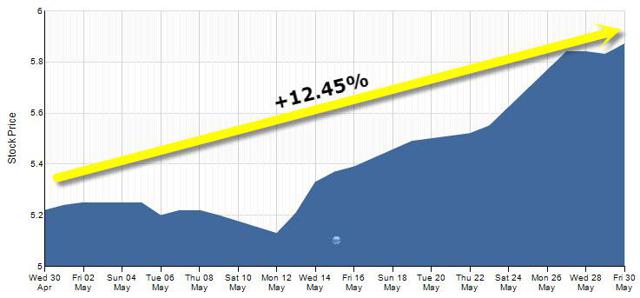 Can Gramercy keep the magic going? As illustrated below, the shares aren't cheap.

Considering GPT's future growth potential, I modeled the company's AFFO to be $.36 in 2014 (high-end of estimate), $.46 in 2015, and $.53 in 2016. My valuation estimate incorporates a 16.5x multiple or $5.94 (2014) and $7.59 in 2015. In order to achieve these valuations Gramercy will need to acquire around $500 million in 2014 and $500 million in 2015.

BOA has a $6.25 price objective on GPT shares (applied 14.5x FFO multiple to forward Q4 FFO estimate of $.36). Gramercy's management team has strong incentive to grow the stock price to at least $9 per share by June 30, 2016. The chart below summarizes the value that would be awarded to Dugan if the stock price reaches $5, $7, or $9 over the periods below ($20 million payout to three executives at $9.00 per share):

I'm buckled up and holding on to my small-cap champ. Dugan and his team are hitting all cylinders and with a gas tank full of capital, I expect to see continued success - Gramercy Property Trust Leaves Them All In The Dust!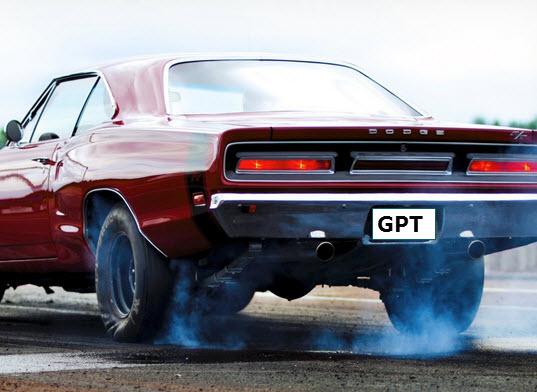 For more information on my REIT portfolio, check out my monthly REIT newsletter HERE.
Sources: SNL Financial, FAST Graphs, and GPT Investor Presentation.
Disclaimer: This article is intended to provide information to interested parties. As I have no knowledge of individual investor circumstances, goals, and/or portfolio concentration or diversification, readers are expected to complete their own due diligence before purchasing any stocks mentioned or recommended.
Disclosure: I am long O, DLR, VTR, HTA, STAG, UMH, CSG, GPT, ARCP, ROIC, HCN, OHI, LXP, KIM, WPC, DOC. I wrote this article myself, and it expresses my own opinions. I am not receiving compensation for it (other than from Seeking Alpha). I have no business relationship with any company whose stock is mentioned in this article.