Bonds still have the edge on stocks over the period from the prior bottom in 2003 on a buy & hold basis, but those who have been rebalancing monthly (including buying more stocks each month in the face of the 2008 crash to the March 2009 low), have found stocks to be very helpful, with the exception of retirees living out of their marginally adequate portfolios.
This eight year total return performance chart for investment grade bonds (red) and the Dow Jones Composite (black) shows bonds and stocks nearly equal in total return. That assumes purchase eight years ago and no further action.
click to enlarge images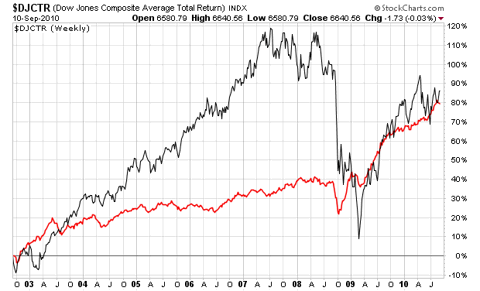 You get a quite different total return picture if you look at the results from a monthly rebalancing between fixed income and US stocks.
The chart below shows the performance of five different allocation levels (100% stocks, 80%, 60%, 40% and 20%) between stocks and fixed income, BUT that only occurred with monthly rebalancing, and the willingness and ability to buy stocks all the way down during the crash, and to scale out of stocks on the way back up.
Unfortunately, most investors in later stages of their economic lives cannot take the risk associated with that method, either financially or emotionally -- and once stocks were recovering they might not be willing to scale out by adding to bonds.
Those same retired investors may find themselves in a fix when interest rates rise and bonds begin to decline. Scaling out of those winners into fundamentally sound high yield stocks may be a good idea too.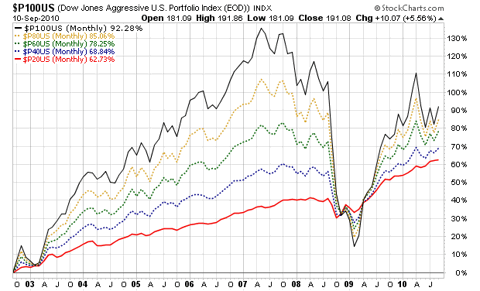 Very roughly, it looks like buying & holding bonds eight years ago with no further action produced results approximately equal to the results of rebalancing monthly, and taking the roller coaster ride associated with a 60% stocks 40% bonds portfolio.
Given the rapid depletion of a portfolio that is undergoing regular withdrawals when the portfolio value dives, retired folk would have fared better with 100% bonds in the past 8 years, in spite of the superior returns from rebalancing between stocks and bonds.
On the other end of the spectrum, those in the accumulation stage of life, who were putting all of their periodic savings into stocks, would have been better off with stocks.
This dichotomy is an illustration of the need to make "suitable" decisions about portfolio design, and not to take Wall Street allocation ideas as your personal model without figuring out how they relate to you.
We think most Wall Street recommendations are suitable either for those in the accumulation stage with substantial future savings contributions ahead; or for institutions with perpetual life, ample funding and the prospect of continuing external sources of new funds. Remember, that individuals have limited lives, reach stages where they are in net withdrawal, and may not be adequately funded when the withdrawals begin.
An alternative to all bonds for the retired could have been buying high yield stocks in the early stages of the recovery from 2003 and holding them without further actions, while living out of the high dividend cash flow. That approach only works however, if you buy the stocks when prices are low and yield are high -- not when price are high and yields are low.
Here is how the buy & hold versus monthly rebalance story looks on a one-year and three-month basis
1-Year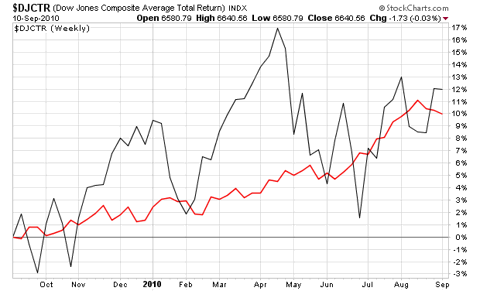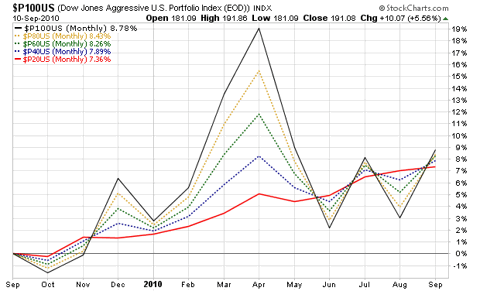 3-Months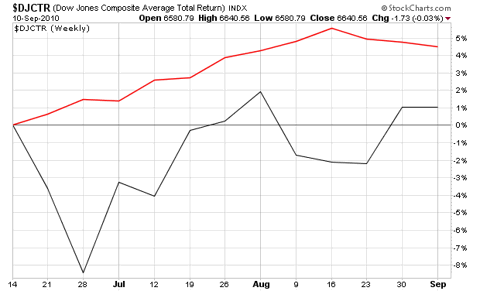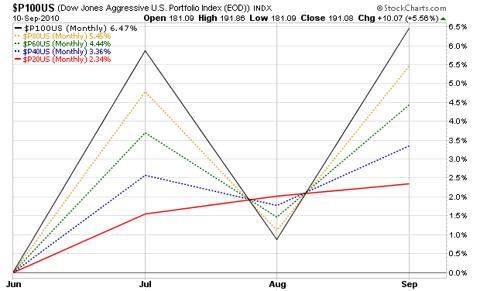 Highly relevant securities for bonds are BND and AGG; and for stocks are SPY, IVV, IWB, IWV.
Holdings Disclosure: As of September 12,2010, we own BND and AGG in some managed accounts.
Disclaimer: Opinions expressed in this material and our disclosed positions are as of September 12, 2010. Our opinions and positions may change as subsequent conditions vary. We are a fee-only investment advisor, and are compensated only by our clients. We do not sell securities, and do not receive any form of revenue or incentive from any source other than directly from clients. We are not affiliated with any securities dealer, any fund, any fund sponsor or any company issuer of any security. All of our published material is for informational purposes only, and is not personal investment advice to any specific person for any particular purpose. We utilize information sources that we believe to be reliable, but do not warrant the accuracy of those sources or our analysis. Past performance is no guarantee of future performance, and there is no guarantee that any forecast will come to pass. Do not rely solely on this material when making an investment decision. Other factors may be important too. Investment involves risks of loss of capital. Consider seeking professional advice before implementing your portfolio ideas.
Disclosure: Holdings Disclosure: As of September 12,2010, we own BND and AGG in some managed accounts.