Between last September and early February, the appreciation in shares of Vipshop (NYSE:VIPS) was both steady and understandable. Sure, the stock had doubled from $50 to $100, but earnings had turned positive and future reports were undergoing upward revisions.
Nevertheless, when the company posted another strong fourth quarter beat in March, the stock moved upwards too rapidly. Shares gained as much as $60 and the high of $182 meant the company's price had doubled in only two months.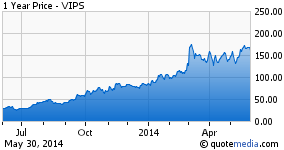 The resulting outcome was far from surprising as shares experienced a brief pullback followed by range-bound trading. However, there are multiple signs that range may be trending higher.
$160 Level: Until May 15, shares hadn't closed over $160 since March 7. With the exception of the one trading day following the breakout, the stock hasn't fallen below that $160 threshold since.
Earnings: It might be a repeated theme, but the fact Vipshop has beat earnings on all nine quarters as a public company can't go unnoticed. That's especially true since with the last report and accompanied upbeat guidance, earnings this year are projected to show year-over-year growth of 156 percent.
Price Targets: Even with the continued appreciation in value, many firms are still raising their price targets for the stock. JPMorgan (NYSE:JPM) was the latest as they hiked their outlook from $200 to $210. Also, of the 14 investment analysts covering the stock, three list it as a hold while 11 have assigned a buy rating.
P/E Ratio: A current P/E ratio of over 113 may come across as rather alarming. However, with the projected growth, that figure is soon to drop dramatically. Assuming the company merely meets earnings expectations for the final three quarters this year, full year EPS of $2.87 would leave the stock with a current P/E value of under $60. Meanwhile, full year 2015 earnings are expected to come in at $4.54.
Depending on risk tolerance and upon opening a position, stop loss orders around $150 should be considered.
Disclosure: I have no positions in any stocks mentioned, but may initiate a long position in VIPS over the next 72 hours. I wrote this article myself, and it expresses my own opinions. I am not receiving compensation for it (other than from Seeking Alpha). I have no business relationship with any company whose stock is mentioned in this article.