Since its spin-off of Marathon Petroleum Corporation on June 30, 2011, Marathon Oil's (NYSE:MRO) share price has performed strongly for investors. The company has generally followed the trend of crude oil and has outperformed its Exploration and Production ("E&P") Peer Median Index in most of the periods.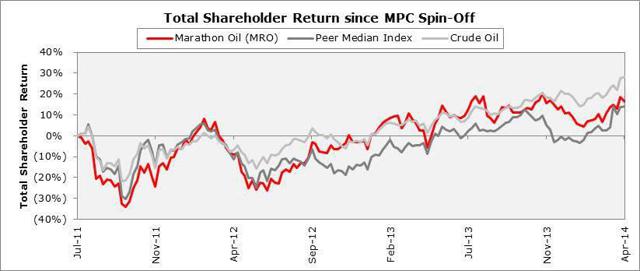 (Source: CapitalIQ)
The question for investors is, although MRO has performed well in the recent past, can similar performance be expected from it in the future? This article will provide you with tools to answer that question by breaking down MRO's current valuation using both a Relative Valuation and a Discounted Cash Flow ("DCF") Analysis to help you understand what is currently embedded in its stock price. By understanding what is expected of the company today you can better judge the reasonableness of the company meeting or exceeding these expectations in the future.
Relative Valuation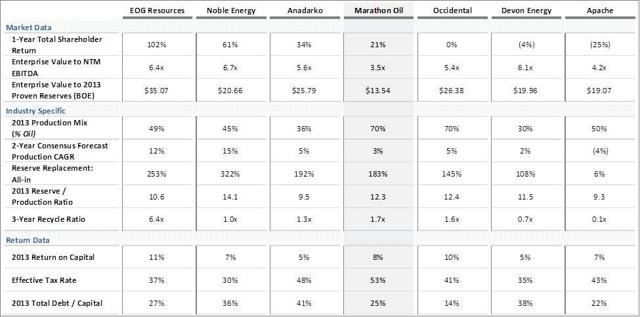 (Source: company filings and CapitalIQ)
There are a variety of tools that can be utilized to analyze a company's relative valuation. For E&P companies, two metrics that can be particularly useful to investors are Enterprise Value ("EV") to Next Twelve Months ("NTM") EBITDA and Enterprise Value to Proven Reserves BOE. Enterprise Value to NTM EBITDA provides a view as to how investors are valuing a company's near term cash flows versus its peers. Enterprise Value to Proven Reserves shows how investors value the company's oil and gas reserves that are still in the ground against reserves held by its peers. Across both of these measures Marathon Oil can be viewed as having a low relative valuation as shown in the table above.
Can Fundamental Factors Explain the Low Valuation?
There are three key fundamental drivers of EV/EBITDA that can be analyzed to judge whether MRO is potentially being undervalued: prospective growth rates, returns on capital and effective tax rates.
Firstly, we can look at Marathon Oil's relative growth prospects using a projected 2-year production CAGR based on consensus forecast. We see that while the company is not expected to increase production dramatically, its growth rate falls well within the levels of its peers albeit at the low end.
Secondly, Return on Capital provides an efficiency measure which allows us to see if there are any major earning capability differences between MRO and its peers. Amongst returns, MRO places in the midrange of its peers but the company is near the high end of this range. It would seem Marathon Oil historically has done a good job of generating earnings on its capital base.
Lastly, since EBITDA is a pre-tax measure, we look at differences in tax rates amongst Marathon Oil and its peers. In this measure MRO falls very short against its peers as the company has the highest effective tax rate in the group. MRO's high tax rate is driven by the regions in which it operates and this reduces the value of each dollar of EBITDA that the company generates relative to its peers.
Overall, looking at these drivers, it's hard to determine why Marathon Oil would trade at such a steep discount to its peers on an Enterprise Value to NTM EBITDA basis. Due to fundamental drivers, the company should likely trade near the lower end of its peer valuation range but its current discount could be excessive.
Marathon Oil Fares Well Against Peers Across Industry Specific Fundamentals
Additionally, major issues for Marathon Oil do not appear to arise across broad relative industry specific measures. The company has grown its O&G production over the last three years at an approximate 5% CAGR and has also replaced a lot of its depleted reserves as shown by its Reserve Replacement Ratio. Investors may worry if a company is draining its reserves and not replacing them; that does not appear to be the case with MRO. Its Reserve Replacement was ~183% which compares well against most of its peers.
At its current production levels, MRO has 12 years of "Reserve Life" shown by its Reserve/Production Ratio. This means the company could maintain its current level of production for 12 years on its proven reserves. Marathon Oil's ratio is near the top of its group which shows the company has a quite healthy level of reserves.
Finally, a driver of the lower valuation could be driven by investors' fear that finding and developing reserves costs more for MRO than its peers. Using the Recycle Ratio, this fear does not appear to be justified. The Recycle Ratio can be a volatile measure due to the occurrence of extraordinary items for various companies during a specified time period. Based on this ratio over the last three years, Marathon Oil has produced ~$1.7 of cash flow for every dollar of Finding and Development cost which again is above many of its peers. It would appear that Marathon Oil's F&D costs are not radically out of line with peer performance.
Intrinsic Valuation
Developing an intrinsic valuation for an E&P company can be difficult but that does not mean the analysis cannot be useful. In general for E&P companies, intrinsic valuations are usually determined through either a Net Asset Value calculation or a Discounted Cash Flow analysis.
A Net Asset Value calculation involves creating a run-off valuation for the company, assuming its current reserves are depleted and the company is shut down thereafter. This can provide a good floor valuation or low case that a company's value should not go under but investors will generally value public companies as ongoing entities so a NAV calculation will not be sufficient.
A Discounted Cash Flow attempts to value a business through a projection of cash flows into the future. The main problem that arises here for E&P companies is the capital intensive nature of their business. Typically the explicit forecast free cash flows will be low and most of the value of the business is derived from the terminal value. That being said, a DCF can still provide useful information for an investor if designed correctly. An interesting method to utilize is to project the growth and costs of an E&P company based on its oil and gas production levels and then solve for what commodity prices would need to be in order to achieve the current share price valuation. This provides us with a base case which we can use to judge if current expectations for the company are overly lofty or represent a low hurdle.
E&P companies can manage their costs and production levels but are generally price-takers in terms of commodity prices. Marathon Oil has provided high level guidance on its expected overall production growth for the next few years as well as some general guidelines on costs which can be used for forecasting purposes. It's important to recognize that both costs and realized prices for oil and gas production may differ across regions within E&P companies. Therefore it's best to use data as granular as is feasible; in the case of MRO the company has provided breakouts of its geographic segments by North American (US and Oil Sands) and International (Africa and Europe) regions in its filings.
In terms of commodity prices that the company realizes on its production, a ratio of historical realized prices by region versus benchmarks such as commodity prices for WTI (crude oil) and Henry Hub (natural gas) can be used within projections. This allows you to project changes in the benchmark and have prices flow to various regions. The charts below show both the Benchmark commodity prices and the Aggregate Realized Prices for the North American and International regions that are required for free cash flows to achieve the current share price. At MRO's current share price, the benchmark oil price would increase at approximately a ~2% CAGR between 2013-2018E, with gas prices increasing at ~10% CAGR over the same period. Total revenue grows at a ~6% CAGR between 2013-2018E.

(Source: Historical data based on company filings)
Overall investors appear to be implying very little growth in oil prices over the next few years if they believe that MRO will be successful in achieving its forecasted levels of production growth. Production is projected to decline slightly in 2014, per management presentations, and thereafter it is assumed to grow annually at ~6% to meet the midpoint of the 5-7% long term production CAGR.
The terminal value is a large portion of the overall valuation and is forecast to achieve an excess return of ~1% in the terminal period. With an industry that is very capital intensive coupled with high project failure rates, in terms of dry wells, it's reasonable to assume that successful companies will need to earn a return in excess of their cost of capital as compensation for this risk in the long term. A sensitivity table is provided below which allows an investor to see how a higher cost of capital, thus a lower excess return, would impact the expected share price of the company.
Reinvestment is mainly driven by capital expenditures. Capital expenditures are assumed to occur at a rate to maintain MRO's reserve life, meaning any oil produced is replaced. A 3-year average Finding and Development Cost per BOE is utilized to determine MRO's cost of replacing these reserves. 2014E reinvestment appears low in the forecast to reflect the expected sales of oil fields in Angola (~$2.1bn).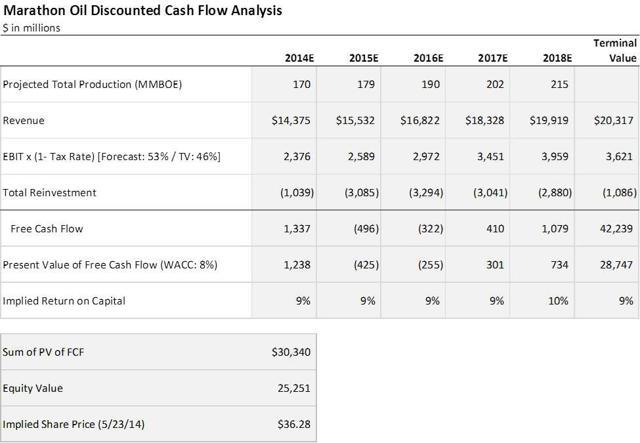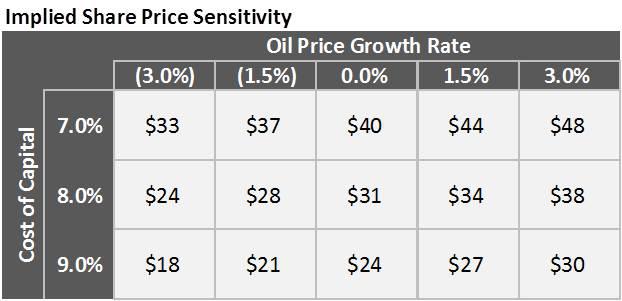 What's Next?
After analyzing Marathon Oil on both a relative and intrinsic valuation basis, the company appears to be currently attractively valued for investors. MRO carries a low valuation multiple versus its peers and it is hard to determine what the quantitative factors are that would drive this. MRO has focused production on oil which should be a positive attribute given the weakness in gas prices over the last few years. The company has grown production over the last few years and is expected to continue to do so relatively in line with peers. It has managed to replace its depleted reserves giving it a Reserve Life well in line with its peers and has maintained a reasonable level of costs in doing so relative to its peers' Recycle Ratio levels. In addition, intrinsically we see that investors are currently pricing only a modest increase of future commodity prices into MRO's stock price based on projected production and cost levels.
As a current or potential investor your next steps might be to try to gain an understanding of the oil fields where the company operates and determine the attractiveness of the assets. It's important to remember that reserve write-downs can occur within E&P companies which would impact the future cash flows ascribed to the company. Finding companies that are situated in high quality oil fields can help offset the risk of large future write-downs in assets.
Additionally remember that Oil and Gas companies in general are price takers, meaning a major driver of their revenue is determined by factors outside their control namely commodity prices. Depending on your view as to what will happen to oil and gas prices in both the near and, more importantly, the long term the attractiveness of investing in any E&P company can vary. This is where the alternative view of the DCF analysis driven by commodity prices can come into play by giving you a point of reference with which you can compare your own forecasts of oil and gas prices against. Barring any unforeseen negative qualitative factors, Marathon Oil could be an attractive potential investment that a value investor may want to investigate further.
Disclosure: I am long XLE. I wrote this article myself, and it expresses my own opinions. I am not receiving compensation for it. I have no business relationship with any company whose stock is mentioned in this article.