KLab (3656) is a Japanese-based gaming company that had been slow to switch from developing feature phone and browser-based games to developing native freemium app games for smartphones.
But, that all changed in April, 2013 when KLab released an innovative role-playing game called "Love Live! School Idol Festival". The game's name and theme was licensed from ASCII Media Works who has developed a multimedia franchise -- music CDs, anime music videos, TV shows, and manga adaptations. According to a company press release:
"School Idol Festival follows the story of the nine members of the μ's (pronounced Muse) as they train to become the best school idols. In addition to the main story, the game features challenges in which players tap along to the rhythm of popular μ's songs. Players will encounter and collect the different members of μ's throughout the game and will be able to build a custom group composed of nine members. To progress in the story, players participate in musical challenges that feature popular songs by the members of μ's. Players can also level up amassed members and unlock individual members' side story."
Love Live! the game is innovative in that it makes streaming music a central feature of game play.
According to charts developed by app analytics company App Annie, the game has ranked around #15 in app store revenue for both iOS Apple (NASDAQ:AAPL) and the Google (NASDAQ:GOOG) (NASDAQ:GOOGL) Play in Japan.
While not a megahit like GungHo Online's (OTC:GUNGF) Puzzle and Dragons at #1 or #2, or Colopl's Quiz RPG at #5, Love Live! has distinguished itself by relatively long and steady run at #15.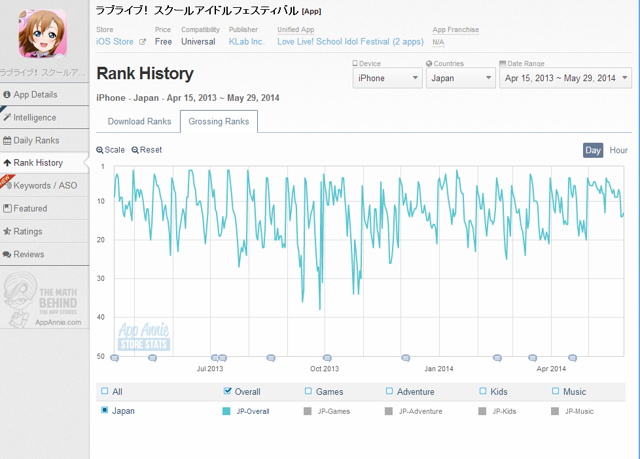 (Source: App Annie)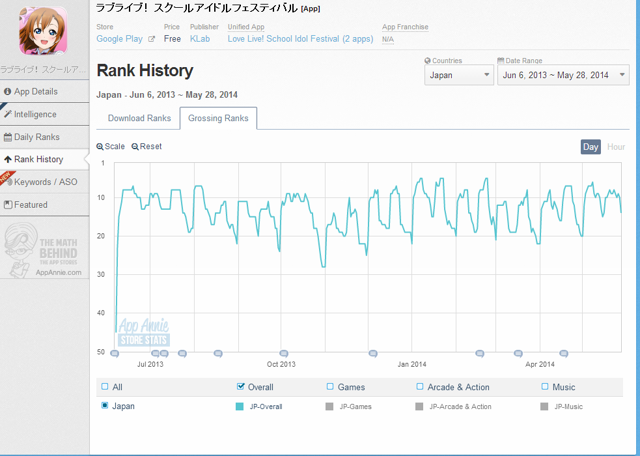 (Source: App Annie)
A more detailed look reveals an uptick in ranking to around #10 in the last month.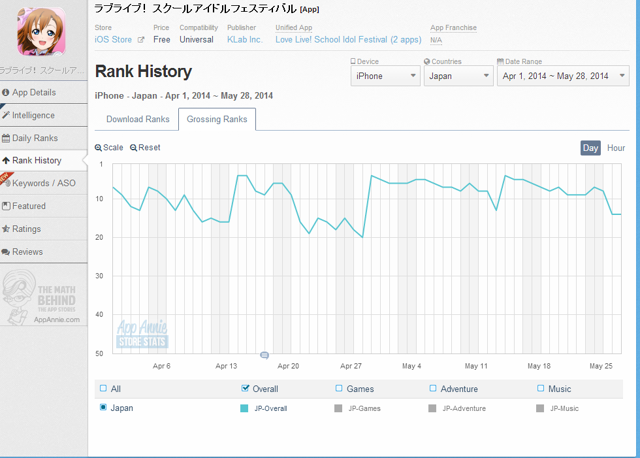 (Source: App Annie)
The purpose of this article is to present the case that KLab's stock has not fully capitalized the future stream of revenue from Love Live!
The stock is a BUY now even with the 17% run-up on May 26, 2014 after KLab released its 1Q2014 earnings, which was only a confirmation of a guidance issued two weeks earlier.
Followers of US mobile gaming stocks like King (BATS:KING), Glu Mobile (NASDAQ:GLUU), and Zynga (NASDAQ:ZNGA) can learn from this article using App Annie charts to predict earnings reports.
The stock jumped about 20% when the game was first released on April 15, 2013 for iOS Apple store in Japan and it quickly shot up to #15 in revenue ranking.
But the real run-up started two months later going from 525 JPY ($5.14) a share on June 14, 2013 and peaking at 1,297 JPY ($12.71) on July 9, 2013 for 261% gain.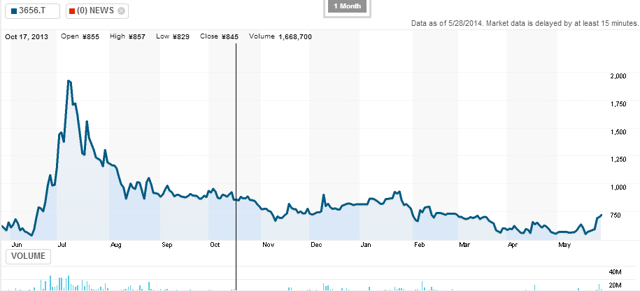 (Source:Reuters)
The cause is hard to pin down. It could have been the brief run-up in downloads right after Love Live! was released for Google Play store beginning June 13, 2013.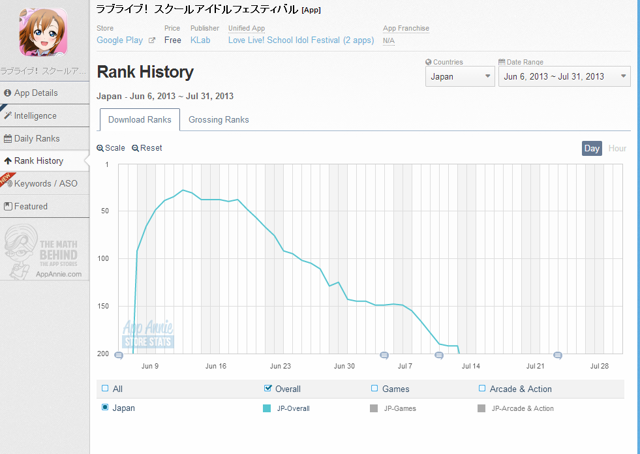 (Source: App Annie)
It could have been a Reuters report that Microsoft (NASDAQ:MSFT) had signed a deal with KLab to convert some of its franchise console games to native apps for smartphones.
But the downloads on Google Play quickly faded and the reported partnership with Microsoft was never confirmed. In any case, the stock plummeted to 854 JPY ($8.37) by August 2013 and continued its decline for the rest of 2013 even though the game's revenue ranking remained steady at #15.
KLab's stock continued its downward trend in the first four month of 2014. As reported by indie navi, KLab announced a lay-off of 22% of Japan-based employees and 7% of employees based in other countries when they reported full year's losses on February 14, 2014.
But, based on continuing success of Love Live!, KLab announced three months later on May 13, 2014 an upward revision of its 1Q2014 (ending March 2014) revenue guidance by 10% from 4,050M JPY ($39.69M) to 4,425M JPY ($43.37M) and an upward revision in its operating profit guidance from a loss of 90M JPY ($.88M) to a gain of 96M JPY ($.94M).
The stock responded the next day going from 568 JPY ($5.57) to 624 JPY ($6.12) a share for a 9.9% gain, but dropped back down the next two days.
It was the actual release of 1Q2014 financials before the open on May 26, 2014 that propelled the stock 17% that day. Surprisingly, the actual results were not that much different than the guidance revision issued just two weeks earlier.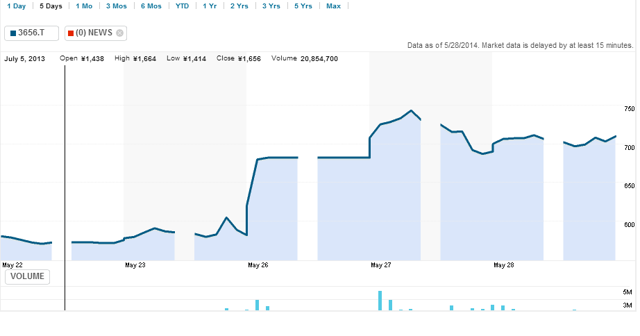 (Source: Reuters)
Even with this 17% run-up, we believe that KLab's stock has not fully capitalized the future returns from Love Live! based on a comparison of the KLab's current forward price sales ratio (P/S) with that of GungHo Online.
Below is a calculation of the trailing and forward P/S of KLab and GungHo Online. We have used GungHo Online's estimated forward P/S of 3.31 as a benchmark for a mobile gaming company with a hit game with long running, steady revenue rank.
We estimate KLab's forward P/S ratio currently to be 1.29, far below GungHo Online's 3.31. At a minimum, we think that a forward ratio of 2.50 is justified by the long running, steady revenue ranking of Love Live!.
KLab is a BUY now for a potential near term price appreciation from 680 JPY ($6.66) on May 26, 2014 to 1,315 JPY ($12.89) per share for a 93% short term gain.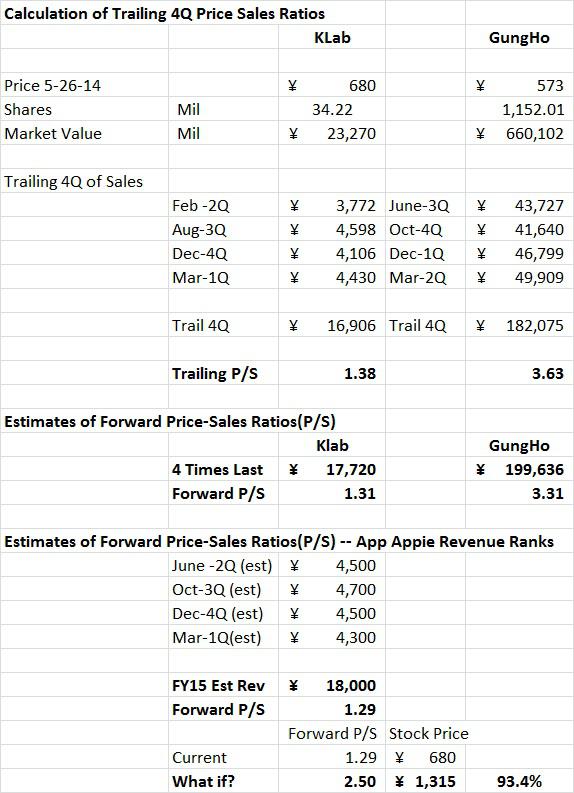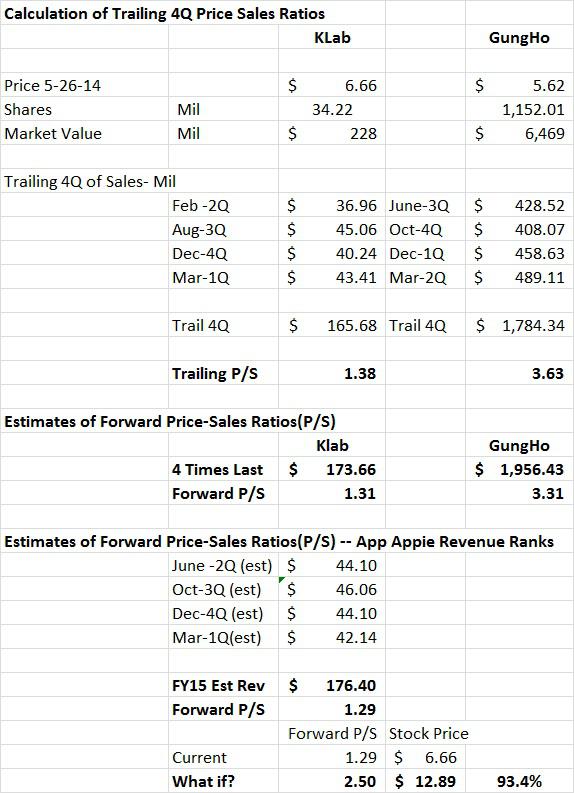 Disclosure: I have no positions in any stocks mentioned, and no plans to initiate any positions within the next 72 hours. I wrote this article myself, and it expresses my own opinions. I am not receiving compensation for it. I have no business relationship with any company whose stock is mentioned in this article.
Editor's Note: This article discusses one or more securities that do not trade on a major U.S. exchange. Please be aware of the risks associated with these stocks.