Dividend of Verizon (NYSE:VZ) has grown steadily by 2.8% CAGR over the past 3 annual cycles. Post the Verizon Wireless merger, many investors wonder how the dividend growth prospects would look like. In this article, I will illustrate my cash flow analysis to provide readers some perspectives on Verizon's future cash flows and dividends.
I have performed free cash flow projections to gauge the company's capacity for future dividend growth (see chart below).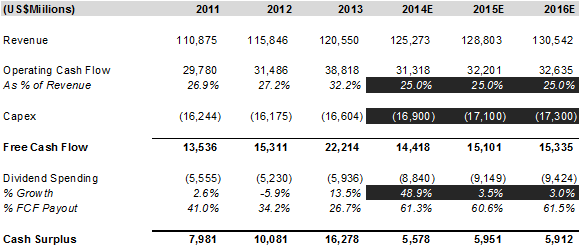 My analysis started with consensus revenue estimates which predict the top line to increase from $125.3B in 2014 to $130.5B, by a CAGR of 2.1%. I noted that Verizon's operating cash flow ("OCF") margin trended from 26.9% in 2011 to 32.2% in 2013 at an average of 28%. To be conservative, I assumed a flat OCF margin of 25% through 2016, which is slightly below the lower end of its 3-year historical range. In terms of capex, I assumed $16.8B in 2014, which is within management's guidance range from $16.5B to $17.0B. Looking forward, I projected the capital spending to gradually rise to $17.3B by 2016 as the company has not announced any notable spending hikes. Based on these estimates, free cash flow was projected to grow by 3.1% CAGR from $14.4B in 2014 to $15.3B in 2016.
As Verizon's total share count immediately rose to 4.1B following the merger as a result of additional share issuance, I estimated total dividend spending for 2014 to be $8.8B based on the new share count and $2.14 dividend per share in 2014 (implying that quarterly dividend will rise by ~3% to $0.55 per share in October 2014). Given my free cash flow forecast of $14.4B and consensus EPS estimate of $3.50 for 2014, my analysis suggests that free cash flow and earnings dividend payout ratios will be 61.3% and 60.0% in 2014 (see chart below).

Assuming the ~61% free cash flow payout ratio holds, I estimated that the annual dividend spending can grow by 3.5% in 2015 and 3.0% in 2016. In this case, Verizon would have approximately $5.5B-$5.9B excess free cash flow in each of the forecast years (see chart above). Although the company recently approved a 100M shares buyback plan, management's priority is to reduce debt load over the next few years. Assuming my excess free cash flow forecasts from 2014 to 2016 are spent on debt reduction, the deleveraging will create approximately $4.2 value per share (based on the current 4.1B share count) in the coming 3 years.
Given that most or all of the excess free cash flows would be spent on debt repayment, share repurchase will be minimal in the forecast period. For modeling purpose (see the second chart), I assumed no share buyback from 2014 and 2016 and thus share count will stay unchanged through 2016. Based on my annual dividend spending projections, dividend per share was estimated to reach $2.28 by 2016. Comparing with consensus EPS estimates, my analysis suggests that Verizon's earnings dividend payout ratio will decrease from 60.0% in 2014 to 56.5% in 2016, which is a good sign. As my entire analysis assumes a steady free cash flow dividend payout ratio (~61%), my dividend projections are therefore at a sustainable level.
The table below shows a quarterly breakdown of my annual dividend per share projections. This table suggests that quarterly dividend per share will grow by 3.3% CAGR through 2017.
I believe the dividend growth potential has been reasonably factored in the current stock valuation. Based on current annualized dividend of $2.12 per share and 7.5%-8.0% cost of equity (the CAPM model suggests a low cost of equity at 5.5% based on 3% risk-free rate, 6% US equity risk premium, and Verizon's 5-year beta of 0.4), the Gordon Growth Dividend Discount Model suggests that the current share price of ~$50 implies a dividend growth range of 3.0%-3.5%, which is in line with my estimate (see chart below).

In conclusion, if Verizon plans to maintain a steady free cash flow payout ratio going forward, annual dividend per share growth will likely be in the range from 3.0% to 3.5% over the next few years. Given Verizon's 4.2% yield, reasonable valuation, and the expected deleveraging, a buy rating is warranted at this level.
All charts are created by the author, and data used in the article and the charts is sourced from S&P Capital IQ, unless otherwise specified.
Disclosure: I am long VZ. I wrote this article myself, and it expresses my own opinions. I am not receiving compensation for it (other than from Seeking Alpha). I have no business relationship with any company whose stock is mentioned in this article.