My previous article on Herbalife (NYSE:HLF) on April 21 cited a price target of $69.68, from a share price of $54.83. Today, a month and a half later, we have seen price come within shouting distance of our target, reaching $65.68.
I have since completed further analysis of HLF, prompting an upward revision of my previous price target.
I congratulate investors who followed my previous article and wish to take profits at the previous price target of $69.68. However, it is wise to keep in mind that there is still considerable upside potential in HLF. However, as always, this upside potential is over the long-term and not suitable for those who are not investors.
I would also like to indicate that this is not a comprehensive article on the reasons as to which HLF is a great company and investment. I have already thoroughly discussed that in my previous article. This article is simply created to provide an upward revision of my previous price target and to update with additional analysis.
Fundamental Analysis
Cash Flows Analysis
Using the most updated information available (TTM), cash flows analysis reveals an intrinsic value of $98.26 for HLF.
This figure is calculated by performing an analysis of the company's likely cash flows in 5 years, when it is a stable company. In making HLF a stable company, I have adjusted the company's future performance calculations by the following:
Lowering its tremendous ROIC of 64.90% to 5.5%, reflecting market saturation in the absence of competitive advantages. This is likely a far too conservative measure, given the company's competitive advantages cited in this, as well as my previous article.
Increasing the company's reinvestment rate to 36.04%.
Lowering the company's growth rate to 2%. This is more or less equal to the growth rate of the economy.
Given the current share price of $64.83, there is a current upside potential of 66%.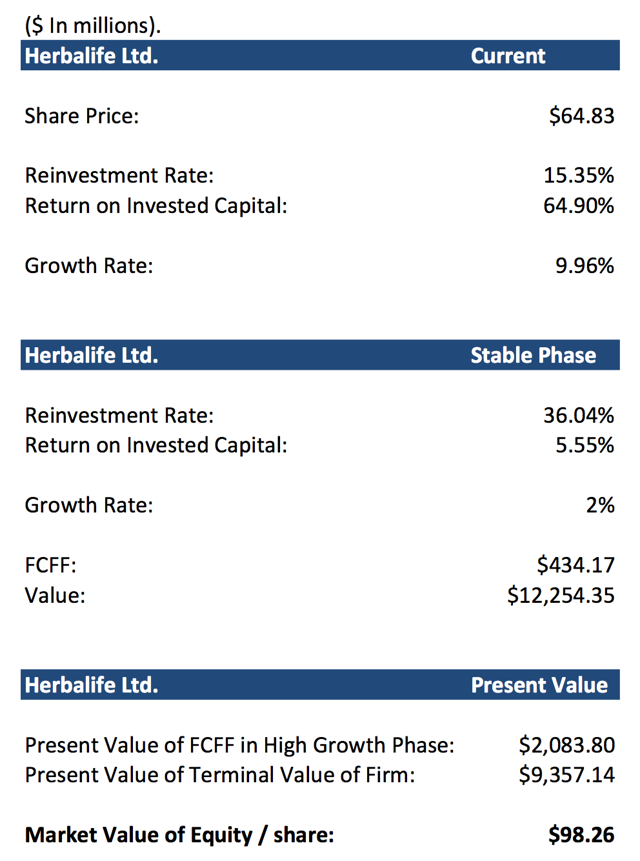 Competitive Advantages
Franchise Analysis
HLF's franchise margin on sales indicates that to justify its current EPV of $112.60, the firm must possess competitive advantages in the form of higher prices due to consumer captivity, and/or lower costs due to either proprietary technology, or economies of scale equal to 4.23% of revenues. HLF currently possesses a net margin of 10.77%, indicating that it more than satisfies its current EPV / Share value.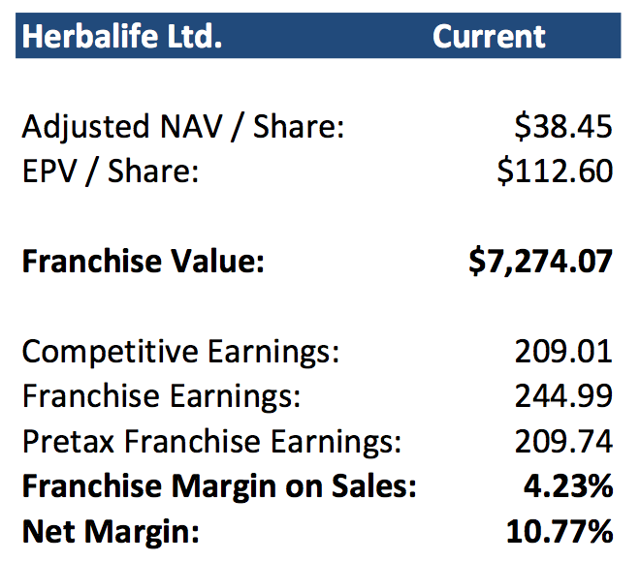 Conclusion
There is still considerable upside potential for HLF investors. This article is purely to revise my previous price target upwards and introduce any new analysis. For a comprehensive analysis of HLF as both a company and investment, please refer to my previous article.
Disclosure: I am long HLF. I wrote this article myself, and it expresses my own opinions. I am not receiving compensation for it (other than from Seeking Alpha). I have no business relationship with any company whose stock is mentioned in this article.