Over the past couple of years or so, companies that are associated with deep-water drilling have underperformed the S&P. Cameron International (NYSE:CAM) has been no exception. Even though the company earns a significant percentage of their revenue outside offshore activities, the deep-water market creates substantial revenues for the company.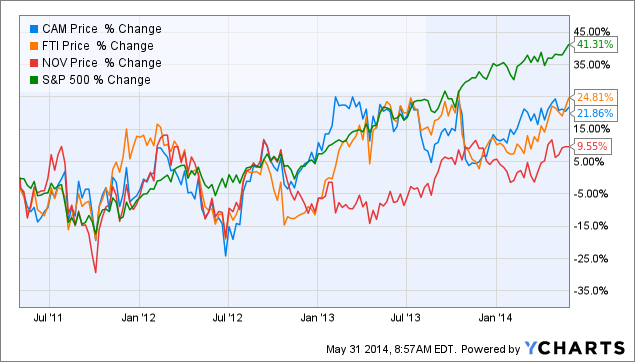 When comparing the past three years performance with competitors, National Oilwell Varco (NYSE:NOV) and FMC Technologies (NYSE:FTI), you can see how these companies have underperformed the S&P.
Why the under performance?
The offshore drilling market has been a double edged sword for CAM. The market has supplied CAM with substantial growth over the past number of years in regards to revenue, earnings and cash from operations but the offshore drilling market comes substantial associated risks.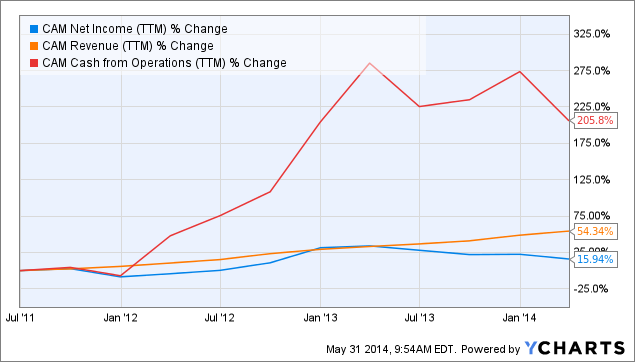 CAM Net Income (TTM) data by YCharts
In January 2014, major E&P companies stated that they were reducing capital spending. The purpose of this move was to increase margins by focusing efficiency and less on capital extensive reserves.
In a press release issued by Exxon (NYSE:XOM), Rex Tillerson, chairman and chief executive officer for Exxon, stated:
Capital spending will decline to $39.8 billion this year from a peak of $42.5 billion in 2013. Excluding potential acquisitions, capital expenditures are expected to average less than $37 billion per year from 2015 to 2017.
This was a setback for companies that have a vested interest in deep-water market including Cameron International. As many of these deep-water reserves are more capital intensive than their onshore counterparts, E&P companies put some of their more expensive projects on the back burner.
Even though capex spending for the deep-water markets looks weaker in 2015, spending is expected to increase long-term. According to Douglas-Westwood, in 2016 deep-water spending in Latin America and off the coast of Africa are expected to lead the way.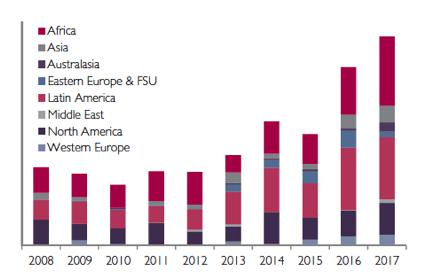 Sourced by Douglas-Westwood
Onesubsea JV with Schlumberger NV
On June 24th 2013, Cameron International and Schlumberger (NYSE:SLB) agreed to a 60/40 split a joint venture. Onesubsea was a company formed to deliver integrated solutions, products, systems and services for the subsea oil and gas market. The benefits for both Cameron International and Schlumberger are that Onesubsea utilizes Cameron Internationals flow control expertise, process technologies and manufacturing along with their aftermarket capabilities, while Schlumberger brought technical and technological leadership along with extensive R&D capabilities to the new company.
A major component of Onesubsea's business is subsea trees. The subsea tree is a significant component in the offshore drilling process. The component monitors and controls the production of a subsea well, so it is a vital piece of equipment. Even in the face of significant headwinds the subsea tree market still looks strong. Cameron International through Onesubsea has a significant market share in this business. In 2013, Cameron International had ~30% market share of the subsea trees. This was second to FMC Technologies who has ~35% market share, but well ahead of General Electric oil and gas (NYSE:GE) who has ~8% and Aker Solutions (OTCPK:AKKVY) who earned ~27% of the market share.
Looking forward the subsea tree market still looks strong. Even in the wake of reduced capex spending, the subsea tree market is estimated to grow extensively over the next three years.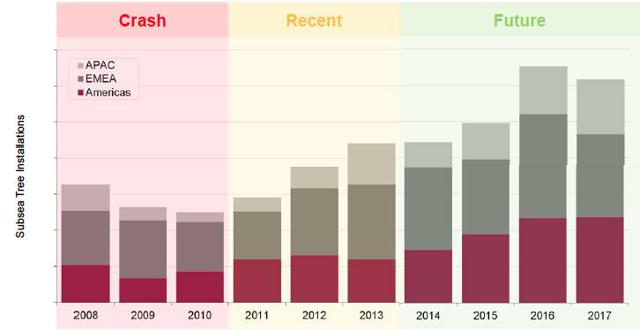 Sourced by Douglas-Westwood
Also driving the subsea tree market is robust demand for oil and gas. Looking at oil prices beyond 2016, they are expected to increase to between $125-$150 a barrel. The main driver for this increase is the global consumption. Total oil production is expected to grow just 1.3% CAGR through 2020, but offshore drilling is expected to lead the way as ultra-deepwater production is projected to increase by ~19% CAGR thus creating a catalyst for Cameron Internationals and Onesubsea's products.
So, as there are concerns in the offshore market, where does Cameron International stand on a valuation standpoint.
Valuation
In the section below, I will use the EV/EBITDA to estimate where Cameron International is regarding its valuation.
EV/EBITDA = Enterprise Value / Earnings before interest, Taxes, Depreciation and Amortization
In the next section, I will use the EBITDA to calculate the EV/EBITDA. The EV/EBITDA ratio is one of the most commonly used valuation metrics, as EBITDA is commonly used as a proxy for cash flow available to the firm.
Enterprise Value or EV = Market Capitalization + Total Debt - Cash and Cash Equivalents
EV - $13.06 billion + $3.190 billion - $972 million = $15.277 billion
EV = $15.277 billion
EBITDA = 1.380 billion
EV/EBITDA = 11.07
As the oil and gas service stocks trade in the 8.63x trading range, an EV/EBITDA ratio of 11.07 states, at current levels the stock is trading above fair value.
2015 Target Price
Estimated Net debt = ~$3.000 billion
Estimated cash and cash equivalents = ~$1.000 billion
Estimated future EBITDA (2015) $1.888 billion
EV/EBITDA = 8.63 (industry average)
Shares Outstanding = 230 million
2015 equity value = 8.63 x $1.888 billion = $16.293 billion
Equity Value - net debt + cash = Enterprise Value = $14.293 billion
EV / Shares outstanding = $14.293 billion / 230 million
Target Price of = $62.14 per share
Based on the EV/EBITDA formula to find a target price, I have calculated a target price in 2015 of ~$62.14 per share.
Strategy
At this point in the market, I would not be surprised if there was a 5-10% correction over the next few months. If such a correction were to occur, this could present an excellent opportunity to add positions in a company with excellent growth prospects. Currently, I believe there is further upside to equity markets, as major world economies are either recovering or on the verge of recovering. As interest rates continue to remain near zero, this should favor equities.
Conclusion
Driven by pressures in the deep sea market, Cameron International has underperformed the S&P over the past three years. The company's fundamentals look strong but the stock price has remained quite soft. Currently, the deepsea market is in a state of malaise as capital spending issues from the majors are delaying deep-water growth. Having stated that, as oil prices are expected to remain close to or above $100.00 and consumption continues to increase the demand for these reserves is still prevalent. The fact is, the oil and gas is there and the market will want it. At this point in time, the majors have stated they will wait for the right market conditions to access the energy. As the offshore market is in the midst of renewing itself, on the surface demand looks weak, but through Onesubsea the demand for subsea trees is still strong.
The future does look bright for the company, the onshore drilling market is currently very strong and looks to be strong for the foreseeable future, as offshore capital spending is expected to increase again in 2016, this will be a catalyst for the company. At this point, I would wait for a better entry point to buy the stock, as I currently have it slightly overvalued.
Disclosure: I am long SLB. I wrote this article myself, and it expresses my own opinions. I am not receiving compensation for it (other than from Seeking Alpha). I have no business relationship with any company whose stock is mentioned in this article.