By Brad Zigler
A reader responded to a recent Desktop piece ("Beating The Heat In The Gold Miners Market,") by advancing a notion on the strength of the Market Vectors Junior Gold Miners ETF (NYSEARCA:GDXJ).
Silver, the reader contends, may be the reason that the GDXJ portfolio has outperformed its producer-oriented sibling, the Market Vectors Gold Miners ETF (NYSEARCA:GDX):
Silver has been moving up strongly lately, and GDXJ has a lot of exposure to silver miners, so this could explain some of its strength.
Could be. After all, there are more silver names in the GDXJ roster than in the GDX portfolio. But then, there are just more names. GDXJ's underlying index comprises 60 issues; GDX's has but 30.
And silver has been a better performer than gold recently (see "Gold/Silver Ratio Traders Happy?").
But what's in a name? Or a handful? Is silver's influence actually stronger in the GDXJ portfolio?
Well, if you look at returns, you might be tempted to think so. Since its inception in November 2009, GDXJ's market value has climbed by more than 26 percent vs. GDX's 6 percent gain. Meanwhile, silver prices, proxied by the iShares Silver Trust (NYSEARCA:SLV), have edged out gold, mirrored by the SPDR Gold Shares Trust (NYSEARCA:GLD), 12 percent to 11 percent.
Gold vs. Silver = Producers vs. Juniors?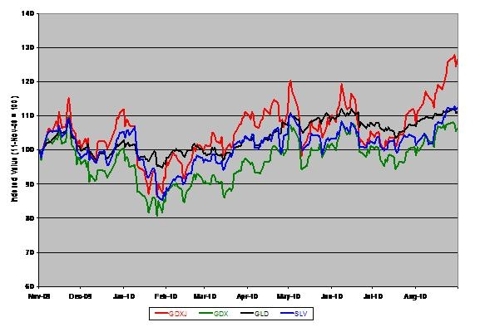 (Click to enlarge)
The temptation to create a linkage between silver and junior miners becomes stronger if you focus on more recent market action. Since the beginning of August, GDXJ has climbed nearly 22 percent compared with GDX's 10 percent gain. SLV, at the same time, rose 11 percent vs. a 6 percent uptick in GLD.
But can you reasonably attribute GDXJ's outperformance to silver's?
If you measure the correlation of the two miners' portfolios to the metals trusts, you'd see that there is a slightly higher correlation between GDXJ and SLV vs. GLD. It's not a big difference, but it's there nonetheless. Since inception, GDXJ correlated to GLD at 75 percent; to SLV, the correlation is 78 percent. By comparison, GDX's correlations to GLD and SLV have been 78 percent and 76 percent, respectively.
There's hardly enough difference to attribute causation, though. More insight can be gained by using a 21-day rolling correlation. A rolling correlation allows you to see how the relationship of the miners' ETFs to silver prices changes over time.
One thing that becomes immediately apparent from examining the rolling correlations is the greater volatility of GDX's readings compared with GDXJ's. GDX, in fact, has had higher correlations to SLV than GDXJ. Back in December 2009, GLD's correlation was 91 percent, and in July 2010, the link again exceeded 90 percent (see the black line in the chart below).
Correlation: SLV vs. GDX And GDXJ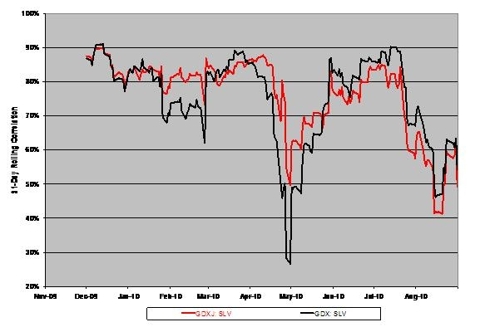 (Click to enlarge)
More important, though, is that since that July peak, GDX's correlation to SLV has remained consistently higher than GDXJ's.
With that in mind, dear reader, perhaps you should look to some other explanation for GDXJ's outperformance. Recently, there's comparatively less influence exerted by the silver in the GDXJ portfolio's woodpile.
Disclosure: No positions