By Tyler Cling
Over the course of a month when Mother Nature could not decide which season it was in New York City, credit market swap (CDS) market participants as a whole decided credit default insurance was too high. CDS benchmark indices like the S&P/ISDA U.S. 150 Credit Spread Index tightened 4.9%. Every sector spread that compiles the S&P/ISDA 100 CDS Index (-4.9%) was down in May, except for the U.S. S&P/ISDA CDS U.S. Consumer Staples Select 100 Index (up 1.0%). Market indicators suggest that investors believe the relative risk of insuring the underlying credits in nearly every sector has dropped, or that these underlying credits are willing to take on more risk at a lower yield.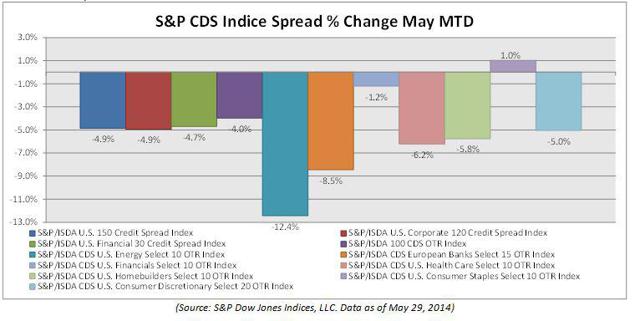 A warmer outlook and a sunny forecast often come hand in hand, however it is important to remember they are independent events. The S&P/ISDA CDS U.S. Energy Select 10, which saw the biggest drop in spreads this month, is still trading above 140 basis points (bps) on notional credit (i.e., default protection on a loan of $1 million would cost $14,000). Last week, I commented on the dichotomy of trends within the sectors the market views as riskier, as determined by default spreads.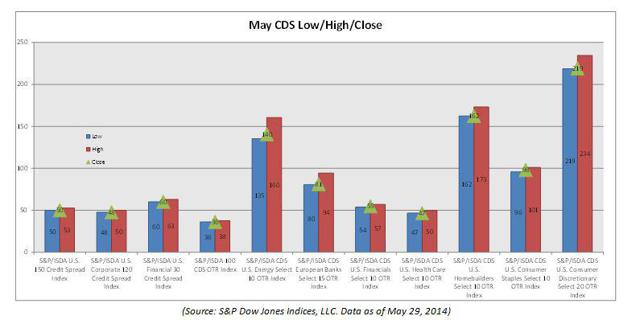 The S&P/ISDA CDS U.S. Homebuilders Select 10 Index (-9.92 bps) and S&P/ISDA CDS U.S. Consumer Discretionary Select 20 Index (-11.64 bps) sectors, tightened in May, yet continue to be priced as premium risk sectors against their cheaper peers. The healthcare and European banks sectors saw greater relative spread declines, at -3.09 bps and -7.5 bps, respectively; S&P/ISDA CDS U.S. Health Care Select 10 OTR Index & S&P/ISDA CDS European Banks Select 15 Index. They are trading significantly cheaper than the homebuilders and consumer discretionary sectors.
To summarize, CDS markets show that market participants are feeling warmer about the idea that underlying assets won't default across the board than in May, but are keeping a coat nearby for certain sectors.
Disclosure: © S&P Dow Jones Indices LLC 2013. Indexology® is a trademark of S&P Dow Jones Indices LLC (SPDJI). S&P® is a trademark of Standard & Poor's Financial Services LLC and Dow Jones® is a trademark of Dow Jones Trademark Holdings LLC, and those marks have been licensed to S&P DJI. This material is reproduced with the prior written consent of S&P DJI. For more information on S&P DJI and to see our full disclaimer, visit www.spdji.com/terms-of-use.