By Sumit Roy
U.S. natural gas production climbed to a record 76.68 billion cubic feet per day in March, according to the latest data from the Energy Information Administration. That's up a notable 4.34 bcf/d, or 6 percent from a year ago. Excluding declining Gulf of Mexico production, output totaled 73.44 bcf/d, up nearly 5 bcf/d, or 7.2 percent from last year.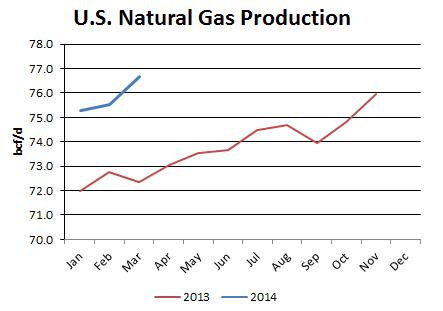 The massive increase in natural gas production is the sole reason prices haven't rallied even more from here. Inventories are at extremely low levels following the brutal 2013/2014 winter, and this production surge has been the saving grace.
While output has been rising rapidly, the demand side of the natural gas market hasn't been nearly as robust as bulls would like it. According to the EIA, industrial production was up 0.81 bcf/d year-over-year in March-a solid figure but not stellar by any means.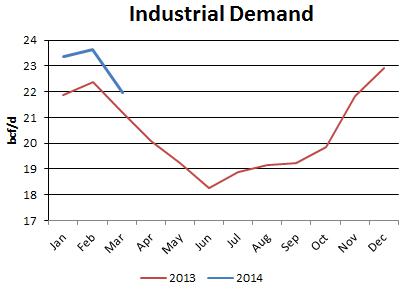 At the same time, demand for generating electricity in March was down 1.42 bcf/d from a year ago. Electric power demand is tied closely to the weather, but with natural gas prices about 20 percent higher than last year, coal may regain some market share in the sector at the expense of gas. Longer term, natural gas should benefit as dirty coal power plants are shut down and replaced with gas-fueled plants.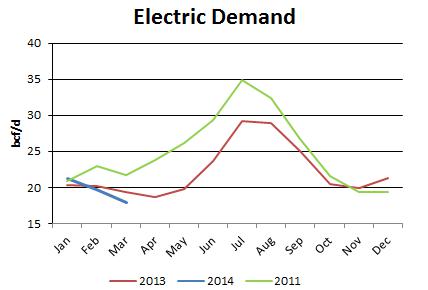 Finally, the latest natural gas import and export data is worth mentioning as well. The EIA said that Canadian pipeline imports were down a modest 0.24 bcf/d in March, while Mexican exports were up an inconsequential 0.06 bcf/d.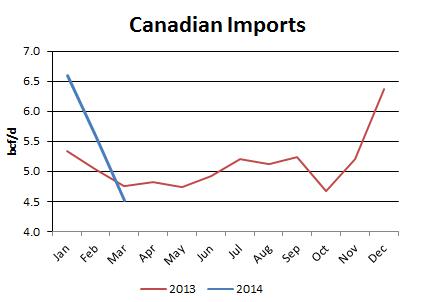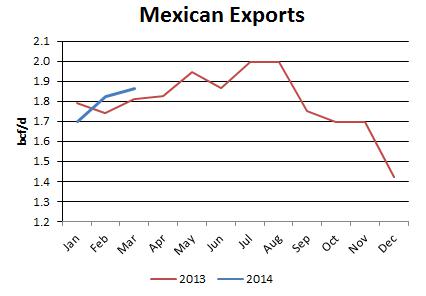 Imports of liquefied natural gas (LNG) remained effectively at zero. At $4.60/mmbtu, U.S. prices remain well below prices for the rest of the world-around $10 to $20-discouraging imports.
Longer term, once the U.S. begins liquefying and exporting its natural gas, the country's prices may begin to rise and converge with the higher global prices. It remains to be seen when that will happen, but analysts have opined that the tipping point may be reached in 2018.