The Great American Blue Chips
There is a time and place for the great American Blue Chip stocks and owning them is a predictable way to build your future. These companies are the engines of American Capitalism. That would be the likes of Johnson & Johnson (NYSE:JNJ), Procter and Gamble (NYSE:PG), Coca-Cola (NYSE:KO), et al. These companies have prospered, paid growing dividends for decades and likely will pay them for many more. However, the yield on the three mentioned above is about 3%. If you have $100,000 to invest that means annual income of $3,000. If you have $1,000,000 you will get a tidy sum of $30,000 a year with a great deal of safety and regular annual increases. Nice. Perhaps that describes many Seeking Alpha readers.
On the Other Hand
Say you only have $100,000 or $200,000 or $300,000 and the dividends produced by a 3% yield are not going to cut the mustard. No one seems to know for sure, and numbers abound, but the average amount saved for retirement is probably under $100,000 at age 65. A report by the Providence Journal, based on Boston College's Center for Retirement Research concluded that "the typical 55 to 65-year-old had $78,000 set aside for retirement". If you only have a modest amount of savings, perhaps you need a high yield to pay the bills, put food on the table and to pick up an occasional treat.
Risk and Reward
I believe that by investing in a number of higher yielding securities, of different types, one can get twice the return of the old reliable Blue Chips, without doubling the risk. Put another way, I am going to show you how you can get the same dollar return by investing half the money. It is up to you to decide if that is a good idea for you or not. This depends on your need for current high income, on your risk tolerance and how comfortable you are with the various types of securities presented.
In many cases, the different types of securities are available either as individual stocks or as ETFs or funds of other types. There can be good reasons to select either ETFs or individual stocks, or a combination of each.
A good reason to use a fund is not having enough knowledge of a specific industry to be able to select the best combination of stocks, or not having the desire or time to do so. In addition, with a fund you get diversification through the fund's ownership of many stocks.
A good reason to acquire individual stocks is to optimize the choices to meet your specific goals. In addition, you are free from the fees levied by funds. However, this means doing research and doing your due diligence on a larger number of entities.
The sample portfolio below utilizes both individual stocks and funds. I will emphasize that this is not intended to be a portfolio designed for any particular investor, nor is it necessarily the best possible portfolio for any given investor. There are many combinations of securities, which can achieve similar results. I provide alternatives.
Sample Portfolio
The weighted average yield of this portfolio is 7.2%. The average 5-year DGR for the portfolio is 4.0%, enough dividend growth to outpace inflation. The average 3-year beta of the securities in this portfolio is 0.61, compared to the S&P average of 1.00. That is, it is only 61% as volatile as the S&P 500.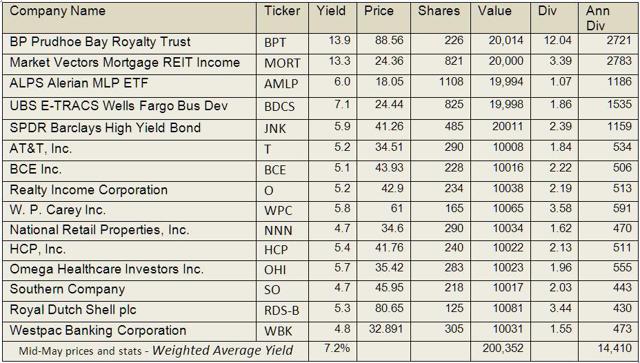 Royalty Trusts
"A type of special-purpose financing created to hold investments or their cash flows in operating companies. These trusts are neither stocks nor bonds but investment trusts (a legal entity). Royalty trusts buy the right to royalties on the production and sale of a natural resource company and pass on the profits to trust unit holders." Investopedia Definition
BP Prudhoe Bay Royalty Trust (NYSE:BPT)
The Trust receives a per barrel percentage royalty of the average daily net production of oil and condensate per quarter from British Petroleum's working interests in the Prudhoe Bay Field on the North Slope of Alaska. The trust shall end when 60% of unit holders vote to end it OR when net revenue from Royalties is less than $1,000,000/year for 2 consecutive years (2012 net income was approximately $200,000,000. It appears this trust will have a long and prosperous future. Details of the trust are available at Quantum Online.
The below is a list of some other US Royalty Trusts taken from a much larger table at the web-site of the Yield Hunter, who is also a Seeking Alpha Contributor Tim McPartland. Name, Symbol and Yield:
Royalty Trusts are based on the rights to reserves of natural resources, most often gas and oil, and a royalty is paid the owner as the resource is depleted. The value of the trust and its yield depends on many factors including the size of the reserves, remaining estimated life of the trust, demand for the commodity being produce and the stability of the operators of production.
I hold BPT in my personal income portfolio.
Real Estate Investment Trusts - REITs
A REIT is a special kind of company that holds real estate. This can be in the form of apartment buildings, medical buildings, senior housing, stand-alone triple-net single unit buildings, such as a McDonald's, a Walgreen drug store or a Pizza Hut franchise. Other REITs own the buildings of movie theaters, self-storage units, industrial warehouses, offices and farmland.
A tax act in 1960 created REITs. The idea was to give all investors the opportunity to invest in large-scale, diversified portfolios of income-producing real estate through the purchase and sale of liquid securities. By passing this special law, which exempts REITs from taxation at the company level, large distributions (dividends) on a monthly or quarterly basis go to the owners of the units of the trust, along with the tax liability. To qualify as a REIT, a company must have the bulk of its assets and income connected to real estate investment and must distribute at least 90% of its taxable income to shareholders annually in the form of dividends.
Because of the amount of depreciation expense involved in long-lived buildings, the key metric when looking at REITs is FFO, Funds from Operations, not EPS, earnings per share.
Triple Net Lease REITs and REITs in the Healthcare sector provide high yields. For the sample portfolio, I have selected the below:
REIT ETFs have much lower average yields than the REITs in the above sectors. The largest, a broad based fund and Morningstar's pick, is the Vanguard REIT Index (NYSEARCA:VNQ) with a 2.7% yield.
mREITs
Mortgage Real Estate Investment Trusts are like property REITs; however, instead of holding property they hold mortgages on property. These are considered high-risk investments by many, and some stay away from them with a religious-like passion. I like the high yield, but watch these investments like a hawk.
One way to lower the risk of an investment is the diversity of a fund, which contains many companies in a given business. In this case, I put forth Market Vectors Market REIT ETF (NYSEARCA:MORT).

Another popular mREIT ETF is iShares Mortgage Real Estate Capped (BATS:REM), Yield 15%. I hold MORT and Dynex (NYSE:DX) in my personal Income portfolio.
Master Limited Partnerships - MLPs
Like several other types of high yielding investments, mREITs, REITs and BDCs, MLPs are able to pass through much of their free cash flow due to special tax laws. That is, the Master Limited Partnerships do not pay taxes at the company level, but pass the profits through to the "unit holders" of the partnership. Because of the depreciation expense of long-life assets, pipelines for example, often there is little "income" but distributions are made out of free cash flow. The only hitch to this marvelous scheme is a special tax-reporting document called a k-1, which the unit holder receives rather than a 1099. Because of the complexities of this tax law and reporting, many believe that MLPs are better not held in IRAs or other tax-advantaged accounts. Fortunately, there is a solution to this problem. That is to buy a fund that owns MLPs, which pays the taxes, distributes income to shareholders, and reports it on a 1099.
The alternative I put forth in the sample portfolio is the popular ALPS Alerian MLP ETF (NYSEARCA:AMLP). Morningstar rates this as a 3-Star fund.

Most investors can select and do due diligence on a number of MLPs and hold them as individual securities, instead of using a fund, if the K-1s are no problem for them. In the gas and oil industries, there are three levels of MLPs. There is the Upstream or Production Level, the Midstream Level is made of mostly of firms owning and operating pipelines. This is a "toll road" business as the companies collect a fee, usually based on a long-term contract, per unit of gas or liquids that pass through the pipelines. These firms have very predictable cash flows. The downstream MLPs include refiners and firms involved in the distribution of products to end users.
In my personal income portfolio, I hold Kinder Morgan Partners (NYSE:KMP), which yields 7.1% (k-1 reporting). Kinder Morgan Energy Partners is one of the largest master limited partnerships with over 46,000 miles of gas and oil pipelines as well as 180 terminals. I also hold the CEF, Kayne Anderson MLP Investment (NYSE:KYN), which yields 6.6% (1099 reporting). Morningstar rates KYN 4 Stars/Bronze.
Business Development Companies
The below is adapted from the Yield Hunter's BDC page.
"A Business Development Company (also known as a BDC) is a public corporation that invests in small and mid-sized companies through the use of loans or in some cases equity. Typically, the BDC is looking to invest in a company that will grow rapidly and profitably. Obviously, the idea is to grow the investment. Generally the BDC makes loans to the company in which they invest, but at times they will take an equity position.

Not unlike a REIT the BDC, generally organized as a Regulated Investment Company, must pay out 90% of their taxable income each year to their investors (you and I). Because of the requirement that the BDC must pay out 90% of their taxable earnings each year these companies generally pay a sizable dividend."
I believe that most investors own BDCs as individual stocks, not funds. There is a terrific resource on Seeking Alpha, BDC Buzz, who is an author and who maintains the web-site BDC BUZZ.COM. The articles and the web site include much valuable information as well as sample portfolios. These include:
However, for the sample portfolio I have chosen to present the UBS E-TRACS Wells Fargo Business Development Company ETN (NYSEARCA:BDCS), Yield 7.2%. It is interesting to note that this market-weighted fund has as its second largest holding a firm that currently has no yield. (That is a long story, but outside the scope this article.) That would be an unlikely choice for the income investor. Another BDC ETF is Market Vectors BDC Income ETF (NYSEARCA:BIZD), Yield 6.9%. One must ask, does the value of diversity, essentially owning the whole sector, make these funds a good trade-off compared to selecting individual companies? In this particular case, I think not.

Morningstar has an excellent article about BDCs, which details their risks and rewards.
In my personal income portfolio, I hold Ares Capital Corporation (NASDAQ:ARCC) yield 8.8%, Main Street Capital (NYSE:MAIN), Yield 6.4% and TCP Capital Corp. (NASDAQ:TCPC), Yield 8.5%. They are part of the above Risk-Averse portfolio. In the past I owned Triangle Capital (NYSE:TCAP), Yield 8.4% and PennantPark (NASDAQ:PNNT), Yield 11%.
Additional Individual Securities
To round out the portfolio I added two large cap telecoms yielding over 5%. These are AT&T (NYSE:T) and BCE, Inc. (NYSE:BCE) also known as Bell Canada. In addition, a high yielding utility Southern Company (NYSE:SO), Yield 4.7%, one of the broadest held and lowest beta stocks in the US. In addition, two more high yielding foreign offerings for diversity, Royal Dutch Shell (NYSE:RDS.B), Yield 5.3% registered in the UK, and Westpac Bank (NYSE:WBK), Yield 4.8% a fully franked Australian stock trading as an ADR on the NYSE. In addition, the portfolio contains SPDR Barclays High Yield Bond (NYSEARCA:JNK), Yield 5.9%. Non-investment grade bonds and funds carry much less interest rate risk than higher quality bonds but often track stocks in a market decline.
Other High Yield Investments
I did not attempt to present every type of high yield investment. Perhaps the most notable absence is Preferred Stock. The largest Preferred ETF is iShares US Preferred Stock (NYSEARCA:PFF) with assets of $10 Billion. Financial services companies make up 95% of its holdings. The yield is 6.4%. I believe there is significant interest rate risk and industry risk. An alternate fund could be PFXF - Market Vectors Preferred Securities ex Financials ETF (NYSEARCA:PFXF) which yields 6.0%. Another way to hold Preferred Shares is to hold the individual preferred stocks of sound real estate firms. REITs like Realty Income, Simon Property (NYSE:SPG) and Public Storage (NYSE:PSA) each have several preferred offerings yielding in the 6.4%-6.5% range.
Closed-end funds, CEFs, are the favorite holdings of some income investors. There is an interesting new offering, which is a fund of funds, an ETN called UBS ETRACS Monthly Pay 2x Leveraged Closed End Fund (NYSEARCA:CEFL). This is a collection of the 30 highest yielding CEFs, and the yield is about 18%. Exchange traded debt, junior debt and municipal bonds are other options.
Summary
The primary goal of the portfolio is high income. A 7.2% yield meets that criterion. To preserve capital, the secondary goal, diversification lowers risk and a Dividend Growth Rate of 4% defers the effects of inflation. The Portfolio offers low volatility with a beta of 0.61%. If you are retired and seeking high current income, take a close look at these securities and types of securities.
While the higher DGR of the 2014 Dividend Growth Portfolio seems attractive, the High Income Portfolio comes out ahead in dividend return for the next 40 years. That's long enough for me!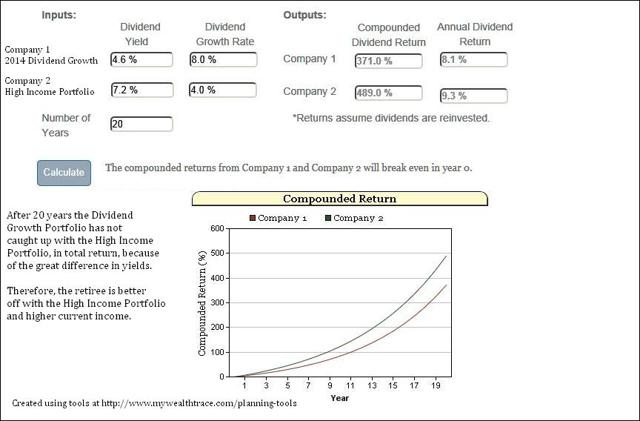 The stock price and yield data used in the article came from many sources, some with only monthly publication. These may be out of date due to market fluctuations. Do you own due diligence and be aware of both the risks and rewards of any investment, as well as current data.
I wish you good health and successful investing.
Disclosure: I am long MORT, ARCC, BPT, DX, KYN, T, WBK, BCE, JNK, MAIN, NNN, WPC, HCP, O, RDS.B, , SO, TCPC. I wrote this article myself, and it expresses my own opinions. I am not receiving compensation for it (other than from Seeking Alpha). I have no business relationship with any company whose stock is mentioned in this article.