Toward the end of 2013 I predicted, based on weak early holiday retail sales and the trend in declining home sales, that the first quarter GDP report might show economic contraction and the start of an official recession. While the "advance" GDP estimate showed a slight gain in Q1, the subsequent 1st revision released last week showed an unexpected 1% contraction in Q1 GDP. It is my view that the key economic data released so far in Q2 indicate a probability that Q2 GDP will contract even more than Q1. For my purposes, "key" data include housing and retail sales. I believe that the economy is headed toward a deep recession and that the stock market is extraordinarily overvalued based on unrealistically high expectations for economic output and corporate income.
Driven by a downturn in private inventory investment, exports and nonresidential fixed investment, the Commerce Department's Q1 Revised GDP fell from the initial .1% estimated gain to a 1% decline. A .5% decline was the Wall Street consensus forecast. If you dig a little deeper into the report linked, you'll see a section called "Gross Domestic Income." This measures the income net of costs generated by the GDP. Real GDI was revised from flat to -2.3% in Q1. As the Commerce Dept. states in the report, "estimates of GDP and GDI tend to follow similar patterns of change" over time. This would suggest to me that there is a good probability that Q2-Q4 GDP reports could show an even deeper economic contraction going on.
With this in mind, two of the bigger drivers of GDP are retail sales and the housing market. Retail sales for April were released by the Census Bureau on May 13. The report showed a .1% increase over March vs. the .4% increase expected by Street analysts. Ex-auto and gas, the month over month change was -.1%. As you can see from this graph, retail sales and food service ex-gasoline are showing that a definitive downtrend has started (source: Calculated Risk, edits are mine):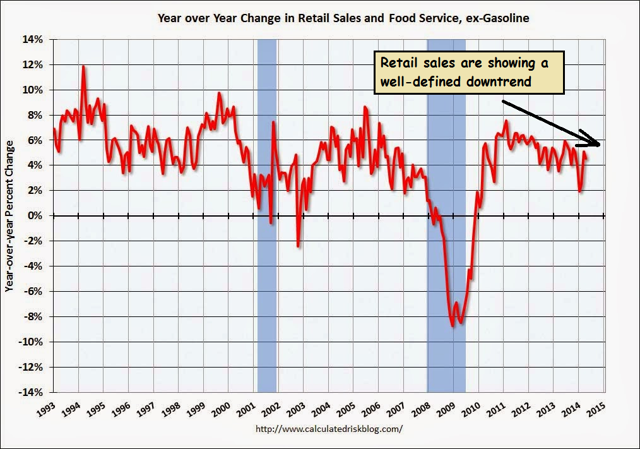 Furthermore, if you take into account the affect of inflation on the nominal retail sales, which the Government estimated at 1.3% in its GDP report (link above), real retail sale expressed in unit volume, declined by well over 1%.
Additionally, in an indication that the May retail report will show further declines in retail spending, the ICSC-Goldman Sachs retail chain store sales report showed declines from the previous week every week in May. You can access the numbers here: Bloomberg Economic Calendar. Further bolstering my view that retail sales are deteriorating was the Dept of Commerce's Personal Income and Outlays report for April. This report showed personal consumption expenditures declined in April by .1% and by .3% after stripping out inflation. If retail sales continued to deteriorate in May from April, it will have an adversely negative effect on the Q2 GDP. The April/May data reports also negate any argument that poor retail sales early in the year were due to bad weather.
A second key driver of GDP growth is the housing market. As I have detailed in previous articles on new and existing homes, there has been a definitive downtrend in month-to-month sequential sales volume that began in July 2013. I've also detailed how the big buy-to-rent institutional investment buyer, which has been the primary driver of home sales and price gains over the last 18 months, has largely withdrawn as a buyer of homes this year. To be sure, the individual "flipper" buyer is still active, although I suspect that segment of demand will begin to fade as new and existing home inventory continues to build and sales continue to decline.
While April new and existing home sales showed seasonal gains from March to April, they both registered declines year over year, with existing home sales down 6.8% and new homes sales down 4.2%. The year-over-year declines have been persistent for several months now. In addition, it is likely that the May existing home sales report released later this month will show a continuing deterioration in the housing market based on the recent Pending Home Sales report the details of which I discussed in the linked article. The pending home sales metric reflects both declining demand despite rising home inventory. With the recent housing market data showing a probable continued slowdown in homes sales, I believe it confirms that the housing component of GDP will likely affect the GDP calculation negatively in Q2.
While there are other factors which I believe will contribute to a further contraction in the GDP in Q2, the deterioration in retail sales and the housing market as I've outlined above are two of the most significant factors. I also believe that auto sales, which have been largely fueled by subprime auto lending (see my previous articles for details), will soon start to track negatively month to month on a consistent basis and contribute to further contraction in the U.S. economy.
To take advantage of a bearish view on the economy, I recommend shorting the retail and housing sectors. I am short D.R. Horton (NYSE:DHI), KB Home (NYSE:KBH) and Ryland (NYSE:RYL). I currently am assessing Toll Brothers (NYSE:TOL) as possible short-sale play. In terms of retail short-sale ideas, I recommended shorting and/or buying long-dated puts on the Market Vectors Retail ETF (NYSEARCA:RTH) on November 7, 2013. RTH closed that day at $58.61. It closed today at $59.12 - a gain for the period of .8%. In the same period of time, the S&P 500 has increased 10.1%. The relative performance of the two sectors suggests that either retail stocks are undervalued relative to market right now or the market perceives a problem with retail sales. My analysis above suggests the latter, and on that basis, I recommend adding to or establishing a short in RTH.
Disclosure: I am short DHI, KBH, RYL. I wrote this article myself, and it expresses my own opinions. I am not receiving compensation for it (other than from Seeking Alpha). I have no business relationship with any company whose stock is mentioned in this article.