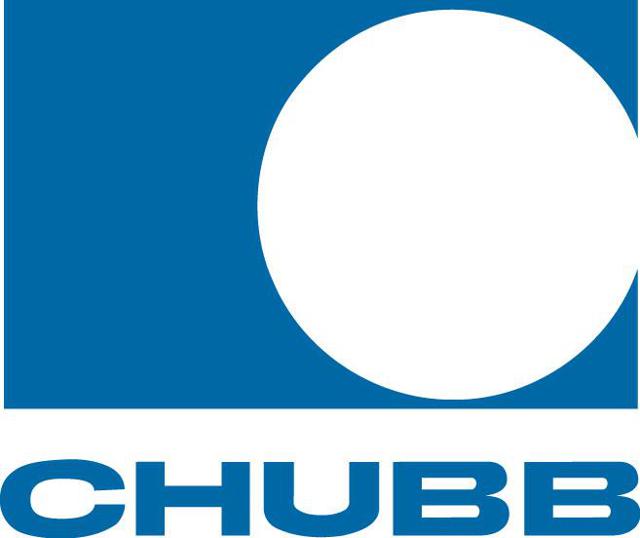 Chubb Corporation (NYSE:CB) sells home, car, business, & supplemental health insurance. The company sells insurance through independent agents and brokers throughout North & South America, Australia, Europe, & Asia. They were established in 1882. In 2013 75% of Chubb's premium revenue came from the US with just 25% coming from other countries.
Current Events
The Chubb Group posted solid results in 2013. The company's combined loss and expense ratio came in at 86.1%, the lowest since 2009. The company has not had a loss and expense ratio over 100% since 2002. The disciplined underwriting of Chubb Group allows the company to remain profitable in both strong and weak insurance markets.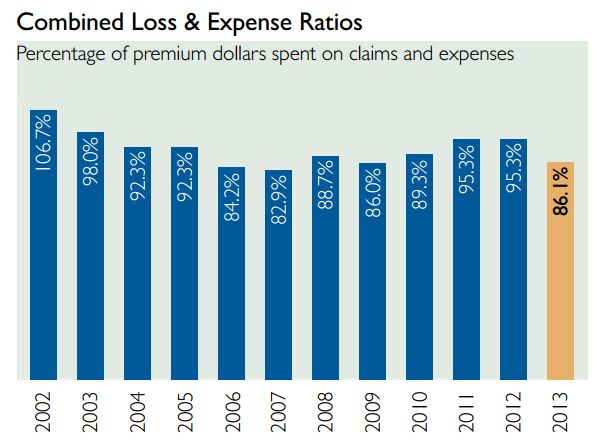 Source: 2013 Annual Report
Chubb Group sells its policies through its network of independent agencies and brokerages. The company operates in several niche markets, where it can maintain its profitable and disciplined underwriting. The company's 2013 revenue mix is broken down below: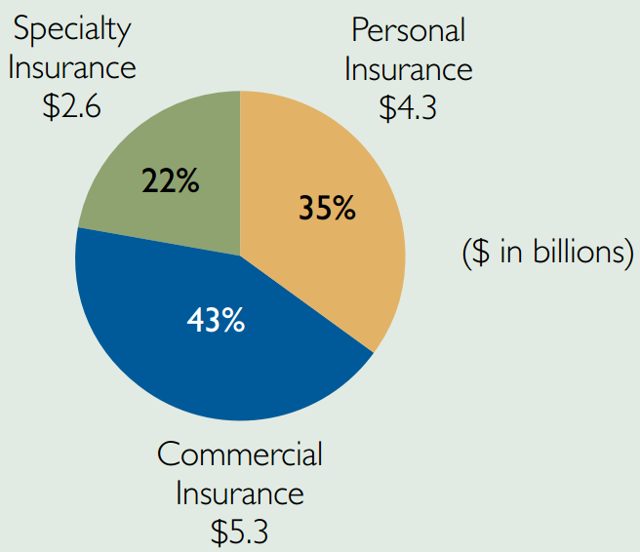 Chubb's future growth will come from the incremental expansion of the company's insurance business in profitable niche markets. Chubb is also focused on increasing profitability through using predictive analytics to improve underwriting and prevent fraud.
Shareholder Return
Shareholders of Chubb Group can expect a CAGR of 10% going forward from growth (3%), share repurchases (6.5%), and dividends (2%). The business has a long history of rewarding shareholders, with 32 years of consecutive dividend increases.
Amazingly, the company has repurchased 51% of shares outstanding since 2005. The company has literally doubled shareholder value from share repurchases alone since 2005.
Valuation
Chubb appears to be fairly valued or slightly undervalued based on its PE ratio compared to its peers.
| | | |
| --- | --- | --- |
| Ticker | Company | P/E |
| CB | The Chubb Corporation | 11.08 |
| AIG | American International Group, Inc. | 9.27 |
| ACE | ACE Limited | 10.07 |
| TRV | The Travelers Companies, Inc. | 9.02 |
| ALL | The Allstate Corporation | 12.56 |
| SLF | Sun Life Financial Inc. | 13.33 |
| L | Loews Corporation | 27.13 |
| HIG | Hartford Financial Services Group Inc. | 16.12 |
| PGR | Progressive Corp. | 12.77 |
| CAN | CNA Financial Corporation | 11.96 |
Source: Finviz
The company has traded at a PE ratio around 10 for much of the last decade. Chubb is fairly valued based on its historical PE ratio. Chubb is significantly undervalued compared to the market overall. The S&P 500 currently has a PE ratio of about 19, compared to only 11.08 for Chubb.
Consecutive Years of Dividend Increases
Chubb Group has increased its dividend each year for 32 consecutive years. A long history of dividend increases is a sign that Chubb has a competitive advantage because the company is able to return more money to shareholders each year.
Why it matters: The Dividend Aristocrats (stocks with 25-plus years of rising dividends) have outperformed the S&P 500 over the last 10 years by 2.88 percentage points per year.
Source: S&P 500 Dividend Aristocrats Factsheet, February 28 2014, page 2
Dividend Yield
Chubb's dividend yield of 2.16% ranks it at 68 out of 112 businesses that have not reduced their dividends for 25+ years.
Why it Matters: Stocks with higher dividend yields have historically outperformed stocks with lower dividend yields. The highest-yielding quintile of stocks outperformed the lowest-yielding quintile by 1.76 percentage points per year from 1928 to 2013.
Source: Dividends: A Review of Historical Returns
Payout Ratio
Chubb Group has a low payout ratio of only 21%. The company compares favorably to other businesses that have not decreased their dividends for 25+ years, ranking at 10 out of 112. The company has substantial room to increase dividends faster than overall company growth if it chooses to.
Why it Matters: High-yield, low-payout ratio stocks outperformed high-yield, high-payout ratio stocks by 8.2 percentage points per year from 1990 to 2006.
Source: High Yield, Low Payout by Barefoot, Patel, & Yao, page 3
Long-Term Growth Rate
Chubb has grown revenue per share by 6.65% over the last decade. The company ranks at 32 out of 112 businesses that haven't decreased their dividend for 25+ years based on this metric.
Why it Matters: Growing dividend stocks have outperformed stocks with unchanging dividends by 2.4 percentage points per year from 1972 to 2013.
Source: Rising Dividends Fund, Oppenheimer, page 4
Long-Term Volatility
The company has a long-term standard deviation of about 27%, which ranks it at 49 out of 112 businesses with a long history of increasing dividends. The company's standard deviation is not especially low, reflecting the turbulence and competitiveness of the insurance industry.
Why it Matters: The S&P Low Volatility index outperformed the S&P 500 by 2 percentage points per year for the 20-year period ending September 30th, 2011.
Source: Low & Slow Could Win the Race, page 3
Conclusion
Chubb Group is a Top 10 dividend stock based on the 8 Rules of Dividend Investing. The company is among the 5 cheapest Dividend Aristocrats based on its PE ratio. Chubb has a long history of profitable growth, and is poised to continue to expand.
Chubb Corporation approaches insurance very conservatively. Their combined expenses and claims have been less than premium revenue every year since 2002; all investment revenue has been pure profit since 2002. Conservative management is a competitive advantage in the highly competitive insurance industry. Companies that don't underwrite unprofitable policies are able to thrive in both strong and weak insurance markets.
Disclosure: I have no positions in any stocks mentioned, and no plans to initiate any positions within the next 72 hours. I wrote this article myself, and it expresses my own opinions. I am not receiving compensation for it (other than from Seeking Alpha). I have no business relationship with any company whose stock is mentioned in this article.