Although Apple Inc (NASDAQ:AAPL) has generated a total return since it bottomed out in April, I believe that it is still a good value for investors. Apple announced that NTT DOCOMO began carrying its new iPhone 5S in December 2013 and that China Mobile would carry Apple's iPhone starting in January. Apple's total return exceeded the S&P 500 since April 19, 2013 (the Friday before it bottomed out). Investors should follow Carl Icahn's lead and selectively accumulate Apple shares. Now that Angela Ahrendts will assume her new role as head of Apple Retail this quarter, we expect additional contribution from that division, which will add to Apple's bottom line and growth rates. Apple recently released its HealthKit app as part of Apple's new iOS 8 mobile operating system and we expect that it will help ensure healthy returns for investors.
HealthKit is used for collecting, viewing and sharing health-related data, as well as enabling healthcare professionals to access a user's health information on their iOS device. It serves as a hub for a person to see all of their health information in one place. As someone who was recently in the hospital and who is concerned about the rising costs of healthcare, I think that HealthKit will be useful for consumers interested in maintaining and improving their health in order to avoid expensive doctor visits.
Apple also released a new platform called HomeKit, which is also part of Apple's new iOS 8 operating system. HomeKit aims to make the iPhone a remote control for the connected home. With Google's (GOOG,GOOGL) acquisition of Nest Labs, it is natural for Apple to want to establish a beachhead in the technology enabled "smart home products" segment. Hopefully, Apple does not get involved in the smart meter business due to the various health and privacy issues surrounding those products.
I agree with analyst Gene Munster that Apple shares have continued room to run based on potential new products over the next six to 12 months such as the iWatch, Apple TV, Apple payments and Apple's new foray into "smart home technology". Munster believes that this will be the product cycle of the decade for Apple and will enable it to generate consistent, long-term, double-digit revenue and EPS growth.
Apple should also generate growth from its $3B acquisition of Beats Electronics. Rapper Andre "Dr. Dre" Young and music producer Jimmy Iovine co-founded Beats in 2006 in response to the poor audio quality from Apple's plastic earbuds. Mobile phone maker HTC owned 50.1% of Beats Electronics for a period, but sold its shares back to the company for $415M. The good news for HTC is that it made a $106M pre-tax profit on its stake in Beats, but the bad news is that Apple agreed to buy Beats for $2.6B in cash and $400M in Apple stock that will vest over time. Iovine was quoted as saying "I always knew in my heart that Beats belonged with Apple…The idea when we started the company was inspired by Apple's unmatched ability to marry culture and technology. Apple's deep commitment to music fans, artists, songwriters and the music industry is something special." The combination of Beats Electronics and Beats Music's streaming offerings with Apple's iTunes storefront should help reinvigorate growth in this product segment, as well as help give Apple positive brand association with younger consumers.
Apple has a very healthy balance sheet. Apple has $150.6B in cash and marketable securities ($132.2B attributed to overseas entities) representing 29.75% of Apple's Market cap. Apple initiated a $2.65/share dividend payment in August 2012, which was its first dividend in 17 years and it increased the dividend by 15% to $3.05/share in May 2013 and by another 8% recently to $3.29/share. Apple began repurchasing shares in FY 2013; it repurchased $45.9B worth of its shares in the last six quarters and increased its share repurchase authorization to $90B.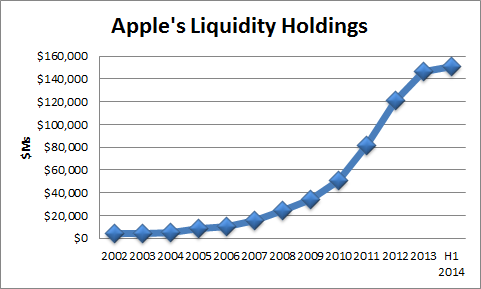 Source: Morningstar Direct
Apple was originally planning to return $45B in cash to shareholders from 2013-2015 and I was mollified that Apple boosted that figure to $100B in order to establish a firmer floor on its share price. Apple repurchased $40B over the last 12 months, including $14B in the last two weeks. Apple also announced a seven-for-one stock split of its shares, which will take effect in June. Now that Apple's share price is no longer going to have a very high share price in dollar terms, it is time for Apple to be added to the price-weighted Dow Jones Industrial Average and have Apple replace Hewlett-Packard (NYSE:HPQ) or Alcoa (NYSE:AA). Apple also reiterated that its long time CFO Peter Oppenheimer will retire in September and its VP of Finance Luca Maestri would succeed Oppenheimer as CFO.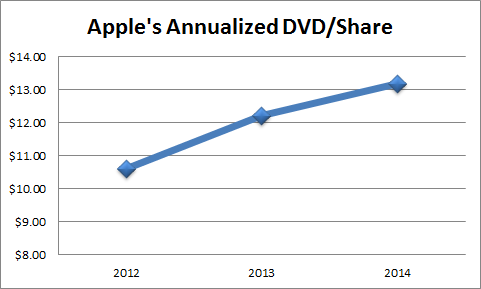 Source: Morningstar Direct
I agreed with activist investor Carl Icahn's assertion that Apple's share price is undervalued as Apple is trading at less than nine times forward earnings excluding its $150.9B in liquid assets. I can also see why David Einhorn's Greenlight Capital still has $1.3B worth of Apple's stock. Other notable investors in Apple include Coatue Management ($846M), Cliff Asness ($239M), Soros Fund Management ($163M), David Tepper's Appaloosa Management ($120M) and Israel Englander's Millennium Management ($112M). I disagree with investors who dismiss Apple's recent shareholder friendly moves as "financial engineering". If a company can't profitably invest its cash flows in projects that are profitable and which cover the cost of shareholders' capital, then the company is duty-bound to return the cash to shareholders in the form of dividends and/or share repurchases.
The iPhone continues to be Apple's best-selling product. Revenue from the iPhone increased 14% to $26.1B on a year-over-year basis. Units sold increased by 17% to 51M and average sales price per unit only declined by 3% on a year-over-year basis despite the inclusion of the lower priced iPhone 5C device. I expect that the new iPhone 5S will enable Apple to recover consumer goodwill that was lost due to the poor perception of the iPhone 5 and Apple's new sales agreement with China Mobile to help boost Apple's growth rate in China. In Japan, iPhone sales were up over 50% year-over-year resulting in significant market share gains. Interestingly enough, 89% of Apple's user base is running the current version of iOS, 9% for Google's Android KitKat software.
Source: CNBC
iPhone also continued to perform exceptionally well in many developing markets. In Greater China, Brazil, Indonesia, Poland and Turkey, iPhone sales grew by strong double-digits year-over-year, and in India and Vietnam sales more than doubled. Apple exited the quarter with 15.4M total iPhones in channel inventory, which represents a sequential increase of about 100,000 from the December quarter and left Apple within its target range of four to six weeks.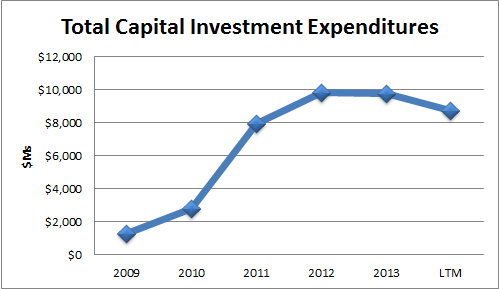 Source: Morningstar Direct
As Apple increased its R&D spending from $1.3B in 2009 to $5.1B in the last twelve months, I believe that investors should expect that Apple will potentially release new products or enhancements to its existing products. Other potential catalysts for new products or new enhancement to its existing products include curved screens, enhanced biometrics, 3D gesturing, wireless charging and a major upgrade to Apple Maps. In a recent interview with The Wall Street Journal, Tim Cook hinted at likely new products for 2014 but declined to give specifics. Apple has also made 24 acquisitions of smaller tech companies over the last 18 months.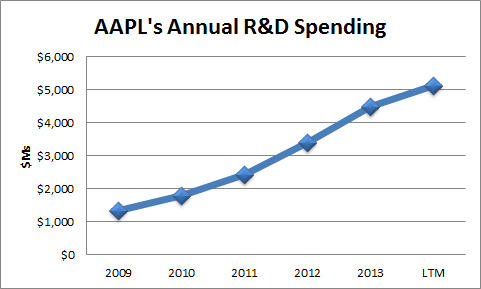 Source: Morningstar Direct
The iPad saw a 16% volume decline and its revenues decreased by 13% as the prior year period saw increased sales of the iPad into its sales channel inventory whereas this year saw a decrease of iPad inventory into Apple's sales channels. Although Apple is facing competitive headwinds in the tablet computing space I believe that Apple is not going to squander its presence in the sector like BlackBerry (BBRY) did with the smartphone and Microsoft (NASDAQ:MSFT) did with the smartphone operating system. iPad continues to lead all other tablets by far in terms of user engagement, size of ecosystem, customer satisfaction and e-commerce. A recent study by Chitika Insights found that iPad users in North America generate almost four times the web traffic of all Android tablet users combined.
One example in Massachusetts that shows how Apple's iPad is making inroads in the educational community is the iPad one-to-one program at Burlington High School. According to an end-of-the-year survey, the majority of students indicated that they were more excited to attend class and more organized in their learning than in previous years. Teachers are seeing a different level of engagement - including richer, deeper conversations - from students when they use iPads. Because of the program's success at Burlington High School, more than 50 schools from all over New England have come to observe the program in action. In Newton, MA, there has been a renewed push to improve the digital educational offerings in the Newton Public Schools based on Burlington's experience with its iPad one-to-one program and that would be a big win for Apple if Newton followed Burlington's lead.
Unit sales of the Mac Desktops and Portables increased by 5% and product revenue increased by 1% versus the comparable quarter last year. I was disappointed in the Mac product line's performance last year because it had generated strong performance in FY 2012 versus Dell (DELL) and Hewlett-Packard but endured sales and revenue declines in FY 2013. Apple introduced the first Macintosh desktop computer in 1984 and it refreshed its Mac product line in October 2013. Apple's Mac growth was due to increased sales of iMac and MacBook Air and MacBook Pro. Apple's Mac product line gained market share in 31 of its last 32 quarters. AAPL ended the quarter with Mac channel inventory slightly below its four to five-week target range.
Performance of the iPod product line continues to be depressing. The iPod's functionality is archaic when you consider its capabilities versus the iPad and iPhone and it shows as unit sales declined by 51% and product revenues declined by 52% Year-over-Year. So far, the updated iPod products Apple released in October 2012 have not helped this product line get its groove back. Apple did not even bother to mention the iPod during its most recent conference call. However, it could help preserve the strong growth rates achieved by the iTunes product. The iTunes and related software and services generated $4.6B in revenue during the quarter, up from $4.1B in the prior year period. Related software and services saw 14% growth and iTunes grew by 9%.
App Store momentum is incredibly strong as cumulative app downloads at 70 billion, 87% of iOS devices are now running iOS 7 and our highly engaged users are a great audience for developers. According to App Annie, the App Store generated 85% more global revenue than Google Play in the March quarter despite the differences in unit market share between iOS and Android devices.

Source: Apple's Most Recent Quarterly Report
On a geographic basis, all the regions saw stable or positive revenue growth except the Asia Pacific region. Apple Europe's revenue increased by 4.39% year-over-year even though some European markets are still mired in recession. Apple broke out its Greater China results from its Asian Pacific region and Greater China (Hong Kong, Taiwan and Communist China) generated 13.1% year-over-year revenue growth in Q2 2013 after generating spectacular growth in 2013.

Source: Apple's Most Recent Quarterly Report
H1 2014 Cash Flows from Operations were $36.2B and capital investments including acquisitions were $4.1B, resulting in free cash flows of $32.1B for the period. Apple opened three new stores and ended the quarter with 423 retail locations. About 39.5% of its retail store base (166 stores) is outside the U.S. Apple expects to open about 30 new stores in total in fiscal 2014 (two-thirds of which will be outside the U.S.) and to complete at least 20 store remodels. With an average of 422 stores open in the December quarter, average revenue per store was $12.4M, compared to $13.1M in the year ago quarter. Retail segment income was $1.2B. Apple plans to triple the number of Apple Retail stores in Greater China over the next two years. Apple opened its first retail stores in Brazil and Turkey and now has retail stores in 15 countries around the world. With Angela Ahrendts taking the helm at Apple Retail next week, this division should see improved revenue and profit growth trends based on her strong performance as CEO of Burberry.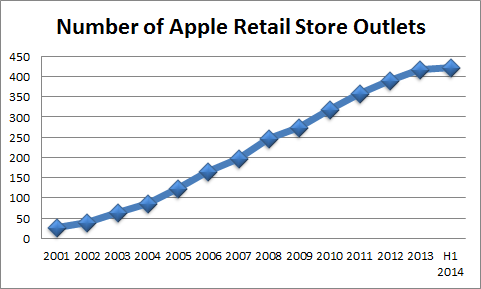 Sources: Apple's Most Recent Earnings Call
In conclusion, it is refreshing to see Apple prove the impatient pessimists wrong. Apple's stakeholders are relieved that its nightmare FY 2013 fiscal year is over. I believe that those few investors who have been short Apple and long Nokia (NYSE:NOK) should wind up that trade because Apple's shares have been through the worst that the market could throw at it. Apple has made a number of recent missteps however; it has taken steps to fix the problems in order to avoid suffering the fate of Nokia and BlackBerry. Here are the reasons why investors should follow Carl Icahn's lead and patiently accumulate a position in Apple:
Carl Icahn bought $500M worth of Apple's stock in response to its recent price drop earlier in the year.
Apple boosted its dividend and its share repurchase authorization.
Apple is trading at a price that is 20% lower than its all-time peak.
I expect Apple to resume its EPS growth in FY 2014 and to grow by 11% from 2014 to 2018.
Apple's Forward FY 2014 PE of 14.3X represents a PEG of 1.2X based on my projected 11% long-term EPS growth.
Apple's Q1 2014 EPS of $14.50 exceeded the analyst consensus of estimates of $14.07 and its Q2 2014 EPS of $11.62 exceeded the analyst consensus of estimates of $10.21.
Disclosure: I am long AAPL. I wrote this article myself, and it expresses my own opinions. I am not receiving compensation for it (other than from Seeking Alpha). I have no business relationship with any company whose stock is mentioned in this article.