Recently, in one of my small-cap investment models - SigmaTron (NASDAQ:SGMA) was recommended as a buy. This seemed to coincide with the American Association of Individual Investors decision to include SigmaTron in their Model Shadow Stock Portfolio. Previously, I knew very little about this company and there is a scarce supply of analysis on the company. This is what prompted me to do some research.
SigmaTron is Small, Diverse and Global
SigmaTron provides electronic manufacturing services. They work with their clients to make printed circuit boards, assembled electronic products and they provide other related services. SigmaTron has a very small market capitalization of just over $40 million with only 2,700 employees - so I wasn't expecting much diversification of product and I assumed their clients were localized. What I found was an infrastructure with tentacles spread around the world while offering a large variety of products - while giving personalized solutions and services to their clients.
SigmaTron has multiple manufacturing locations in countries such as China, Vietnam, USA and Mexico which gives the client choice. They might choose one facility over another based on such factors as cost and political stability.
There are quite a few industries that SigmaTron provides solutions for. The list includes the following:
Medical
Aerospace and Defense
Industrial, Appliances
Consumer Electronics
Telecommunications.
But is it good to provide such a wide range of products for such a small company? On one hand, a smaller company needs to be cautious not to spread itself too thin. On the other hand, companies like these need to be versatile as they need to land multiple smaller contracts to stay afloat. Smaller companies need to leverage their edge of excellent customer service to make up for the lack of big infrastructure.
All in all, it was a surprise to see such product and geographic diversity for a tiny cap company.
The Spitfire Acquisition
Then in 2012, the company acquired Spitfire Control. This acquisition not only broadened their customer based by servicing former Spitfire clients - who focused on household appliances - but SigmaTron also enhanced their services provided.
SigmaTron excelled in what is called White Box business where the OEM controls the design and they seek contract manufacturers to fulfill their orders according to their specs.
Spitfire was superior in Black and Gray Box where either Spitfire used their own designs and technology to make the full custom product (Black Box), or else they could take a partial design from the customer and finish it (Gray Box). SigmaTron instantly gained expertise in meeting the needs of new clients whether they had a fully-baked product to be built or not.
The calculated cost of the acquisition of Spitfire is $18,944,307. If you divide that by the current amount of outstanding shares which is 4.98 million, the cost is around $4.75 per share. The majority of this amount was accounted for on paper only since Spitfire already owed SigmaTron around $15 million.
What has been the growth since this acquisition?
Post-Spitfire Acquisition Growth
As you can see below, since 2012 the revenue per share and basic earnings per share has increased.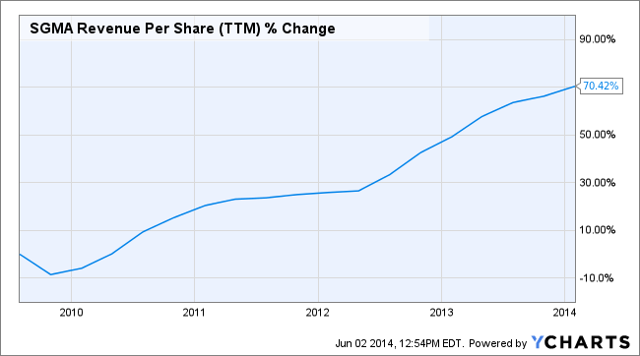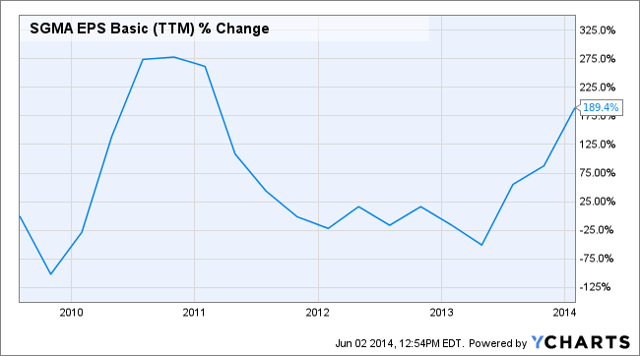 I place more emphasis on the revenue per share at this point since earnings can be unreliable over short periods of time. Since the acquisition in May 2012, the trailing-12-months revenue per share calculation has increased by a total of 28%. This is promising although the US economy has also been improving simultaneously. If SigmaTron can continue to leverage the Spitfire acquisition for ongoing accelerated sales and earnings growth, this will no doubt increase investor attention to this small company.
Whether the growth was merely a bump linked to general economic conditions or if it will be a sustainable trend attributable in part to the SigmaTron acquisition remains to be seen.
I have put the revenue per share and basic earnings per share (TTM) of two competitors - Celestica (NYSE:CLS) and Flextronics International (NASDAQ:FLEX). The EPS chart of Flextronics is slightly truncated since EPS going from negative to positive skews the percent change.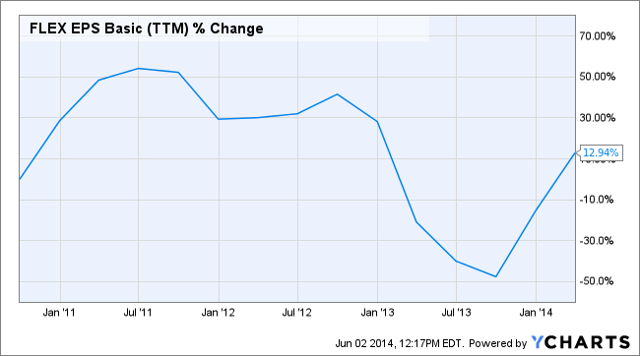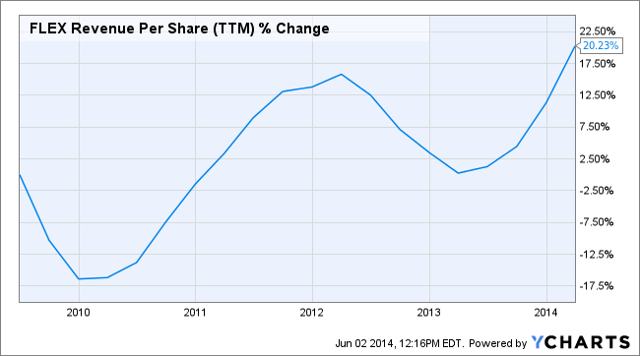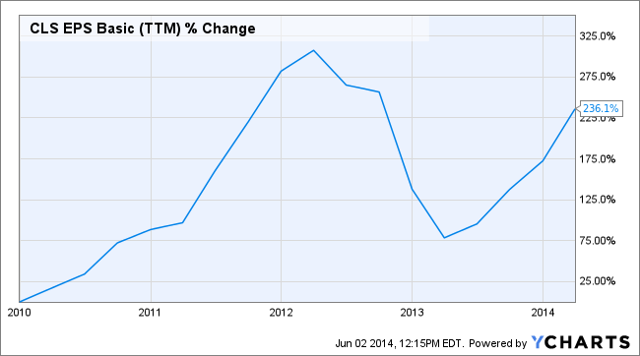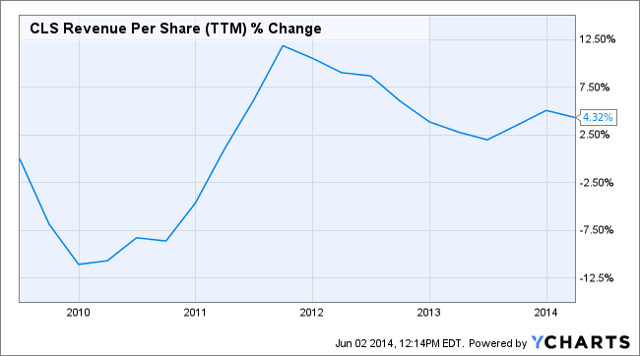 Balancing Potential with Risk
So what is the perceived upside and risk to owning SigmaTron?
The upside to SigmaTron can be potentially great as they are small and have a wide reach with diverse offerings. The acquisition of Spitfire is logical and fits well with their mission. Hopefully they can see sustained growth from this and consider other acquisitions in time.
Another upside is related to its size - few analysts are covering this company. Investing in companies with little coverage carries volatility risk as a few big trades can drive the stock up or down. But investors who know the industry and see the potential before the masses can also put that 'risk premium' in their pocket. If the firm can expand and gain exposure - this can lead to an increase in valuation or a higher share price for the same fundamentals.
While sales growth is the long-term growth driver of growth with SigmaTron, earnings growth could see substantial improvement with some cost reduction. You will note that both gross and net profits have declined over the past years. Even a small 'tightening of the belt' could boost earnings rapidly.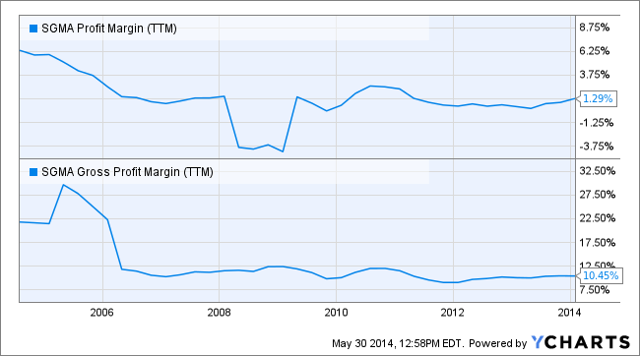 The downside is that the company is small and they need to balance productivity and bottom-line revenue and earnings growth while keeping customer service and flexibility at the forefront. These two sometimes run counter to each other - profit and service. Other risks relate to the concentration of customers. For instance, in the year ended April 30, 2013, two customers accounted for 26.8% and 9.6% of net sales. It would be better if they had multiple large and on-going contracts.
The Bottom Line
SigmaTron has decent revenue growth and rapid earnings growth could follow by improving margins slightly. Margins may improve through the use of their information management system which monitors inventory, forecasts demand and keeps an eye on defects. This will keep productivity high so there is neither material shortage nor inventory overstock.
I feel that SigmaTron is well positioned but much depends on their ability to land a couple whales. This is a small and largely undiscovered stock worth putting on the radar. While it is no global growth monster yet - with the right set of circumstances it could be in a few years.
Disclosure: I have no positions in any stocks mentioned, and no plans to initiate any positions within the next 72 hours. I wrote this article myself, and it expresses my own opinions. I am not receiving compensation for it (other than from Seeking Alpha). I have no business relationship with any company whose stock is mentioned in this article.
Editor's Note: This article covers one or more stocks trading at less than $1 per share and/or with less than a $100 million market cap. Please be aware of the risks associated with these stocks.