We started the DIY Dividend Investors Club series last year and its been about 6 months since the last article (our apologies!). Instead of picking up where we left off, we thought it would be better to start the whole series over (with a couple of tweaks to the strategy). So let's try this again!
What Is The DIY Dividend Investors Club?
As fellow do-it-yourself investors, we appreciate the power of collective thought. In fact, the primary reason we love contributing articles on Seeking Alpha is the privilege of discussing and analyzing the market with like-minded individuals. To achieve long-term success, investors must keep an open mind and continuously educate themselves and there is a wealth of knowledge to be gained from fellow contributors, commentors and readers on Seeking Alpha.
As most of you know, the main focus of our research is dividend stocks and we pride ourselves as a community of DIY dividend investors. We have written many articles about establishing a dividend investing plan as well as building a DIY Dividend Portfolio...but now we want to hear from you!
This next series of articles is going to focus on building and monitoring a long-term dividend portfolio from scratch using the collective knowledge and opinions of SA readers and contributors. In essence, we would like to create a "DIY Dividend Investors Club" for SA members that we will moderate through future articles. If you are interested in participating all you have to do is provide your feedback and/or opinions in the comment section of future articles. Or if you just want to passively follow along, you are welcome to do that too.
Please make sure to "follow" us so that you will be notified when each new article is published.
DIY Dividend Portfolio Parameters
Here are the high-level parameters that we are setting for the portfolio:
Portfolio Size: $250,000
Target # of Stocks: 20-30
Maximum Stock Concentration: 5.0% of portfolio
Maximum Sector Concentration: 20.0% of portfolio
Maximum High Yield Concentration: 20.0% of portfolio
Minimum Dividend Yield: 2.0%
As you can see, the investment plan is really simple. We are targeting a portfolio of 20-30 stocks with a minimum dividend yield of 2.0%. In addition, to ensure proper diversification we are setting portfolio concentration limits for individual stocks (5%), sectors (20%) and high-yield exposure (20%). Note that we consider any stock with a yield over 6% as "high-yield".
Building the Portfolio (Picking the Stocks)
Stocks in the portfolio will be initially selected based on the collective feedback from the Club. In addition, we will ask the Club to weigh in on the management of the portfolio over time as well.
There's really no right or wrong answer when it comes to stock picking methodology. For those of you that are interested, you can read about our investment philosophy here. That said, to help facilitate the stock picking process we are going to build our portfolio "watchlist" by sector (based on the 9 major sectors in the S&P 500 as well as alternative sectors like MLPs, REITs and BDCs).
Over the next few weeks, we will publish an article on each sector highlighting some suggested stocks within the sector (based on our rating system). Readers can either vote on the stocks we suggested for the portfolio or "write in" their own stocks to vote on. Majority will rule!
Below is a schedule of the entire series. Please make sure to "follow" us so that you can contribute to each part!
Part 1: Introduction
Part 2: Consumer Staples
Part 3: Utilities/Telecom
Part 4: Healthcare
Part 5: Consumer Discretionary
Part 6: Financials
Part 7: Technology
Part 8: Industrials
Part 9: Materials
Part 10: Energy
Part 11: Master Limited Partnerships ("MLP")
Part 12: Real Estate Investment Trusts ("REIT")
Part 13: Business Development Companies ("BDC")
Part 14: Unveiling the Portfolio
Buying Strategies For A Rising Market
Chasing stocks higher during a market rally is an easy trap to fall into if you don't establish a long-term buying strategy. There's certainly no harm in taking a few nibbles during a rally since none of us have a crystal ball (and stocks could always go higher). That said, patiently waiting for a low-risk entry point for a given stock will drastically improve your long-term investment results.
Our buying strategy has three key components:
Establish a "Buy Zone" for each stock - Our ultimate goal is to buy quality stocks at good prices. Establishing a "Buy Zone" helps us stay disciplined.
Keep a "Watch List" close at hand - We maintain a master Buy Zone Watch List that we use to track all the stocks that we would like to own and at what price. In our opinion, this is the best way to stay on top of potential buying opportunities.
Buy in stages - We prefer to "leg" into our positions and we never buy a full position at once. Since we know we can't time the market, we always like to save some dry powder in case the stock drops further.
Let's Get Started: Is there Anything Worth Buying Today?
There's no reason to wait until the next article to get down to business. Let's pick a couple of stocks for the portfolio (from any sector). But here's the catch...these stocks must be worth buying today! We'll spend most of the series building a watchlist of great stocks to consider buying on a pullback, but let's kick this thing off with some real actionable ideas. Below are a few stocks that are currently trading in our "Buy Zone".
You'll notice that all of the stocks below have extremely low Relative Strength ratings, which mean they have been among the worst performers of any stock in our entire dividend stock universe. We often use a low Relative Strength rating as a "value" indicator when a stock has high relative ratings in other key categories (Financial Stability, Dividend Sustainability, or Dividend Track Record).
MATTEL INC. (NASDAQ:MAT)
MAT is down almost 20% from its 52-week high and the stock currently trades in the Buy Zone!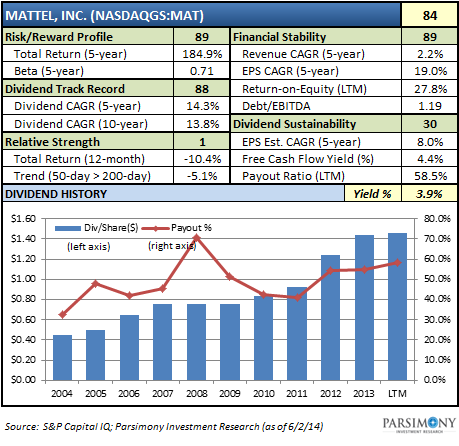 Mattel has increased its dividend to shareholders at a compound annual rate of 13.8% over the past 10 years, including a 35% increase in 2012 and a 16% increase in 2013. The stock has struggled lately (hence the extremely low Relative Strength rating), but MAT rates relatively well in Financial Stability (89) and Dividend Track Record (88). The drop in MAT's share price over the past 6 months may prove to be a great buying opportunity for long-term investors...and it currently offers a nice yield of 3.9%!
INTERNATIONAL BUSINESS MACHINES (NYSE:IBM)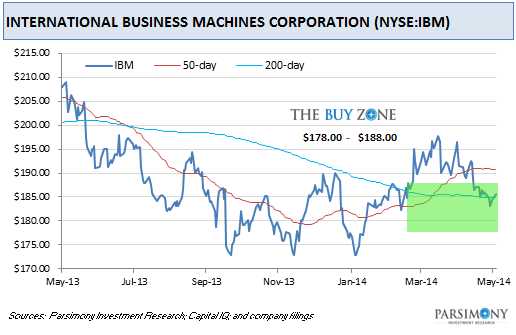 IBM is down about 12% from its 52-week high and the stock currently trades in the Buy Zone!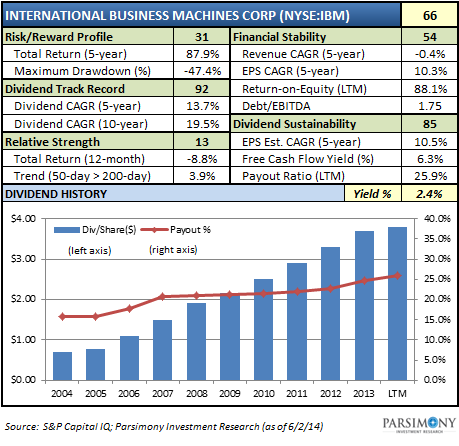 IBM's dividend yield (2.4%) is towards the low end of what we look for, but we think the stock warrants consideration at current levels as the company has great ratings for Dividend Track Record (92) and Dividend Sustainability (85). IBM has increased its dividend to shareholders at a compound annual rate of 14% over the past 5 years and delivered shareholders a total return of 88% over that same period (despite the recent pullback).
TARGET CORP. (NYSE:TGT)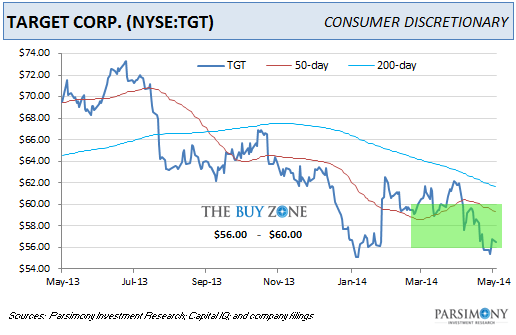 TGT is down about 23% from its 52-week high and the stock currently trades in the Buy Zone!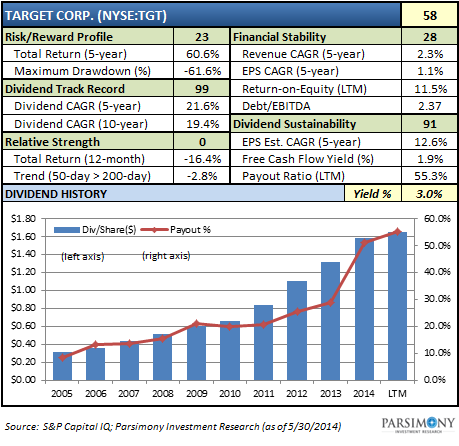 Target Corporation has paid a dividend to shareholders every quarter since going public in 1967, and the company has grown dividends at a compound annual rate of 21.6% over the past 5 years. This steady dividend growth rate has led to a total return of 61% for shareholders over that same period (even despite the recent hiccup in shares over the past year). While the company has the worst Relative Strength rating (0 - yes, zero!) of any stock in our universe, TGT has very high ratings for Dividend Track Record (99) and Dividend Sustainability (91). This is a stock that we think investors should "target" right now (due to the pullback) because signs continue to point to stable dividend growth.
Summary
We are truly looking forward to this series as well as seeing how the DIY Dividend Investors Club Portfolio performs over time. We hope that you'll participate in each stage of the process and be honest and open with your opinions. The ultimate goal here is to leverage the collective knowledge base of income-focused SA members to build a great long-term dividend portfolio!
Feedback Request: Please offer up your "best actionable idea" in the comments section below (and briefly justify why you think its a good buy today) or vote for someone else's idea. If you like any of the suggestions, please feel free to expand on it and add your two cents. Let's make this a great series!
Disclosure: I am long TGT, MAT. I wrote this article myself, and it expresses my own opinions. I am not receiving compensation for it (other than from Seeking Alpha). I have no business relationship with any company whose stock is mentioned in this article.