I have absolutely no shame in admitting I'm a 22 year old adult that still enjoys the entertainment of professional wrestling. Call me an adolescent, but its simply a part of my childhood that I refuse to let go of. It's no surprise that when I first began analyzing stocks, World Wrestling Entertainment Inc (NYSE:WWE) was one of the first companies I looked at. At the time (over a year ago), it traded around $9-10, but the valuation multiples made it simply unappealing to me. More recently, I noticed the stock appreciated to a peak of around ~$30 in March, driven by the expectations set by the new WWE Network and renegotiated television contract. Those who shorted the stock at its peak (most notably Lemelson Capital, who also wrote a very compelling thesis to support their short position) would now be looking at a very handsome return.
To begin, let's briefly examine WWE's 2013 financial performance.
| | | |
| --- | --- | --- |
| | WWE FY13 | WWE FY12 |
| ROIC | 1.3% | 11.1% |
| 5-Year Trailing Revenue Growth | -0.85% | -- |
| OIBDA | $30.1 mil | $63.2 mil |
| OIBDA Margin | 6.1%% | 13% |
As the table above indicates, WWE underperformed in 2013 relative to its own history. Subsequently, valuation metrics using 2013 results or TTM may not give an accurate picture of the company on a normalized basis.
The more recent Q1 underperformance can be attributed to the company's new WWE Network, which has yet to break even. The steep drop in stock price was a result of the WWE Network's subscription rate and its recently renegotiated TV contract with Comcast's NBC Universal both failing to meet expectations. This article attempts to answer the following questions:
Can the WWE Network achieve its estimated 2-3 million steady state subscribers?
Can investors put faith in WWE's management?
How do I, a wrestling enthusiast and equity analyst, view the stock?
Brief Business Overview
WWE Entertainment calls itself an integrated media and entertainment business. WWE has been in the sports entertainment (professional wrestling) business over the last 30 years, and is the largest professional wrestling promotion in the world. It operates in 4 business segments as of Q1 FY14:
Media
Live Events
Consumer Product
WWE Studios
1. Can the WWE Network achieve its estimated steady state subscribers?
WWE Network Overview
The WWE Network was originally promoted as a revolutionary way to watch wrestling content. My roommate and I, both wrestling aficionados, literally counted down the days till February 21, 2014 (the date of the Network's launch) with much anticipation and excitement. The value proposition was remarkable: all 12 pay-per-views (PPVs) for $9.99/month, as opposed to the previous $44/PPV. Ultimately, my roommate subscribed.
For WWE, the Network was a good way of monetizing its large content library and generating a stream of reoccurring revenue (WWE Network subscription was a 6 month commitment). The company anticipates attracting 2 million to 3 million subscribers representing incremental OIBDA between $50 and $150 million in the steady state net of $60 million cannibalization, implying an incremental OIBDA margin of 83%. WWE also states that the Network breaks even, excluding the PPV element (which requires a fixed cost of $40 million), is at 400,000 subscribers, implying break-even is roughly at $88 million dollars ($120/revenue per subscriber times 400,000 = $48 million; plus $40 million is $88 million). The company optimistically estimated to gain 1 million subscribers by YE14. If WWE achieved one million subscribers on an annual basis (the amount of subscribers management expects by YE14), the Network would generate $26.6 million in OITDA ([$120 revenue - $88 fixed cost] times 83% incremental margin). Once past break-even, the economics of the new business model are extremely attractive. If management's figures are correct, it will take ~733,000 subscriptions to break-even. After that, 83% of revenues will flow directly into OIBDA.
The Network's Performance
When the Network finally launched, it quickly began failing expectations. It managed to only get about 670,000 subscribers as of May, 330,000 short of the required 1,000,000 subscribers to break-even when taking into account cannibalization. WWE reports that it projects to lose around $42 million by YE14, even if subscriptions amount to 1 million by YE14.
The low number of subscriptions, relative to expectations did not surprise me. 2013 PPVs were notorious for inconsistent quality. Throughout the second half of last year and beginning in 2014, WWE PPVs, for the most part, have been disappointing to fans. Outcomes were very predictable and main event matches were boring. Although the Network has attracted the average hardcore fan, I believe most casual fans continue to sit on the fence given the mediocrity in the Network's offering (WWE PPVs) in late-2013/early-2014.
Going forward, I find WWE's subscriber goal of 2 to 3 million fairly aggressive given the following:
Market size. Individuals most likely to purchase the WWE Network are the same individuals who watch Monday Night Raw on a weekly basis. Viewership for Monday Night Raw is about 3.5 million a week. If the average household consists of 2.54 members, and every household subscribed to the WWE Network, that's equates to a potential of 1.38 million subscriptions. While WWE has a niche audience, how many fans can WWE realistically convince to put down a 6-month $60 minimum commitment?
Subscription sharing. Similar to the earlier days of Netflix streaming, it is likely Network subscriptions and benefits are shared amongst multiple households, whether that includes account access or PPV viewing parties is arbitrary.
Wrestlemania. After the company's biggest PPV draw, Wrestlemania, occurred, the amount of subscribers following was still nowhere near the 1 million by YE14. Going forward, PPVs will be significantly less appealing relative to Wrestlemania.
If WWE has any shot of hitting its target of 2 to 3 million subscribers in the steady state, the company's product needs to improve. Let's examine the quality of WWE's product.
The WWE Product
I classify WWE's product as the content (storyline, wrestling, etc) in its weekly programs and PPVs. The latter is the underlying driver of the WWE Network's ultimate success or failure, as PPVs are the Network's main offering. The former promote a PPV's general appeal to the audience.
Over the past 10+ years, there has been a down hill trend in the company's ratings, as depicted by the graph below.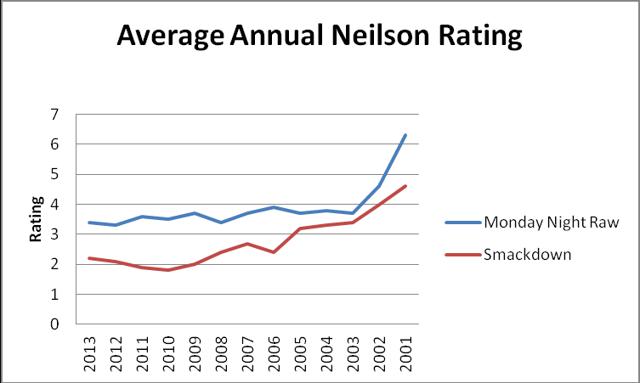 WWE's target demographic is primarily youths, who make up 19% of their audience. Individuals in my demographic (18-34) represent 20% of the television audience and the remainder likely consist of older fans and parents of the youth. It makes sense for WWE to target the youth, as the rising popularity of the UFC (which I am a huge fan of) has snatched away market share from WWE. UFC's violent nature and realism is more appealing to older individuals in comparison to WWE's staged, watered down product. Personally, I would purchase a UFC PPV over a WWE PPV any day. The PG strategy has come at an opportunity cost. The product is watered down in comparison to the Attitude or Ruthless Aggression era. Older fans who continue to watch the product (like me) have become increasingly frustrated with the product's simplicity, as well as predictability.
Going forward, in order for the WWE Network to increase its subscriptions, both weekly television shows and PPV need to improve as a means to attract casual fans. There is hope as PPV content has gotten significantly better (relative to late 2013/ early-2014) following the Network's launch. The first two PPVs broadcasted by the WWE Network, Wrestlemania 30 and Extreme Rules, both received positive reviews. Going forward, PPV quality needs to be positive and consistent in order for more fans to agree to a 6-month commitment.
2. Can investors put faith in WWE's Management?
Management Overview
WWE is run by Chairman and CEO Vince McMahon. The company's Chief Brand Officer and EVP of Talent and Live Events are Mr. McMahon's daughter Stephanie McMahon Leveque and son-in-law Paul Leveque aka Triple H, respectively. Mr. and Mrs. Leveque are most likely the individuals who will run the company after Mr. McMahon departs.
Mismanagement
It seems the majority of wrestling fans agree that in order for WWE's storylines (and ultimately weekly and PPV viewership) to improve, Vince McMahon must replace key creative personnel. The most notable are his son-in-law Triple H and Michael Hayes (WWE's head of road agents and storylines), who both operate under a mentality of "we understand what the fans want, more than the fans themselves". I believe individuals such as Jim Ross and Paul Heyman would be more effective for the roles currently occupied by Triple H and Hayes. As EVP of Talent and Live Events in the late 90s, Jim Ross was the executive credited with discovering 2 of WWE's biggest stars: The Rock and Stone Cold Steve Austin. Paul Heyman, the former head of ECW, is hailed as a wrestling genius by fans and industry personnel alike for his work in ECW. Heyman also was the individual who put CM Punk on the map (CM Punk was the most popular superstar in my age demographic before his departure in early-2014). Unfortunately, due to McMahon's personal relationship with Triple H and Hayes, I don't see them being replaced. Even if Mr. McMahon views Triple H as unfit to serve as an executive, a conflict of interest arises as Mr. McMahon may find it difficult to replace the father of his grandchildren.
Financial Underperformance
Management has underperformed relevant peers on virtually all metrics in 2013. They have also consistently missed recent earnings estimates in 2013. The graph below shows that the company has missed 5 quarterly earnings estimates out of the last 8 quarters.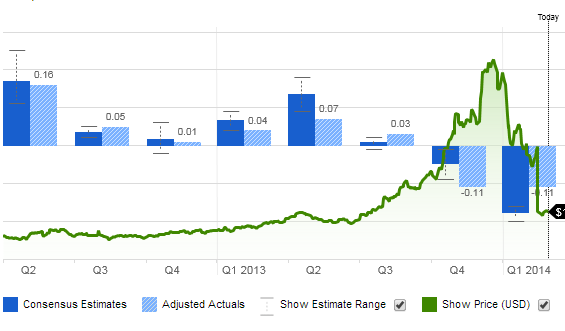 Despite the company's underperformance, WWE key executive compensation equaled $8.76 million in 2013, more than 3x the company's 2013 net income of $2.7 million. If the argument is made that 2013 net income is low relative to recent 5-year earnings, executive compensation is still 28.3% of the company's 2012 net income. Furthermore, WWE executives Triple H and Stephanie McMahon made $2.1 million and $325,000, respectively in 2013, as performers alone. In spite of their ridiculously high pay as performers, their contribution to the weekly program (and PPVs) is minimal. Triple H barely wrestles and Stephanie McMahon occasionally delivers a lackluster promo.
3. How does a wrestling enthusiast and equity analyst view the stock?
Its Current Valuation
Management lowered its guidance for 2015 OIBDA from $126 million, to $114 million after a poor FY14 Q1. If WWE generates $114 million OIBDA, the stock trades at an investment worthy 6.4x 2015 OIBDA. So, is the $114 million estimate achievable? The principal driver for determining the likelihood of the estimate rests upon the amount of Network subscriptions. I will attempt to estimate the amount of total subscriptions necessary in order to achieve management's estimate.
WWE PPVs generated about $80 million in revenues and $44.9 million OIBDA in 2013. Taking cannibalization into consideration, we will assume PPV revenue and OIBDA will be zero, while fixed costs remain the same.
If we consider the following:
WWE TV rights revenues equated to $160.9 million and $139.5 million in 2013 and 2012, respectively at a 36-38% OIBDA margin. WWE's newly announced TV deal with Syfy and USA amounted to $200 million, more than the company's previous deal, but less than analysts estimates of $820 million. At a 38% margin, 2015 OIBDA would amount to $76 million.
2015 OIBDA from live events and venue merchandise will equal $30 and $8 million, respectively
2015 OIBDA for Digital Media and Consumer Products will equal $11 and $45 million, respectively
Excluding WWE Studios and WWE Network, OIBDA would equate to $170.
If SG&A modestly increases 5% annually by 2015 to $140 million, OIBDA excluding WWE Studios and WWE Network equate to $30 million. This implies that WWE Network must generate $84 million OIBDA to meet 2015 estimates. If the Network's fixed costs equal $88 million, and 83% of incremental revenue flow into OIBDA after break-even, WWE Network revenue must be ~$190 million, equating to 1.58 million subscriptions.
If SG&A remain the same at $126, 2015 OIBDA excluding WWE Studios and WWE Network equate to $44 million. WWE Network OIBDA must then equate to $70 million to meet guidance. At the same fixed cost and incremental margin above, WWE Network revenue must equal ~$172 million, translating to 1.44 million subscribers.
Other revenue and OIBDA growth factors not accounted for include the introduction of the WWE Network to international markets (expected late-2014/early-2015). Management stated that introducing the Network to international markets could attract 750,000 to 1.5 million subscribers in the steady state, representing incremental OIBDA of $25 and $85 million.
Conclusion
I recommend investors stay away from WWE, as I see the stock as a gamble at its current price. The market value going forward will be primarily a function of the company's ability to gain Network subscribers, which is difficult to estimate given management's track record of failing to provide accurate guidance. In order to beat 2015 OIBDA guidance, my estimate indicates the company requires a minimum average of 1.44 million subscribers, which is more than what I believe the company is able to achieve domestically. Other unpredictable events will also play a role. If foreign markets prove more successful than US markets and/or management is able to reduce overhead, the stock price will be positively impacted. However, if foreign markets underperform and SG&A continues to outpace inflation as it recently has, both events will adversely affect the company's value. All in all, the amount of unpredictable variables governing the company's value going forward makes it rather risky.
My final suggestion is for prospective investors to track the company's monthly PPV reviews on websites such as Pro Wrestling Torch. Consistently positive PPV reviews could serve as a positive catalyst prompting indecisive fans, like myself, to subscribe to the WWE Network. It may be possible to formulate a trading strategy if FY14 Q2 subscription rates and reviews for PPVs occurring during that time frame exhibit a positive correlation, as one might be able to predict subscription levels going into Q3 based on PPV quality.
Disclosure: I have no positions in any stocks mentioned, and no plans to initiate any positions within the next 72 hours. I wrote this article myself, and it expresses my own opinions. I am not receiving compensation for it. I have no business relationship with any company whose stock is mentioned in this article.