With its recent acquisition of Nest Labs Inc., Google (NASDAQ:GOOG, NASDAQ:GOOGL) has further positioned itself to enter the utilities industry as an energy provider.
Along with several other companies such as Comcast (CMCSA) and AT&T (T), Google hopes to exploit existing portals into the tens of millions of homes to challenge the monopolistic utility market. This could become a bountiful revenue stream for the Silicon Valley giant.
A New 'Battlefield'
Google is in good company. "The battleground over the next five years in electricity will be at the house," said David Crane, CEO of NRG Energy Inc., the biggest independent power producer in the U.S., through significant investments in solar power projects.
"When we think of who our competitors or partners will be, it will be the Googles, Comcasts, AT&Ts who are already inside the meter. We aren't worried about the utilities because they have no clue how to get beyond the meter, to be inside the house," said Crane, who has stated that his goal is to transform NRG into the "Amazon.com" (AMZN) of the U.S. energy industry.
A $400 Billion Industry
The stakes are high with almost $400 billion in annual revenue generated by the retail power industry. The pressure to transform production and delivery continues to build in the face of green politics, deregulation, rooftop solar systems and increased competition from independent, small-scale electric grids known as microgrids.
As with many industry revolutions, technology drives the transformations. Google has the capability to generate electricity and sell it directly to consumers or to the utility companies. With the smart technology developed by Nest and others, Google can track and amass energy conservation from millions of businesses and homes.
Google - Already A Player
Although Google remains quiet about its long-term energy ambitions, it has already become an energy generator through its $1.4 billion investments in clean energy. Moreover, Google has secured a wholesale power license. Recently, the company paid $100 million to a program through SunPower that promotes rooftop solar power.
In addition, Nest, which produces the Learning Thermostat that anticipates and adjusts to user habits, gives Google a head start into the growing smart-home industry just in time to optimize the burgeoning markets in decentralized, home-produced electricity known as distributed generation.
Some industry experts suggest that with its acquisition of Nest, Google has entered the utility market through a back door. With smart thermostats, the company can use its technology to harness huge quantities of demand response while competing directly with the utility companies through its own green-energy projects.
Moreover, the utility companies seem wary of change and constrained by custom, traditional practices, regulatory uncertainties or all of the above. The unwillingness to embrace the future may prove to be a mistake similar to Eastman Kodak, which resisted the digital camera revolution. Ultimately, this may be the opening Google needs to dominate a new segment of the energy industry and secure a significant market share of the $400 billion market.
Smart Move For Shareholders
Google's entry into the utilities space is timely, given Obama and the EPA's new restrictions on emissions standards, which could quickly evolve into greater demand for low-carbon, energy efficient solutions and products.
Rival Apple (AAPL) has taken notice as well, with plans to roll out a Smart-home system, with similar features.
While Google has struggled YTD - with results below expectations and some concerns that the company was falling behind Amazon in cloud computing, this move should ensure Google has a consistently strong business in the years to come, capitalizing on changing energy norms and consumer interests and desires.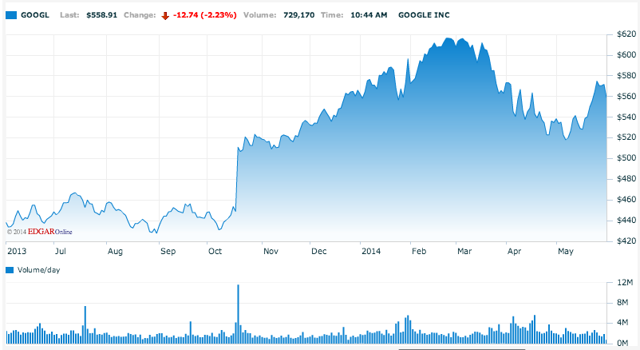 (Nasdaq.com)
Following recent earnings, short interest in GOOGL is still less than 1%, while influential firms, including Deutsche Bank, have reiterated Buy ratings, indicating support from the general public and private research institutions.
Given this vital new development, we suggest investors remain positive on GOOGL in 2014.
We invite readers wishing to join the discussion on Google to click the +FOLLOW button above the title of this article and follow @DRDInvestments on twitter.
Disclosure: I have no positions in any stocks mentioned, and no plans to initiate any positions within the next 72 hours. I wrote this article myself, and it expresses my own opinions. I am not receiving compensation for it (other than from Seeking Alpha). I have no business relationship with any company whose stock is mentioned in this article.