The 180 day lockup period initiated with the December 11, 2013 IPO of Hilton Worldwide Holdings Inc (NYSE:HLT) will conclude on June 10, allowing major pre-IPO shareholders to sell their outstanding shares in the iconic hotel chain.
These shares are primarily held by multinational private equity firm Blackstone, though some shares are also held by asset management firms and HLT's executives and directors.
The sudden increase in the supply of HLT shares available for sale on the market will likely lead to a temporary decrease in the price of HLT shares, and may produce a short opportunity for aggressive investors.
Post-IPO Stock Performance
HLT's IPO priced at $20 per share, within the expected range of $18-$20 per share, and saw a marginal 7.5% first day return. The stock has performed unsteadily ever since, bouncing jaggedly between a high of $25.95 and low of $20.55 over the course of the past six months. HLT closed at $22.78 per share on June 2nd.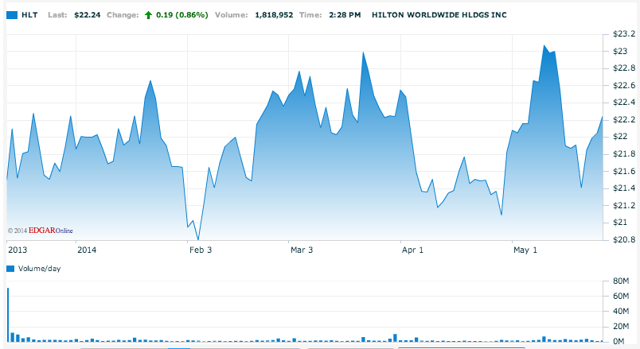 (Nasdaq.com)
Share Unlocking Could Affect Supply Shock
The June 10 conclusion of the lockup period will free some 783.6 million shares of HLT for sale on the market, approximately seven times the 117.6 million shares offered in the December IPO.
Blackstone will likely sell at least some of its 752.5 million shares in order to raise funds and return capital to its investors, especially in light of HLT's unpredictable and not especially profitable performance thus far. HHotels Mezz Debt Private Limited, a private company controlled by GIC, the firm created by the Singapore government to manage the island nation's foreign reserves, will also likely choose to sell some of its shares in order to push its assets towards more stable harbors; HHotels Mezz Debt Private Limited holds 47.0 million shares of HLT.
HLT's directors and executives will have their first opportunity to sell since the conclusion of the IPO, and will likely sell some their collective 13.2 million shares in the interest of diversifying their portfolios or simply cashing out.
Overview of HLT's Global Hospitality Business
HLT is the global hospitality company behind numerous popular hospitality brands including its flagship Hilton Hotels & Resorts brand, Conrad Hotels & Resorts, Waldorf Astoria Hotels & Resorts, DoubleTree, Hilton Garden Inn, Embassy Suites Hotels, Hampton Inn, Home2 Suites, Homewood Suites, and Hilton Grand Vacations. Across all of its 4080 hotels, resorts and timeshare properties, HLT offers some 672,000 rooms.
HLT organizes its business into three distinct segments. The firm's management and franchise segment, which accounts for 3,833 hotels, licenses its brands to franchisees and manages third party-owned properties. Its ownership segment is made up of the 156 hotels that the company owns or leases, including Hilton's iconic properties like the London Hilton on Park Lane and The Waldorf Astoria New York. Finally, the HLT's timeshare segment consists of 41 properties with a total of 6,404 units.
The Blackstone Group took the floundering HLT private in 2007, and has propelled HLT to significant growth ever since. As of the time of the IPO, HLT boasted a 36% increase in open rooms, a 25% increase in EBIDTA in its management and franchise segment, and a massive expansion of its extra-American presence.
Room For Competition
HLT's various brands and properties compete with brands and properties of comparable price and quality. The firm's luxury brands compete with hotels like Ritz Carlton, Peninsula, Four Seasons, St. Regis, JW Marriott (NYSE:MAR), Mandarin Oriental, and Fairmont. HLT's upscale brands compete with Hyatt (NYSE:H), Courtyard by Marriott, Holiday Inn (NYSE:IHG), Sheraton, and Aloft. HLT's timeshares compete with the likes of Starwood Vacation Ownership (HOT), Wyndham Vacations Resorts, and others.
Strong First Quarter Results
HLT reported an unexpectedly strong first quarter for 2014, with a $123 million profit that nearly quadrupled the $34 million profit reported for the same period in 2013; a 4.4% revenue increase far outpaced the firm's expenses, which grew less than one percent.
The firm's revenue per available room (RevPAR) also showed an impressive 6.6% increase, exceeding HLT's announced expectations. The management and franchise segment performed particularly well, with a 17% year-over-year gain.
Investors Should Short, Then Buy HLT
The results of HLT's lockup expiration may be somewhat muddied by the firm's strong first quarter report, which could create significant demand for the shares that will come available at the conclusion of the lockup period.
However, the sheer volume of shares that will be made available still will likely lead to a decline in the price of shares, potentially creating a short opportunity for aggressive investors.
Investors should also consider buying into HLT in the aftermath of the expiration; Blackstone-appointed CEO Christopher J. Nassetta has brought the hotel titan back from the brink, and has placed HLT on a path towards open-ended growth and profitability. Though the stock's performance has been choppy, the company has steadied itself, and HLT has every appearance of a worthy long-term hold.
Readers wishing to join the discussion on IPO lockup expirations should click the +FOLLOW button above the title of this article and follow @DRDInvestments on twitter.
Disclosure: I have no positions in any stocks mentioned, and no plans to initiate any positions within the next 72 hours. I wrote this article myself, and it expresses my own opinions. I am not receiving compensation for it (other than from Seeking Alpha). I have no business relationship with any company whose stock is mentioned in this article.