On Friday, the Chinese yuan posted its biggest weekly gain against the dollar since the currency peg was loosened in June. That's fine, but chances are it's not everything Washington had hoped for. Treasury Secretary Timothy Geithner summed it up, "frankly they haven't let the currency move very much so far…we'd like to see them move more quickly". The reality is that China is closely managing the currency float (with a .5% daily trading band).
And no doubt the White House will want China to move on, further strengthening after they reported a $20 billion trade surplus for August (a weaker yuan gives China an "unfair" trade advantage). But China has, time and again, proven adept at withstanding international pressure. So when the House Ways and Means Committee meets this week to discuss China's exchange rate, I wouldn't expect much.
And while China posted a surplus, imports gained 35.2%. Not to mention that industrial production jumped 13.9% in August (year-on-year). And retail sales rose 18.4%. And that draws one simple conclusion: domestic demand is proving strong enough to hold up in the face of the Chinese governments curbs on lending…and bank loans rebounded last month (suggesting increased demand for business loans).
But not everything has been great. The Shanghai Composite Index is still well of its 2007 high…but it is up 12% from its July low. Still, there's some downside risk to those market gains: according to Macquarie Research, profit growth and margins are beginning to wane a bit. Not to mention the fact that the cost of doing business is increasing, as property, energy and labor prices are rising (producer price inflation is 4.3%).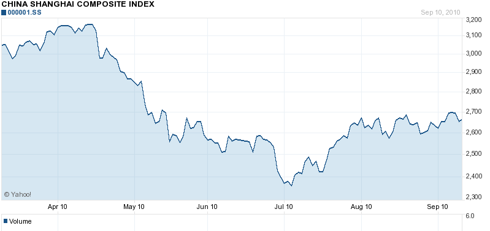 Source: finance.yahoo.com
In spite of any market speed bumps, China still has the demand (and the economic wear-with-all) to keep pace with growth expectations (second quarter GDP was 10.3%). While the U.S. faces a dismal second half of 2010, the 'Chinese economy is headed for a smoother and softer landing than people had feared", according to Bank of America-Merrill Lynch economist Lu Ting.
I still consider China a good opportunity for growth for at least the next few years. Take a look at Global X China Industrials ETF (NYSEARCA:CHII): this ETF's top holdings are in industrial materials and business services. Also consider Global X China Consumer ETF (NYSEARCA:CHIQ): this fund's top holdings are in consumer goods and services.
Disclosure: No positions