Over the past couple of months there has been a great debate taking place on Seeking Alpha between authors who are bullish and bearish on Uranium Energy Corp (NYSEMKT:UEC).
Making the debate even more interesting is a stock price that has made both sides look brilliant at various times.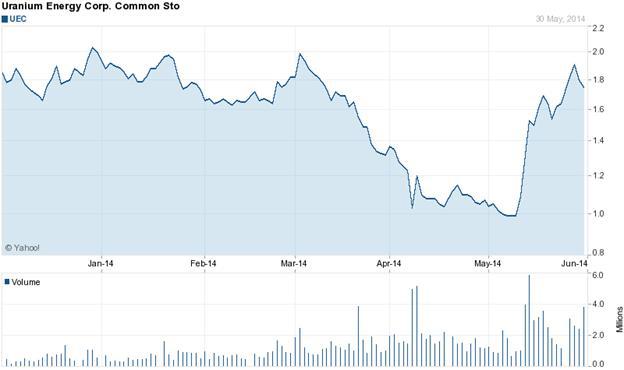 Image source - Yahoo Finance
Personally, I reside in the bullish camp on Uranium Energy Corp for one reason, I'm very bullish on uranium prices. The Uranium Energy Corp bears have focused on the fact that a near-term upswing in uranium prices is unlikely and that a continuation of low uranium prices is going to result in Uranium Energy needing to dilute shareholders.
And I think the bears have a valid point. If you are bearish on uranium prices, you should be bearish on uranium producers, especially smaller ones still developing projects.
For me though, I see Uranium Energy's exposure to uranium prices as a positive. I want to have big leverage to an increase in uranium prices, and Uranium Energy Corp provides me with that. I'm looking to own a basket of uranium companies and I think this one makes a good starting point.
I've dabbled in the uranium sector with a successful investment in Hathor Exploration prior to it being taken over, but I'm not an expert on the sector. So the involvement of Sprott Resource Lending Corp and CEF (Capital Markets) Limited with Uranium Energy Corp is what initially attracted my interest. I've found following smart money can cut down on foolish mistakes.
Bullish On Uranium - Here Is Why
For investors looking at the nuclear energy sector through the rearview mirror, the view is not pretty.
In March 2011, a giant tsunami crashed into the Japanese Fukushima nuclear facility and created a major nuclear disaster. Predictably both the price of uranium and the share prices of uranium producers collapsed following Fukushima and have yet to recover.
The entire industry still has a cloud over it.
For investors willing to ignore the damage that the uranium rearview mirror presents, I would suggest that the view forward through the windshield is much more appealing.
According to BP's latest energy outlook, energy compensation around the globe is expected to rise by 41% between now and 2035. The world needs a big increase in its supply of energy, and with the horribly pollutant nature of coal, nuclear is going to play a major role.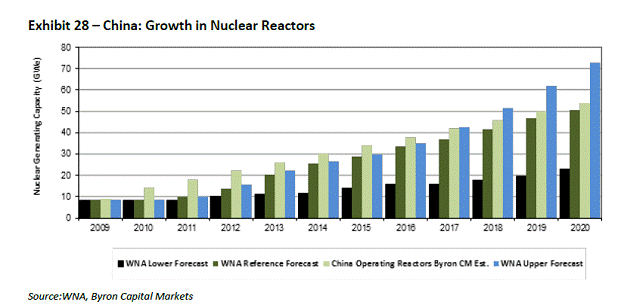 That isn't just an opinion I cooked up myself, there are already actions taking place setting this increase in uranium demand in motion.
There are currently 70 nuclear reactors under construction around the globe. The World Nuclear Association believes that these reactors alone will require an additional 33 million pounds of demand for uranium on an annual basis.
The long-term plans for the number of reactors around the world is even much larger. Again according to the World Nuclear Association there are another 310 nuclear reactors currently proposed.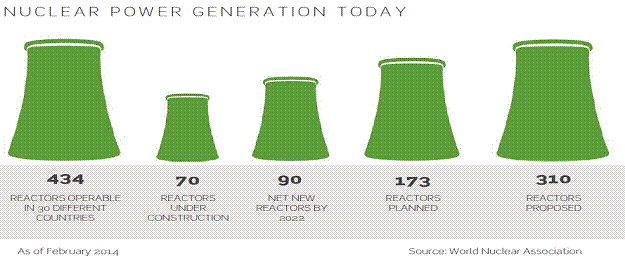 That increase in demand for uranium is going to significantly outstrip the current global production capacity. And if we want additional uranium production capacity to come on line we are going to need a significantly higher uranium price.
According to JP Morgan the average uranium price needed to make a new conventional uranium project profitable is $83/lb. That is 250% higher than the spot price for uranium today.
Simply put, if uranium demand increases going forward (which the new reactors seem to suggest) then uranium prices have to increase. That is the only way that money is going to be spent on bringing on new supply.
That is fantastic news for lower cost uranium producers like Uranium Energy Corporation.
Successful investing is all about envisioning what the future will look like and positioning yourself so that you can best profit from it. In a world of $35 uranium prices current producers don't make a huge amount of money (if any). But in a world of $83 (and higher) uranium prices these same companies are going to gush free cash flow. Free cash flow that can be used to pay dividends, repurchase shares or accelerate growth.
It may turn out that the upswing in uranium prices comes faster than most think.
The current spot price of uranium is below the average economic cost to produce uranium from currently operating mines globally. So it isn't just new uranium projects that don't work at these prices but also the average current operating ones.
The current uranium price environment has reduced both existing production and the pipeline of uranium development projects globally resulting in even greater uranium supply shortfalls in the future, which in turn will lead to greater upward pressure on the uranium price.
Current low uranium prices are not sustainable.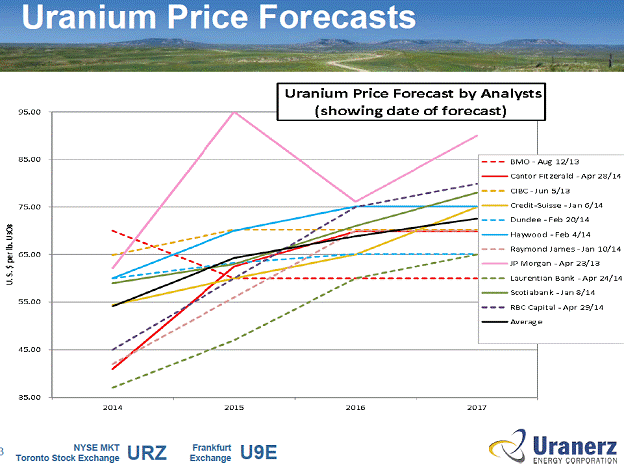 Why Uranium Energy Corp Specifically
Uranium Energy Corp is focused on using in-situ recovery mining which compared to conventional open pit or underground mining, requires lower capital and operating costs. That is good, when investing in commodity producers owning the lowest cost companies greatly reduces risk.
The company's Palangana Mine uses in-situ recovery mining in Texas and its Hobson Processing Facility also located in Texas processes the material. I think that Texas location is going to be important going forward.
The United States currently consumes 50 million pounds of uranium each year but only produces 4 million pounds. The country is hugely reliant on foreign sources of uranium. That is a big concern, because in the coming years China is going to be aggressively fighting for a large amount of the available global uranium supply.

In fact, China is going to need to find sources of uranium by 2030 that are equal to the amount of uranium that the US currently obtains from foreign sources.
In response to the uranium price collapse following Fukushima, Uranium Energy Corporation has intelligently slowed production. It makes no sense to produce aggressively now into terrible spot prices when it is pretty reasonable to expect much better prices in the future.
I like a rational response to low prices, and shutting down production to a minimum takes courage as well as long-term thinking.
In 2013 Uranium Energy produced uranium from its Texas based mine for a cash cost of $22/lb. The chart below that I prepared shows how much more per pound of uranium produced the company makes if uranium prices make their way up to the marginal cost of new supply which is $83/lb.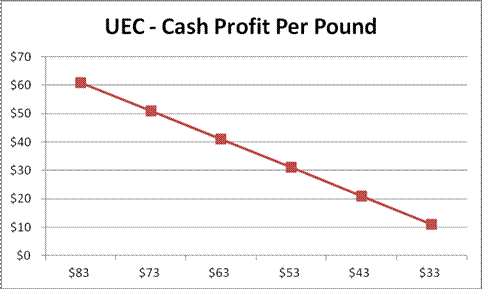 At the current uranium spot price of $33/lb Uranium Energy Corporation makes $11/lb. At $43/lb that cash profit nearly doubles to $21/lb.
It is important to note that when I refer to the $11/lb profit I'm talking only about gross profit excluding mineral property expenditures and G&A expenditures. At low uranium prices, this company doesn't generate any cash flow beyond its G&A expenses. In fact it has negative cash flow. At higher prices it is a totally different story.
This is huge leverage to what I expect to be rising uranium prices. If the price of uranium eventually reaches the marginal cost of new supply, Uranium Energy Corporation's cash profit per pound will have gone up sixfold. Of course the opposite holds true as well, if uranium prices do not improve this company will be burning cash.
In addition to its Palangana development mine, Uranium Energy Corporation also has several additional properties in South Texas that it can develop and some very large uranium exploration prospects in Paraguay.
Uranium Energy Corp - Projects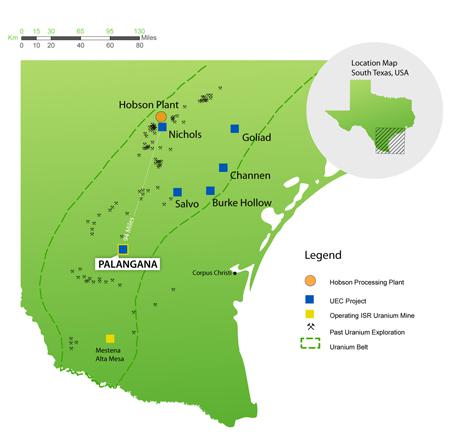 1) Palangana Mine
The Palangana Mine is located in the South Texas uranium belt. The 8,796-acre property is located approximately 100 miles south of the Hobson facility. Over 4,000 historic exploration, development and production holes were drilled at the mine by Union Carbide Corp, Chevron, and Everest Exploration Inc. UCC produced uranium at the mine in the mid to late 1970s with ISR technology.
The latest 43-101 for Palangana was filed on Feb 23rd 2010. The Technical Report provides for a Measured and Indicated Resource Estimate for the Company's Palangana Mine of 1,057,000 pounds at an average grade of 0.135% eU3O8. This resource is located in two zones referred to as Production Area #1 and Production Area #2. An additional 1,154,000 pounds of eU3O8 at an average grade of 0.176% is classified as an Inferred Resource Estimate, and is located in six new exploration zones.
2) Goliad
The Goliad in-situ recovery (ISR) uranium Project is located in north-central Goliad County, Texas, and consists of 13 ISR uranium mining leases that cover approximately 2,574 net acres of contiguous properties. The original holder of mining leases for this area was Coastal Uranium. Coastal Uranium conducted a reconnaissance exploration project over a very large area that included the current Uranium Energy Corp leases in 1979 and 1980. Moore Energy Corporation acquired the leases to the current property from Coastal Uranium and drilled 479 holes during 1983 and 1984. After completion of exploration drilling in 1984, Moore Energy estimated uranium reserves (Moore classification only) of approximately 3,366,000 tons at an average grade of about 0.05% eU3O8 and an average disequilibrium factor of 1.494. This equates to approximately 5.2 million pounds of eU3O8. This resource estimate is historical in nature.
The latest 43-101 for Goliad was filed on March 7, 2008. The Technical Report provides for a Measured and Indicated Resource Estimate for the Company's Goliad Project of 5,475,200 pounds eU3O8 at an average grade of 0.05%. This resource is located in two zones referred to as Zones A,B,C and D. An additional 11,501,400 pounds eU3O8 at an average grade of 0.05% is classified as an Inferred Resource Estimate.
3) Burke Hollow
The Burke Hollow project is a 17,510-acre property located in eastern Bee County, Texas. The previously explored project is situated on the Goliad trend within the prolific South Texas Uranium Belt, and is located approximately 50 miles to the southeast of the Company's Hobson uranium processing facility.
Total Minerals, a division of the Total Group, the France-based global energy company ("Total"), conducted exploration work and drilling on this Project in 1993 as part of its South Texas Goliad exploration program. Following geophysical and geochemical results, Total drilled 12 holes along a northwest to southeast-oriented line.
UEC initiated exploration drilling at Burke Hollow on May 22, 2012 with four drilling rigs. Two additional rigs were added in mid-June in order to expedite drilling progress of target sands located from approximately 50 feet to 900 feet in depth. Exploration and delineation drilling continued through the end of 2012, and a total of 268 holes have been drilled, logged, and plugged to date, for a total footage drilled of 128,075 feet.
The Company has explored approximately 30% of the Project and drilling to date has outlined an Inferred Mineral Resource (at 0.020% U3O8 cut-off) of a combined upper and lower zones of 3,030,000 tons at 0.047% U3O8 which contains an estimated 2.9 million pounds of U3O8. The Project also hosts an Exploration Target of total contained 1.8 to 7.2 million pounds U3O8. The Burke Hollow Project is the Company's fifth satellite project in South Texas and, with its proximity to the centralized Hobson processing plant, is the next in line to go into production after Goliad.
In November 2013, the Company announced it has initiated an exploration and delineation drilling campaign to further delineate and explore for additional resources at the Project while accelerating the production permit application process. Two rigs are on site and have drilled five holes at the project with an additional 75 holes to be completed. The Burke Hollow Project is the Company's largest project in South Texas in terms of acreage and, with its proximity to the centralized Hobson processing plant, holds the potential of becoming our fifth satellite project.
4) Salvo
The Salvo in-situ recovery project is located about ten miles southwest of the town of Beeville, Texas and is approximately 45 miles from the Company's Hobson processing facility and consists of 5,340 acres of contiguous leases. The project is targeted to become UEC's fourth in-situ recovery satellite project in South Texas to produce and provide U3O8 resins for processing at the Company's nearby Hobson Processing Plant.
The Salvo project was the subject of prior exploration by Mobil Oil in 1982 and Uranium Resources Inc. (URRE) in 1984. The two large-scale historical mineral investigations and the results from 105 drill holes from the Company's drilling program initiated in November 2010 to March 31, 2011 are the basis for the Independent National Instrument 43-101 ("NI 43-101") Inferred mineral resource of 1.2 million tons grading 0.08% U3O8 or 2.839 million pounds U3O8. URI had prepared an historical resource estimate of 1.5 million pounds in 1984 based on 314 drill holes. Based on an evaluation of all current data, the Technical Report estimates an Inferred mineral resource of approximately 2.839 million pounds U3O8 grading 0.08% U3O8.
The latest 43-101 for Salvo was filed on March 31, 2011. The Technical Report provides for an Inferred Mineral Resource of 2.839 million pounds U3O8 grading 0.08% U3O8 and was determined by incorporating UEC 2010-2011 exploration/confirmation drilling results with historic drilling data obtained from URI.
5) Channen
The Channen Project, a 10,704-acre property located in southern Goliad County, Texas, is situated on the Goliad trend within the prolific South Texas Uranium Belt, and is located approximately 50 miles to the southeast of the Company's Hobson uranium processing facility.
The Channen Project lies on-trend with and approximately 20 miles northeast of the Company's Burke Hollow Project in Bee County, and approximately 25 miles to the south of the Company's Goliad Project. The new property was initially identified after analyzing a group of logs exhibiting gamma-ray anomalies displaying uranium roll-front deposit type characteristics in several sandstone formations with information derived from the Company's extensive exploration database.
In May 2012, the Company acquired the rights to explore for uranium at the property. Drilling operations began at Channen in July 2012 with two rigs targeting both the upper and lower trends located from surface to 920 feet in depth. Ongoing plans for the Channen Project include drilling of a statistical grid based on 6,400-foot centers which encompasses the entire project. A large area located proximal to petroleum wells exhibiting gamma-ray shows in the lower trend is included within this grid.
6) Nichols
The Nichols Project consists of 1041 acres, and is located within the heart of the historic Karnes County uranium mining district. Karnes County is immediately adjacent to Goliad County, the site of the Company's advanced Goliad Project operations. The property was originally developed by Texaco Uranium (now ChevronTexaco).
The latest 43-101 for Nichols was filed on January 21, 2009. The Technical Report provides for an Inferred Mineral Resource of 1.307 million pounds U3O8 grading 0.07% U3O8 and was determined by incorporating UEC 2008 exploration/confirmation drilling results with historic drilling data obtained from Texaco. The Technical Report was prepared by Thomas A. Carothers, P.Geo.
Balance Sheet / Financials / Valuation
As of the end of January 2014 Uranium Energy had a very clean balance sheet with $9 million of cash versus $2 million of long-term debt.
In March Uranium Energy secured additional non-dilutive $10 million financing from two very astute resource sector investors Sprott Resource Lending Corp and CEF (Capital Markets) Limited.
The company is therefore financed through the next 12 months should uranium prices not turn around. After that, it is likely that the company would need to seek additional capital.
Personally, I would expect uranium prices to turn before then but it is a very real risk looking out a year.
According to Haywood securities, the Net Asset Value per share of Uranium Energy at the current marginal cost of a new project is $3.10 (75% higher than the current share price).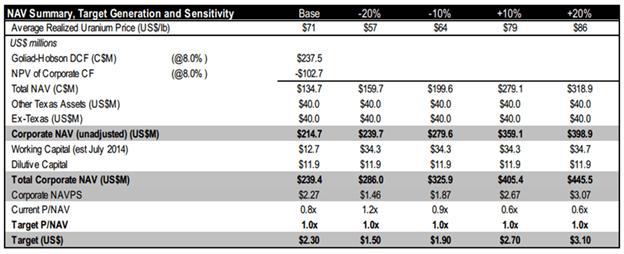 Image Source: Haywood securities
That NAV figure factors in a reasonable amount of dilution and does not assume much upside for development of the Texas hub and spoke model. I believe those additional properties could be worth considerably more at higher uranium prices, especially over the longer term, given their location inside what will be uranium starved North America.
Having uranium deposits inside of the United States is going to be very valuable in the coming decades.
Conclusion / Risks
This is a delayed gratification opportunity. In the near term if uranium prices don't increase (which is quite possible) shares of Uranium Energy Corporation aren't likely to do much. But once the longer-term supply and demand forces start to push uranium prices higher, things should get a lot more interesting.
Like with any smaller company, and especially one that is a commodity producer there are plenty of risks involved in owning shares of Uranium Energy. Those would include:
- Continued weakness in uranium prices
- Another nuclear disaster like Fukushima
- Production cost overruns
- Dilution should capital spending exceed expectations
- At current uranium prices this company burns cash flow. The company had no revenue for the current quarter because production has been shut in. This company needs higher uranium prices.
I would also mention that there may not be a need to rush into shares of this company. The stock has had an incredible run over the past month (from $1 to $1.60), so it might be wise to build a position slowly. That is what I am likely to do as I've been watching the company and didn't get long before the recent share price surge. I'd love to be able to purchase shares at a significantly larger discount to Haywood's net asset value.
I can count on one hand how many times I've regretted taking my time to buy shares of a company and I don't think I'll regret waiting a few months to buy UEC.
I'm looking for leverage to uranium. Uranium Energy Corp can provide me with that and that is why I like it. But I wouldn't make this company my only bet on uranium. Instead I view this as one position in a basket of companies that are going to give me maximum gearing to rising uranium prices.
A small company like UEC carries more risk, and I'd prefer to spread that across a number of these companies. If uranium prices rise, this stock will do well. If they don't, you can figure on potentially significant dilution.
This is all about getting long a commodity. Uranium prices are below the current marginal cost of supply and way below the marginal cost for new projects. Combine that with almost certain long-term growth in demand and you have the makings of a commodity that you will want to have exposure to.
Disclosure: I have no positions in any stocks mentioned, and no plans to initiate any positions within the next 72 hours. I wrote this article myself, and it expresses my own opinions. I am not receiving compensation for it (other than from Seeking Alpha). I have no business relationship with any company whose stock is mentioned in this article.