Dominion Resources, Inc. (NYSE:D) is a utility company. It currently services 6 million retail customers and utilities in 15 states, including electricity to residents of Virginia and North Carolina; and gas to customers in Ohio and West Virginia. Home protection programs are another offering. Its objective is to provide electricity, natural gas and related services in the Midwest, Mid-Atlantic and Northeast regions. There are several indications of additional success in the future; though an investment in an ETF, such as the Utilities Select Sector SPDR (NYSEARCA:XLU), could be substantially easier.
Dominion expects 80% to 90% of future earnings from its primary operating segments to come from regulated and long-term contracted businesses, so there should be stability.
There have been several transactions. There are also multiple projects underway. As such, it would be impractical to discuss varied matters, including new nuclear and offshore wind opportunities, here. Yet, with caveats in mind, the company is involved in endeavors that should be worthwhile, and it could easily be as exciting as most utilities.
Cove Point Facility
The company is investing up to a projected $3.8 billion in a facility to ship liquefied natural gas ("LNG") at Cove Point, Maryland. Two shipping companies, one in Japan and the other in India, have signed for half capacity each. Dominion has just obtained permitting for electricity, which advances the plan to add natural gas export capability with an in-service date in 2017.
It is intended to be bi-directional. It already accepts liquefied imports and vaporizes them into natural gas. According to the Press Release linked above, the approval occurs 15 days after the Federal Energy Regulatory Commission ("FERC") issued a positive environmental assessment. Some Cove Point assets have been under consideration as a contribution to a Master Limited Partnership ("MLP") that is discussed later.
There is a lingering issue that is difficult to ignore, however. Cove Point may need to respond to an appellant claim before the Maryland Court of Appeals. The Sierra Club is the plaintiff. According to the utility company's annual filing, Dominion is party to an agreement with the Sierra Club restricting activities on portions of the Cove Point property.
Management
Dominion is under the leadership of Chairman and CEO, Thomas F. Farrell II, who has been carrying out his duties since 2007. The company does have a Lead Director, John W. Harris, who could serve as a counterweight on the Board to Farrell. CFO Mark McGettrick has been at his current post since 2009.
Other company leaders are showing signs of confidence, as there has been a spate of May insider buying. Directors Helen Dragas and Michael Szymanczyk earlier in the month, and Mark Kington has recently made a May 29th open market purchase of 1,195 shares at $68.51. Additionally, Vice President, Controller and Chief Accounting Officer Michele Cardiff recently has acquired 295 shares.
While intuition says the buying probably indicates a favorable view on projects including Cove Point, litigation is difficult to predict.
Debt and Issuances
According to a May 19th SEC filing, a Dominion Resources subsidiary, Virginia Electric Power, has entered into a new $4 billion revolving credit facility. Virginia Power has already issued $750 million in 10- and 30-year notes.
Multiple debt offerings may occur this year per the Conference Call Transcript. Mandatory convertibles are already planned.
Standard & Poor's has rated Dominion with an A- long-term credit rating and stable outlook since 2007.
Dominion has recently registered 25 million shares as part of its compensation plan.
Dividends
Dominion has been paying shareholders a $0.60 quarterly dividend since March. Its most recent ex-dividend date is May 28th. The next is August 27th.
A graphic is available from YCharts that compares yields over the past 12 months. Though future payment percentages to investors may differ, Dominion is behind other XLU constituents with the heaviest weightings: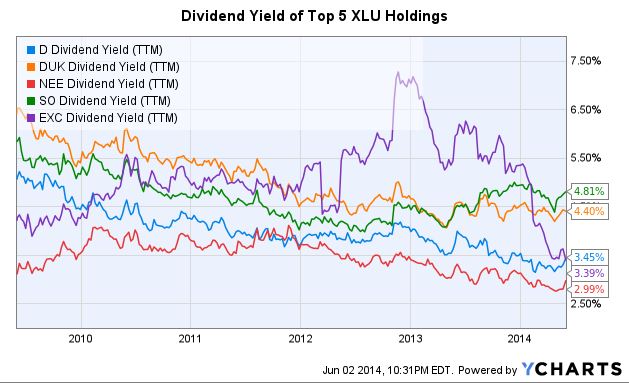 The XLU itself yields 3.10%
Sell-Side Analysis
UBS has an April 30th note on the company, issued after Dominion's First-Quarter earnings announcement, in which it beat estimates, and prior to the Conference Call. (Erstwhile Seeking Alpha Contributor Paul Zimbardo is part of the three-person analyst team that is led by Julien Dumoulin-Smith). The Swiss bank views the cold winter as a "Primary driver," and reiterates its Buy rating with a $73 price target. There is commentary on Cove Point and acquired solar projects:
…Also expect the MD Public Service Commission to approve the Certificate of Public Convenience and Necessity ("CPCN") and air permit in May as well. During the quarter, D acquired six solar projects totaling 139 MW with commercial ops expected later this year or early 2015.
As recorded in the previously-referenced Press Release, Dominion has in fact gained the required CPCN for Cove Point. It is not obvious if an air permit has been issued; or if the company is merely declaring a policy of meeting stringent emissions standards.
Here is UBS's valuation:
Our unchanged $73 PT is via '15E (Sum of the parts) with the utilities at a premium to the average P/E, Phase I of the MLP valued on a DCF basis and 12x EV/EBITDA for D Energy to reflect some of the potential Phase II MLP uplift. We view the 1Q results as a positive for shares.
It is similar to the 15 opinion consensus that is available on Yahoo! Finance, showing a Neutral recommendation and median price target of $73.50.
Solar
The company's quarterly SEC filing contains a positive description of a pending solar transaction,
The projects are expected to cost approximately $450 million once constructed, including the initial acquisition cost. Upon completion, the facilities are expected to generate approximately 139 MW and will provide Dominion with a large utility-scale solar presence in the California market and significantly increase its solar generation portfolio.
Also,
Long-term power purchase, interconnection, EPC and operation and maintenance agreements have been executed for each of the projects. Construction of the projects commenced in the first quarter of this year and all of the solar facilities are expected to enter commercial operations in late 2014 or early 2015. Dominion expects to claim federal investment tax credits on the projects.
The company's plan is to grow its solar portfolio by up to 250MW. Acquisition of additional projects is the specified means (Source: 1Q Transcript).
Environmental Regulations and Coal
One notable risk involves cost of compliance with environmental regulations: some facilities rendered uneconomical have been shut down. The EPA is attempting to phase in new rules that reduce emissions at power plants at a national average of 25% by 2020 and 30% by 3030. If the new rules are successfully implemented, the most substantial changes should occur in the coal industry. Fortunately for investors,
During 2013, Virginia Power converted three coal-fired Virginia generating stations to biomass. The conversions of the power stations in Altavista, Hopewell and Southampton County increased Dominion's renewable generation by 153 MW and cost approximately $157 million, excluding financing costs. The Altavista, Hopewell and Southampton County power stations commenced commercial operations using biomass as their fuel in July, October, and November 2013, respectively (Source: Form 10-K).
Additionally, per the 1Q Conference Call Transcript,
Conversion of Bremo (Power Station) Units 3 and 4 from coal to natural gas is nearly complete. Both units achieved first fire on gas in the first quarter. Tuning and commissioning are underway, and the converted units should be in commercial operation by the middle of this year.
However, Virginia Power draws power from coal. Also, Old Dominion Electric Cooperative ("ODEC") has an ownership interest in the 595 MW Clover power station, representing just over 8% of summer capacity attributed to the non-renewable resource:

Today's Wall Street Journal has an article discussing the EPA's initiative. It is viewed as a challenge to the entire industry.
...by introducing carbon pricing, the new rules ultimately will raise power prices and encourage consumers to curb their usage further.
Impairments
At the conclusion of the Call, Credit Suisse Securities asks about impairments on the development side. The answer is that there will be a $400 million pre-tax mark down in the two-year review.
Conclusion
Dominion has made substantial progress at its Cove Point facility that is planned to export natural gas. Not only that, but its footprint has expanded into California with its acquisitions into the solar business. There are probably additional reasons why four company executives have recently purchased shares.
Environmental regulations have implications; though exposure to coal is not alarming. The Sierra Club is attempting to assert claims in appeals court; though Dominion has prevailed in the initial judgment. There are probably additional reasons to be cautious.
Those who like Dominion are sensibly investing in a company that is carrying out modern projects. Others may prefer an ETF such as the XLU, which spreads risks across several stocks while yielding nearly as much. The corporate equity's price is near its consensus target, and there is no personal need to hurry.
Disclosure: The author has no positions in any stocks mentioned, but may initiate a long position in D over the next 72 hours. The author wrote this article themselves, and it expresses their own opinions. The author is not receiving compensation for it (other than from Seeking Alpha). The author has no business relationship with any company whose stock is mentioned in this article.