By Mike McDermott
The bovines have enjoyed a two-week respite from selling after making a stand at the all-so-important S&P 1040 line along with the Dow 10,000 mark. Whether you believe in the importance of round numbers or not, enough traders keyed off these technical levels to push prices higher – at least in the short-run…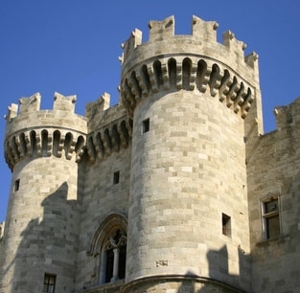 The positive action has certainly caught the eye of the average Mom and Pop investor as the individual investor sentiment has reversed from a bearish extreme just a couple of weeks ago to a much more bullish bent in the last measurement. A high level of short interest has also emboldened the bulls and provided some extra energy behind the buying.
But despite the bullish nature of the traditional "back to work" week, there are still some major overhanging issues that keep us from approaching the market with too much optimism.
Unemployment numbers may be better than expectations, but they're still more indicative of a contraction than economic expansion.
A "flight to quality" mentality among institutional as well as retail investors challenges the "better days" story line.
Many key industries and individual securities have only traded back up into resistance areas – which catches the eye of momentum and technical traders.
Risk for the bullish case still appears high, and while a Mercenary can never be married to one side of the market, I am still much more inclined to pick out short opportunities than to sip the kool-aid and get caught long in a broadly negative environment.
So with that, let's jump into the trade opportunities that are setting up for this week…
Vulnerable Hotel Chains
Many of the major hotel chains carry extremely high multiples for enterprises which rely on both consumer and business spending. The assumption seems to be that the worst is over and we are in a trough earnings period with long-term growth still very much a "sure thing"
High valuations don't really matter until they do – an illogical statement I know – but it is amazing how long an unrealistic multiple can persist until traders brutally punish investors' poor judgement. Of course there are other metrics to use besides earnings multiples, but at this point it seems very naive to assume that property values are going to hold up the market value of the chains in question.
Hyatt Hotels Corporation (NYSE:H) came to the market late last year with great fanfare. The Pritzker family has more than a few relational rifts which may or may not affect the actual management of the company. Regardless of the dysfunctional family, Hyatt appears grossly overvalued at nearly 80 times next year's earnings expectations. Keep in mind that the expectations call for a 75% increase in profits from 2010 to 2011 – during a time when many analysts are questioning global economic growth. So it would seem that the stock is factoring in the best of all possible scenarios – and any disappointment could lead to significant losses.
Hyatt is trading very near $40 which has proven to be resistance for the last several months, and if the stock breaks down from the top of this range we may very well take a new short position. Initially, support could be expected at $35 – barely double digits below the current price. But there is certainly a potential for Hyatt to trade to a more reasonable multiple – and keep in mind that 20 times 2011 expectations would represent a stock price in the single digits!
(Click all charts below to enlarge)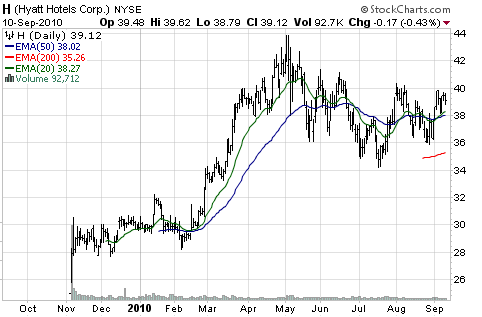 Not to be outdone, Starwood Hotels & Resorts Worldwide Inc. (HOT) carries a multiple of 50 times 2010 expectations and the stock is also running into resistance near $50. Over the last two quarters, the company has seen its revenue increase by 5% and 10% respectively, but the stock is actually up nearly 40% on the year (and well over 400% from the 2009 low).
The stock certainly looks vulnerable to any negative news – or simply the lack of positive forward adjustments. We're not in a position yet, but if the stock turns south early this week, it will offer us a chance to enter a relatively high-conviction trade with a relatively tight risk envelope.
From a technical perspective, Host Hotels & Resorts Inc. (NYSE:HST) looks particularly interesting with a regular series of lower highs, and building support at $13.00. It is tempting to short the stock in anticipation of the next regularly scheduled leg lower, but with the stock so close to its support level, the scenario favors a patient trader who will wait to see the pennant pattern resolved (higher or lower).
This hotel chain doesn't have quite the extended multiple as the more well-known names in the group, but the expected growth over the next couple of years is also less eye-catching. Based on the action in the broad group, I want to keep HST on the watch list but it's not quite time to pull the trigger yet.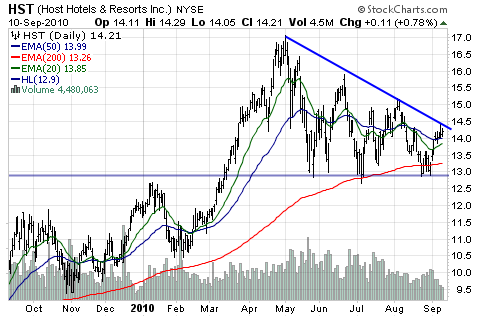 Finally, Marriott Intl Inc. (NYSE:MAR) has rebounded to a spot where the stock is now trading at well over 30 times 2010 expected earnings. Analyst are calling for a 19% rise in earnings this year (from a trough of 93 cents in 2009) followed by a 25% increase in earnings for 2011.
The expectations appear a bit aggressive considering the low levels of spending by consumers and businesses, and MAR looks vulnerable after $36 has proven to be resistance twice this summer. Again, we will let price action dictate our entry, but a drop from this level would make an attractive opportunity to ride the stock back down to the low $30's – or below.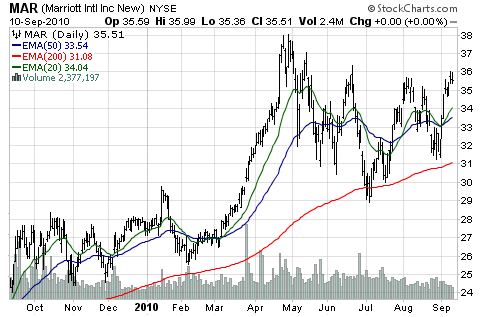 Steel Stocks In the Crosshairs
We have a pending trade in Market Vectors Steel (NYSEARCA:SLX) as steel stocks have rallied on marginally good manufacturing news – while the broad picture still appears to be very challenging. Many of the major constituents in this ETF are facing heavy debt loads, and the expected rebound from 2009's extreme challenges has been somewhat of a disappointment.
Global trade is still very much in the throes of a stagnant growth environment – and that reflects directly on major manufacturers and orders of durable goods. Expectations for a rebound in steel demand continue to be pushed farther into the future and at some point investors may very well throw up their hands and exit the sector. With that risk in play, it makes sense to avoid long positions until the picture clears and we are interested in playing the short side should the current rally fail.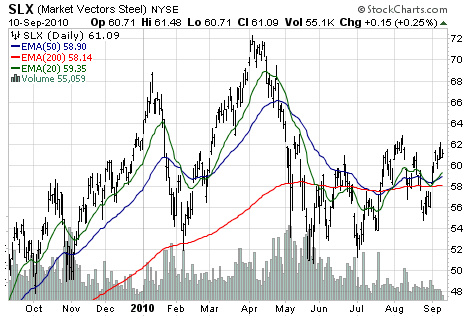 As far as individual names are concerned, AK Steel Holding Corp (NYSE:AKS) and Arcelor Mittal (NYSE:MT) have caught my attention. Both are relative laggards as far as stock performance is concerned, with major overhead resistance.
AK Steel has seen material improvement in revenue and earnings this year, but that is after posting virtually no profits in 2008 and losses in 2009. Recently, analysts have been revising their projections lower which leads to low investor confidence in the company actually hitting their targets.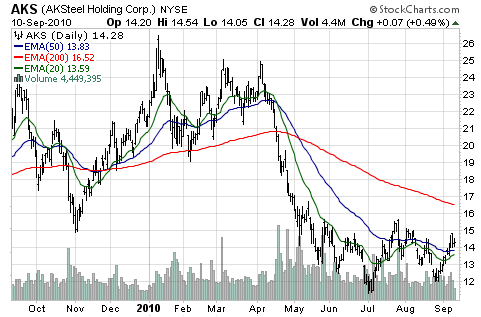 Select Restaurant Stocks on the Block
We've got a few pending orders to short select restaurant stocks this week as well. Once again, we are waiting for the positions to come to us with negative price action being the final requirement for pulling the trigger.
Cheesecake Factory Inc. (NASDAQ:CAKE) took advantage of the early September market by rallying sharply off a support level near $22. Revenues have been flat for the last 7 quarters straight, despite a 400% rise in the stock over the last two years. Profits have been rising as a function of lower expenses, but at some point soon the company will need to bring in more customers to meet growth expectations.
A break from the current level will trigger our stop order and give us a chance at profits as the stock falls back to its support area.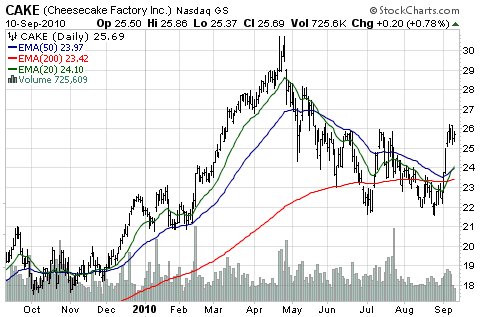 On Friday, BJ's Restaurants Inc. (NASDAQ:BJRI) began its breakdown and triggered our stop order leaving us with a short position. The company has seen some relatively healthy revenue growth over the past few quarters, but the stock multiple appears to price in a significant recovery in the fundamental picture.
It will take sustained improvement in employment figures and consumer confidence for us to buy into any rally in discretionary spending stocks and BJ's appears particularly vulnerable after testing its April high and then turning lower.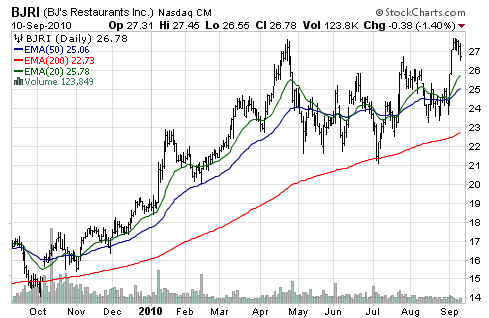 P. F. Changs China Bistro Inc. (NASDAQ:PFCB) could quickly become another short position after breaking to a new high last week but then reversing lower on Friday to disappoint investors.
When a momentum stock like Panera Bread Co. (NASDAQ:PNRA) breaks to a new high, "me too" investors often jump in and buy the extended action. In raging bull markets this can be a successful strategy – but in the current environment it is a dangerous practice.
If PFCB fails to retake the $48 level soon, these jumpy investors could quickly find themselves in panic mode – unloading shares they bought on the breakout. A drop back down to $40 or below could be devastating to the breakout buyers, but could offer us a nice chance to pick up a few more basis points of profit.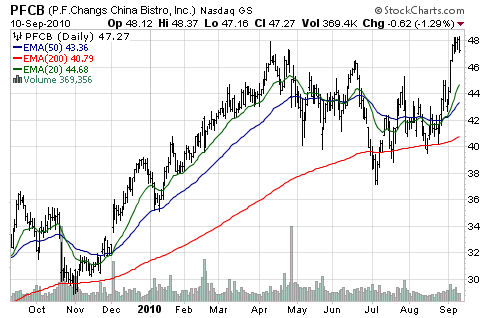 The pre-market futures are pointing to a higher open this morning which simply underscores the importance of waiting for price action to confirm before committing capital. We're not in a position where we need to chase performance, so as Mercenaries we can take pitch after pitch while we wait for the perfect fastball down the middle.
Disclosure: As active traders, authors may have positions long or short in any securities mentioned. Full disclaimer can be found here: http://mercenarytrader.com/legal/