A year after the Fed catalyzed an interest rate sensitive security sell off with its taper announcement, stability has seemingly returned to the mREIT space. Severe, double digit book discounts created during tax loss selling season in 2013 have largely disappeared and dividend reductions from many sector constituents have ceased. But with the taper continuing unabated to date, are investors pushing their luck by sticking with this somewhat controversial sector?
In simplest form, a mortgage REIT represents a highly leveraged bond fund. While no two mREITs are alike, the basic premise of generating income via the spread between mortgage-backed investment yield and borrowing costs is more-or-less consistent. Investors tend to evaluate mREITs mostly on two levels: yield and income sustainability as well as book value.
Last year, mREITs swung from thick premiums prior to the Fed's May taper announcement over to hefty, irrational discounts by the end of the year as fear enveloped the sector. For example, American Capital Agency (NASDAQ:AGNC) was trading at a 13% premium on March 31, 2013 (28.94 book - 32.78 market), but by the end of the year was at a 20% discount (23.93 book 19.29 market). This represented a 33% swing around market price even though book had only dropped seventeen percent.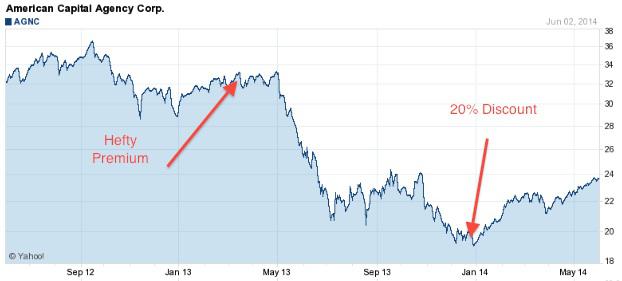 With rates having pulled back since the beginning of 2014 and investors seeing the drastic discounts, mREITs have rallied, providing investors with generally robust returns, while, at the same time, pushing back toward book value. Today, with a price of $23.50, AGNC trades at only about a 4% discount to last stated book of $24.49.
Looking Ahead
In my view, mREITs represent a play on a sanguine interest rate environment. Last year's rate gyration brought reality back to investors who seemingly became complacent about the eminent risks to a highly levered mortgage/bond product. As they normally do, investors overshot the downside at the end of the year. Today, more reasonable valuation has returned to the space.
So to be investing here, I think one needs to feel confident that another sharp upside rate volley is nowhere on the horizon. While I'm somewhat surprised at the pullback in Treasuries we've seen during the first half of the year, one must remember that the 10-Year sat at about 1.5% before last year's upside move. With Fed tapering continuing and investors wondering if tightening might begin in 2015, one must consider the possibility that the past five months merely represents corrective activity in a new bearish bond paradigm.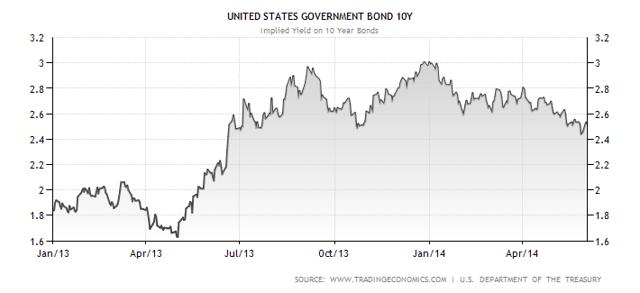 But like other interest rate sensitive sectors, I wouldn't necessarily fear a slow, but steady increase in rates if I were holding mREITs. What I would fear is something that causes another ugly spike in long rates - unexpected inflationary pressure, a strong jobs report or something else unforeseen that causes investors to flee bonds en masse. Because, as I mentioned above, what you own is basically a fund of bond-like mortgage instruments - highly levered mortgage instruments - that will run somewhat in symmetry to bond market pricing.
As last year's rate action will attest, mortgage REIT managers seem unable to effectively cope with sharp, upside interest rate movements. I would opine that they are much more capable of dealing with a slow, steady rise in rates, which could potentially be a positive for income production.
Strategy Session
While I've never been a table pounding fan of the mREIT space, the severe discounts at the end of last year prompted me to once again take a position in REM, the iShares mREIT index product. And though I continue to hold, my sense is the easy near-term money has been made and that this trade is starting to run out of gas.
REM Holdings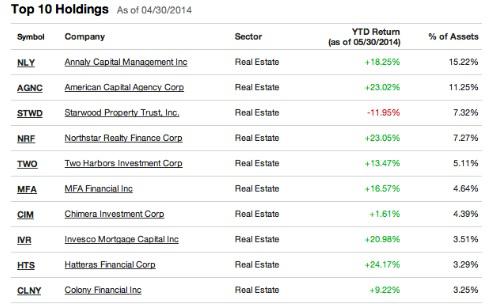 For those looking at the individual names, I've usually skewed investors toward Annaly (NYSE:NLY) and MFA Financial (NYSE:MFA). Although, like AGNC, both those stocks have rallied off their lows and no longer seem to represent rip-roaring value. Investors with speculative thick skin might want to take a look at MORL, a 2X leveraged ETN yielding in the neighborhood of 20% from UBS.
As far as portfolio allocation to the group goes, mine is negligible through REM, although investors with upper-income need or risk tolerance could probably justify a 5-10% portfolio weighting. With other high-income choices available today, I can't fathom why someone would want to dramatically overweight mREITs.
In conclusion, a near-term rally seems to have drained much of the obvious value out of the mREIT space. Though all seems quiet on the western front, which would bode positively for the group, investors should not become complacent. Have an exit strategy and/or consider stops, puts, or other control mechanisms to protect profits and limit losses. If you are in mREITs solely for the income, be prepared for volatility and inconsistent dividends due to the variability in their quarter to quarter operations. Though I would not necessarily fear rising interest rates, one should understand the potential effect of another rapid rise and allocate to the space accordingly.
Disclosure: I am long REM. I wrote this article myself, and it expresses my own opinions. I am not receiving compensation for it (other than from Seeking Alpha). I have no business relationship with any company whose stock is mentioned in this article.
Disclaimer: The above should not be considered or construed as individualized or specific investment advice. Do your own research and consult a professional, if necessary, before making investment decisions.