Although the current proposal is not law and still has some work to be done before it is finalized, we are trying to put together a long-term plan for how to invest in this new world of lower carbon emissions. We are not of the school of thought that the E&P names will be impacted in the near future with emissions or carbon taxes but we do think that the utilities and certain commodity producers could see some significant upside in the years to come from this proposal.
Right now everyone will focus on solar, wind and other renewables but we think that the big growth in the pie will be in either natural gas or nuclear. We will have to wait until everything is finalized to see what the government is trying to incentivize utilities to trend towards, but the truth of the matter is that we have all been warned that change is on the way.
Chart of the Day:
The chart below of coffee futures highlights the weakness over the past month or so as news has gotten better about the coffee crop. Prices are lower again as rains are boosting the Brazilian coffee crop. This has been one of those once-in-a-lifetime markets and now is probably the time to finally close out all remaining positions.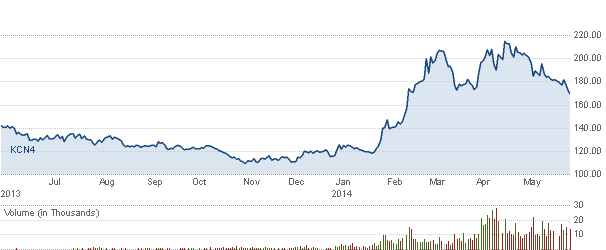 Source: CNBC
Commodity prices are as follows (at time of submission):
Gold: $1,244.20/ounce, up by $0.20/ounce
Silver: $18.73/ounce, down by $0.009/ounce
Oil: $102.45/barrel, down by $0.02/barrel
RBOB Gas: $2.9397/gallon, down by $0.0102/gallon
Natural Gas: $4.651/MMbtu, up by $0.039/MMbtu
Copper: $3.1355/pound, down by $0.035/pound
Platinum: $1,433.80/ounce, down by $2.90/ounce
Coal Stocks' Slide Continues
Yesterday's news from the EPA sent the smaller coal stocks to fresh lows with Walter Energy (NYSE:WLT), Arch Coal (ACI) and Alpha Natural Resources (ANR) all hitting new 52-week lows on the session. Although Arch Coal did this on normal volume, Alpha Natural Resources (on ~1.7x average volume) and Walter Energy (on ~2x average volume) saw spikes in volume. Overall, the news was not nearly as bad as some sources were reporting that it was going to be, but it was better news for the utilities than for the coal producers.
We continue to think that investors should be on the sidelines right now and try to avoid these names if possible. The Obama administration did not deliver a death sentence to the industry yesterday, but once again they did just further the case for making coal fired power plants less of the production mix for many of the utilities around the country.
Iron Ore Concerns
We saw this article from Bloomberg (located here) highlighting comments made by Rio Tinto (NYSE:RIO) CEO Sam Walsh regarding iron ore prices. We are bullish of iron ore proportionately with how well the economy does, but view other commodities, such as copper, as better plays on a global economic rebound due to the growing surplus in production and added mine capacity. We have been in the camp that the 'Big Three' iron ore producers would do just fine as they would take market share, but Mr. Walsh believes that his competitors will feel a lot more pressure if prices drop down to $80/ton.
If iron ore prices are heading down in a significant manner, then we would no longer want to have Vale in a speculative portfolio. Brazil does not interest us and the Australian mines have low production costs and lower transportation costs.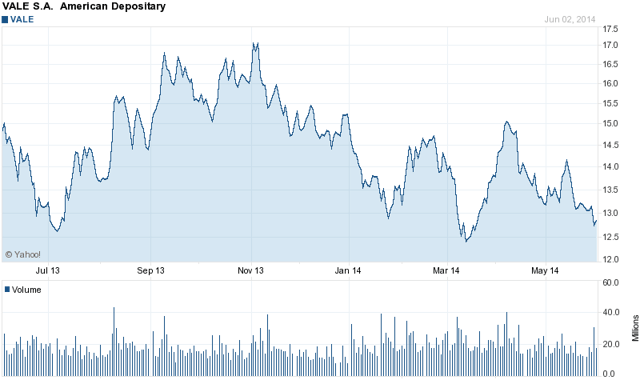 Source: Yahoo Finance
If this is in fact true and we do see $80/ton then Vale (NYSE:VALE) is not a stock we would want to be involved in. We are not bullish of Brazil right now and if we are having to rely on exports with a falling price then our interest is falling. Stealing market share only gets one so far and we could see the big iron ore plans of the 'Big Three' scaled back considerably should this decline continue. At the end of the day, a commodity with falling prices and companies not expanding production is not an area that interests us as it breaks one of our key rules; there has to be growth from somewhere, either production or the value of the underlying commodity.
Disclosure: I have no positions in any stocks mentioned, and no plans to initiate any positions within the next 72 hours. I wrote this article myself, and it expresses my own opinions. I am not receiving compensation for it (other than from Seeking Alpha). I have no business relationship with any company whose stock is mentioned in this article.