Apple (NASDAQ:AAPL) has been one of the stars of the market over the past few years. Despite a number of false steps and the loss of Steve Jobs, the company has banked on its strategy of introducing product updates every other year and providing an integrated customer experience.
Recently, rumors about Apple's entry into the smart home controls market has brought renewed interest in this forward-thinking company with its loyal following and recognizable logo.
The Tech Surge
The rumors about Apple's plans for entering the smart home market are just part of the increased interest in tech innovations occurring right now. LinkedIn (LNKD), Facebook (NASDAQ:FB) and other stocks are also seeing a surge in interest after a long period of ennui. It appears it's now the techs turn to enjoy the gains enjoyed by other sectors of the market over the past few years.
What Is A Smart Home?
The world of mobile technology has moved quickly, and Apple has had to race to keep ahead of competitors making constant innovations that the public quickly integrates into their daily lives.
Apple envisions a smart home as one where remote control of security systems, lighting and household appliances, all could be controlled from the user's smartphone. This is likely to be the next hot application of mobile technology. Two concepts are shown below.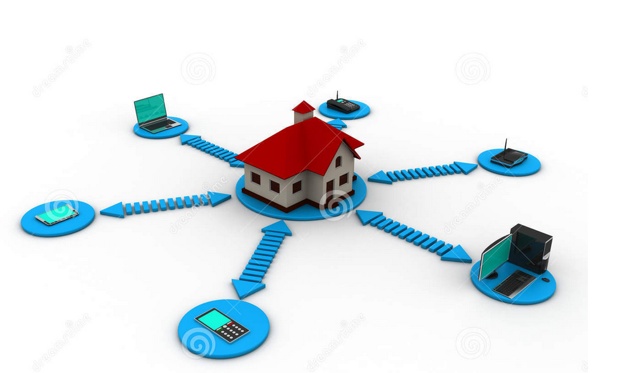 (http://dreamstime.com/royalty-free-stock-photos-smart-home-concept-white-background-image35374238)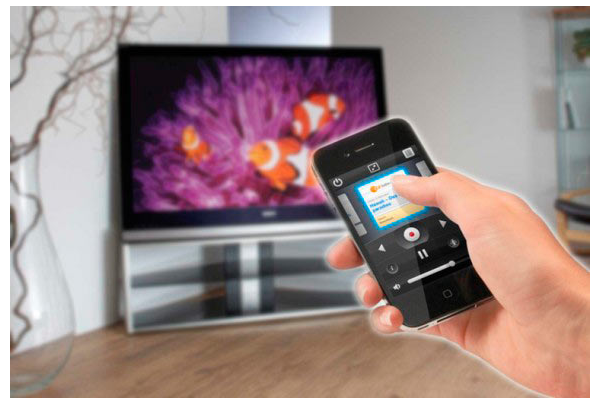 (http://imacland.com/news/apple-announce-smart-home-technology-wwdc-rumor.html)
The Google Competition
Google's (GOOG, GOOGL) recent purchase of Nest Labs for $3.2 billion gave the company an advantage in smart home technology that is beginning to draw considerable interest among consumers.
Cupertino, California-based Apple is expected to announce its own strategy for smart home technology at the Worldwide Developers Conference being held next week. Some experts speculate whether a Google-Apple partnership is in offing, but this prospect raises a number of doubts.
Apple has gone its own way for a long time and would be hesitant to share it brand recognition with Google. Google's free-wheeling reputation is quite different than Apple's smooth, polished style. Whether the Google-Apple race will turn into a fierce competition for top spot or a collaboration of two tech giants together is anyone's guess.
While the two did just reach an agreement to end intellectual properly lawsuits against each other, it's unclear whether the companies will take the next step toward a partnership - particularly in a potentially hot market in the second half of 2014.
The Apple Outlook
Apple's current CEO, Tim Cook, has not been afraid to chart a different course from the company's founder, Steve Jobs.
Apple recently announced a purchase of headphone maker Beats Electronics for $3.2 million. The company has also become more socially responsible, improving working conditions in its factories overseas. While Google and Samsung (OTC:SSNLF) put their energy behind wearable technology, Apple has been working on products that stay true to the company's reputation for high quality and customer-pleasing innovation.
This is certainly a positive sign, as iPad sales have disappointed in 2014.
Cook has voiced excitement about a number of new products in the pipeline for the future. If history is any indicator, Apple's loyal followers will be inclined to share his excitement.
While rival Samsung has picked up steam in pushing innovations to market, it still lags behind Apple (below).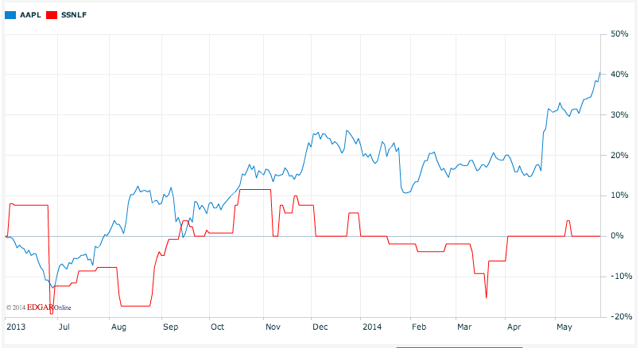 (Source: Nasdaq.com)
Apple consistently beat expectations for earnings and revenues for the past five quarters. The recent move into the "smart home" market is a strategic step as demand for energy efficient solutions are beginning to skyrocket, as both investors and homeowners realize the low-risk, high-return effects of saving energy.
Conclusion For Smart Home Enthusiasts And AAPL Investors
Google is one of few platforms, which is emerging to encapsulate the Smart Home ecosystem. Microsoft is gearing up to launch the Kinect v2, for PC and Xbox users; Samsung's Smart Home Service was also recently launched - all in addition to Google's Nest.
Similar to phones and tablets, these brands will likely vie for ease of use and consumer preference. In this regard, Apple has often trumped competitors with its well-oiled lineup of products - which are often the favorites for those who can afford the up-front cost.
As smart-home devices will be new and edgy for some time, Apple could dominate the market as early buyers could have a penchant for the sleekest things, giving AAPL an early advantage.
While the Nest is certainly nifty, Apple's track record of bringing beautiful, groundbreaking products to market is far longer than NestLabs', which should give shareholders confidence that Apple will come through once again.
We are positive on AAPL in light of this new, innovative push, strong reputation and current and historical fundamentals.
We invite readers wishing to join the discussion on Apple to click the +FOLLOW button above the title of this article and follow @DRDInvestments on twitter.
Disclosure: I have no positions in any stocks mentioned, and no plans to initiate any positions within the next 72 hours. I wrote this article myself, and it expresses my own opinions. I am not receiving compensation for it (other than from Seeking Alpha). I have no business relationship with any company whose stock is mentioned in this article.
Editor's Note: This article discusses one or more securities that do not trade on a major U.S. exchange. Please be aware of the risks associated with these stocks.