The market refrain "Sell in May and go away" failed to apply again this year, as the stock market continues to teeter at record highs. The notion that investors should take their profits ahead of warmer weather and return presumably when markets are lower in the fall has not worked in the last couple of years. In fact, according to technical strategist Ryan Detrick, going back 20 years (including this year), May is actually up 60% of the time, with the S&P 500 average .44%.
The S&P 500 gained 2.1% in the month of May, posting its biggest gain since February, and it now sits near an all-time high position, up 4.5% for the year. The bond market has also been rallying this month as well, with bond yields on the 10-Year Treasury Index hovering at 2.5%. Investors continue to be concerned about the pace of economic growth, which had been expected to be more robust. Investor caution and growing expectations that Fed policy will continue to be accommodative has helped drive demand for Treasury bonds and kept interest rates low.
The other factor driving bond market gains is that many investors were caught on the wrong side of the bond trade, expecting rates to rise. They are now forced to buy into the market to cover these positions. The end result is that both the equity and bond markets climbed in May on very little economic news.
Large Cap stocks continued to dominate in May, but Small Caps had a better month, slightly outpacing Mid Caps.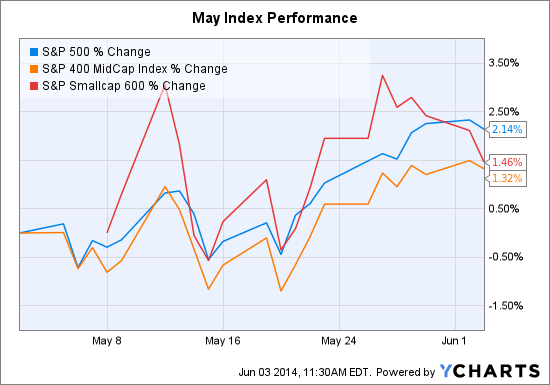 Analyzing sector ETF performance, Healthcare, Technology, and Basic Materials were the top performers in May, with the more defensive sectors such as Consumer Staples and Utilities lagging behind for the month.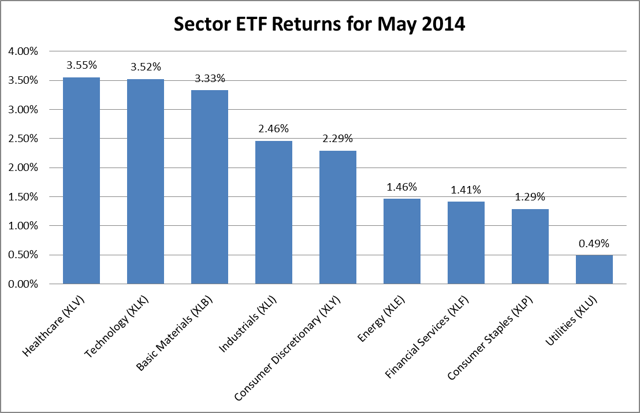 Source: YCharts
So perhaps "Sell in May" has gone away or has been arbitraged. Savvy investors seeking an advantage may be selling earlier in the year, or rejecting the historical adage entirely. Certainly, trading volumes are lower in the summer months, but in this day and age of mobile connectivity, it is pretty easy to put out trades on your summer vacation.
Disclosure: I am long SPY. I wrote this article myself, and it expresses my own opinions. I am not receiving compensation for it (other than from Seeking Alpha). I have no business relationship with any company whose stock is mentioned in this article.