By David Russell
MetroPCS Communications (PCS) is attempting to push to new highs, and investors are using options to manage risk.
Our tracking systems detected both call and put buying in the wireless-phone stock inches toward $10 for the first time in almost a year. Some traders bought the September 10 calls for $0.20 to $0.30, ensuring them the right to buy the stock for $10 even if it surges higher before the end of the week.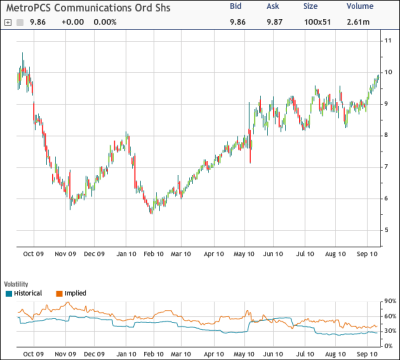 The calls were then sold for $0.20 to $0.25, likely by shareholders who wanted to earn extra income from their positions in the stock. The buying and selling shows how two different kinds of investors can use options to manage portfolios: The buyers eliminate the risk of the stock running away from them, while the call sellers locked in an exit price on their shares above where they're currently trading.
PCS is flat on the day at $9.86 but has rallied more than 75 percent since bottoming at $5.52 in January. The company's prepaid, no-contract wireless plans have been gaining market share among consumers looking to reduce debt and avoid fixed obligations.
Its last earnings report on Aug. 5 matched analysts' forecasts, with net income tripling and subscriber additions accelerating by almost 50 percent. Given its large fixed-cost base, companies such as PCS can experience dramatic profit growth from revenue growing only modestly -- a phenomenon known as operating leverage.
optionMONSTER's screening programs also detected the purchase of about 2,400 October 10 puts for $0.60 to $0.65, which was probably also the work of shareholders looking to hedge against a drop. Their choice of the in-the-money 10 strike indicates they consider a big correction unlikely.
Overall options volume is 5 times greater than average so far today.
Disclosure: No position