Procter & Gamble (NYSE:PG) is perhaps one of the best examples of a core holding for dividend investors. The stock is a dividend growth superstar, with 58 consecutive annual dividend increases. Furthermore, the current 3.20% yield is well above average. On a valuation basis, Procter & Gamble is hardly expensive compared to peers.
Fiscal Q3 2014 Overview
On April 23, Procter & Gamble reported its fiscal Q3 2014 (calendar Q1 2014) results. Adjusted EPS (core earnings) came in at $1.04, up 5% lower than last year, though still beating estimates by three cents.
For the quarter, the company posted net sales of $20.6 billion, in line with estimates. Procter & Gamble results were stronger considering the forex headwinds it was facing. All in, the company saw a 3% impact related to currency, offset by a 3% increase in volumes. Adjusting for these items, organic sales were up 3%, in line with last year.
Gross margins came in at 48.4%, down 140 basis points from 49.8% last year due to an unfavorable geographic and product mix. However, thanks to cost-cutting in G&A, operating margins actually ticked 30 basis points higher to 16.8%.
Procter & Gamble divests its Pet Care business
On April 9, Procter & Gamble announced that it was selling its US-based pet food business to Mars, Inc. for $2.9 billion. Brands in this business unit include Iams, Eukanuba, and Natura. The companies also agreed to leave the option open for the sale of these businesses in the European Union. The sale of these assets by Procter & Gamble is expected to have little-to-no material impact on its EPS going forward.
Analysts have generally approved of the transaction, noting that these businesses have languished and underperformed for years. Procter & Gamble's CEO, A.G. Lafley, has stated that up to 10% of the current product portfolio could be sold off or divested without having a material impact on earnings. According to Barron's, other segments on the chopping block include bleach and MDVip.
Procter & Gamble is cheap compared to its peers
Lastly, let us look at Procter & Gamble compared to its consumer goods peers, such as Colgate-Palmolive (NYSE:CL), Church & Dwight Company (NYSE:CHD), and Kimberly-Clark (NYSE:KMB).
By TTM PE, Procter & Gamble now trades at large discounts (28% and 15%) to both Colgate and Church & Dwight. This discount seems unwarranted, as Procter & Gamble's adjusted EPS growth rate of (7% to 8%) is comparable to both at (10% to 11%).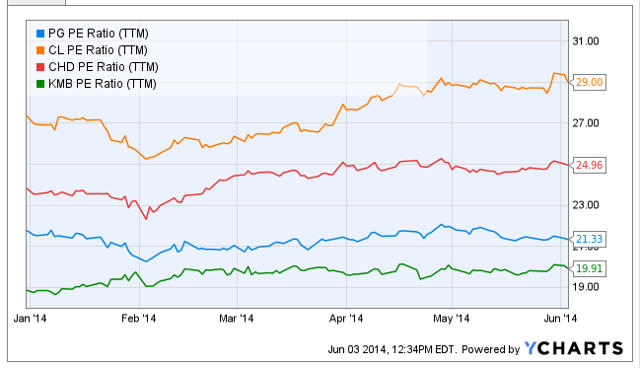 By enterprise multiple (EV/EBITDA), Procter & Gamble trades in line with Church & Dwight and at a massive 24% discount to Colgate. Kimberly-Clark remains the laggard here, at a 15% discount to Procter & Gamble. However, its lower growth rate (5% to 6%) and revenue mix may be a factor here.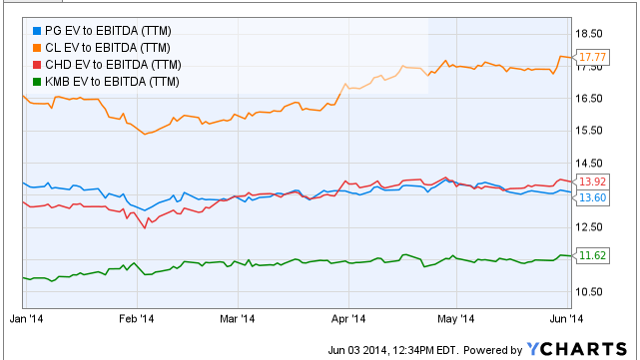 In terms of P/FCF, this is where Procter & Gamble starts to slip a bit. At 24x FCF, the stock is in line with Colgate and well above the others. However, FCF is often a volatile metric, as it can easily be impacted by capital needs.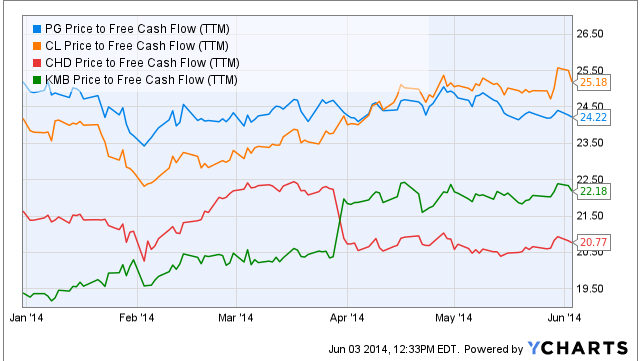 Finally, by dividend yield, Procter & Gamble easily beats its peers, offering a 3.20% yield, 20 basis points above Kimberly-Clark and over 100 basis points above the others. On April 7, Procter & Gamble announced a 7% increase to its quarterly dividend, and its 5-year average increase is around 8%.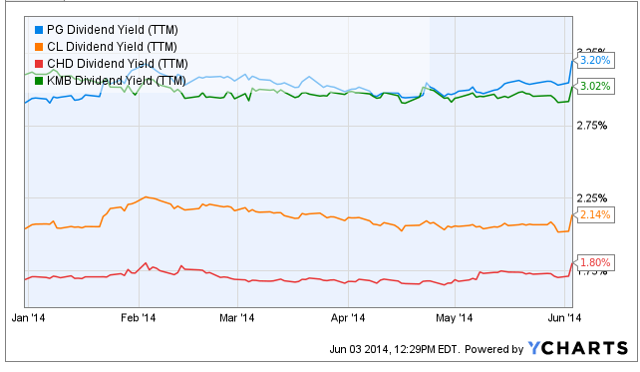 Conclusion
Procter & Gamble is about as "blue-chip" as a stock can get, and is one of my cornerstone holdings. With 22 brands generating over $1 billion in revenues each, it has a global footprint rivaled only by the likes of Coca-Cola (NYSE:KO). Furthermore, due to its over 3% yield and modest valuation, Procter & Gamble is a great stock to park some cash to generate income.
Disclaimer: The opinions in this article are for informational purposes only and should not be construed as a recommendation to buy or sell the stocks mentioned. Please do your own due diligence before making any investment decision.
Disclosure: I am long PG, KO. I wrote this article myself, and it expresses my own opinions. I am not receiving compensation for it (other than from Seeking Alpha). I have no business relationship with any company whose stock is mentioned in this article.