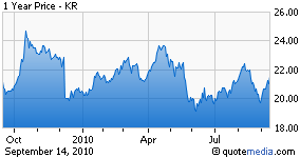 The Kroger Company (KR), one of the largest grocery retailers, recently posted second-quarter 2010 results that outpaced the Zacks expectations, sending shares up 47 cents or 2.2% to $21.51 in early hours trading.
The quarterly earnings of 41 cents a share surpassed the Zacks Consensus Estimate of 36 cents, and jumped 5.1% from 39 cents delivered in the prior-year quarter.
The Cincinnati-based Kroger reaffirmed its fiscal year 2010 earnings guidance range of $1.60 to $1.80 per share, which dovetails with the current Zacks Consensus Estimate $1.73.
Total revenue (including fuel center sales) climbed 6% to $18,795.9 million from the prior-year quarter, and handily beat the Zacks Consensus Revenue Estimate of $18,764 million.
Excluding fuel center sales, total revenue climbed 3.3%; comparable supermarket sales jumped 2.9% to $15,328.9 million, whereas identical supermarket sales (stores that are open without expansion or relocation for five full quarters) rose 2.7% to $14,947.4 million.
Kroger, which faces stiff competition from Wal-Mart Stores Inc. (WMT), Safeway Inc. (SWY) and Whole Foods Market Inc. (WFMI), confirmed identical supermarket sales (excluding fuel) growth of 2% to 3% for fiscal year 2010, although down from an average growth of 4.1% achieved in the last three years, given the economic conditions.
Including fuel center sales, comparable supermarket sales climbed 5% to $17,347.5 million, whereas identical supermarket sales rose 4.7% to $16,916.6 million. We believe that Kroger's dominant position enables it to sustain top-line growth, expand its store base and boost market share.
Kroger's customer-centric business model provides a strong value proposition to consumers. It is well positioned to continue its growth momentum, primarily through identical supermarket sales growth.
However, the intensifying price war among grocery stores to lure price-focused consumers has compelled Kroger to cut prices, hurting its sales and margins. Retailers are reluctant to raise prices for the fear of losing traffic.
Kroger reported operating profit of $493.5 million that dropped marginally by 1.1% from the year-ago quarter. Operating margin also contracted 20 basis points to 2.6%. The increase in merchandise costs (up 6.8%), operating, general and administrative expense (up 4%) and depreciation and amortization (up 5.8%) resulted in the fall in operating profit.
Kroger ended the quarter with cash of $154.9 million, temporary cash investments of $881.7 million, and long-term debt of $7,817 million, reflecting a debt-to-capitalization ratio of 60.2%. Trailing-twelve months' net total debt to EBITDA ratio was 1.87, up from 1.77 in the same period last year.
During the quarter, Kroger bought back 7.3 million shares at a price of $20.43 per share, aggregating $148.3 million. The company still has $409.2 million at its disposal under the $500 million share repurchase program announced in June 2010.
Kroger currently operates 2,468 supermarkets and multi-department stores in 31 states under approximately 24 local banners.
Disclosure: No position