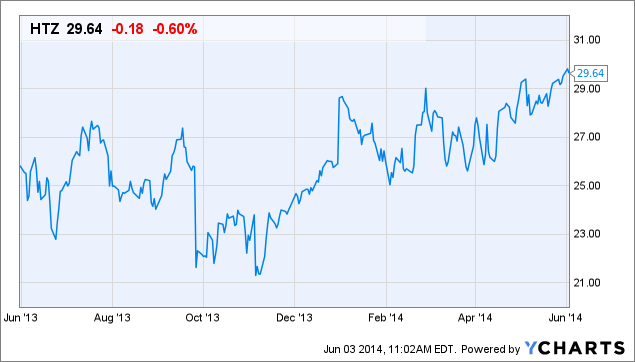 Background: Hertz Global Holdings, Inc. (NYSE:HTZ) is the world's largest general use car rental brand, operating from approximately 8,100 locations in 147 countries worldwide.
52-Week Range: $19.73 to $30.00
Book Value: $6.22
Price To Book: 4.8
Hertz is forecast to record lower first-quarter earnings before the market opens on June 9, 2014. Analysts' estimates this quarter range from 7 cents to a high of 12 cents, and the consensus estimate is currently 9 cents a share. That's a drop of 12 cents (57.1%) from 21 cents during the equivalent quarter last year.
Analysts as a whole like this company. Currently, Hertz has 8 buy recommendations out of 11 analysts covering the company, along with 2 holds and 1 sell rating. The average analyst current target price is $30.56.
If we review the options market and specifically the contracts that expire first after the earnings release, we can gain a better understanding of what other market participants are anticipating.
Option premium tells us that the market is pricing in an 8%, or about $2.40 move.
That means, as a shareholder or potential investor, you should anticipate the stock to trade as low as $27.30 or jump higher to $32.34 and still remain within one standard deviation, if you're not already prepared for such a wide move (and there's no guarantee it won't move beyond the expected range).
After the last report on March 18, the shares traded with volatility during the next session, but after the smoke cleared, they declined only 13 cents, or about half a percent. Not bad considering it was the first earnings miss in years.
Mitigating Hertz's miss was record earnings and revenue. Excess company and industry inventory levels squeezed last quarter's margins while keeping costs elevated. Don't expect excess inventory (for the company) to remain an issue, not at least to the level it was.
International revenue grew 5.8% last quarter compared to the same quarter in 2012. Europe was improving, but keep a close eye on what is said about Australia and New Zealand to see if that region remains as vibrant.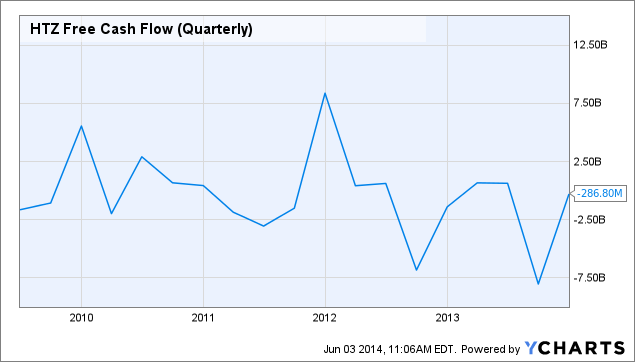 After Hertz's relatively strong 15% rise in the last 12 months, investors will be keeping a close eye on Free Cash Flow and earnings per share. Since 2009, the number of outstanding shares increased from about 322 million to the current 445 million.
A rising share count dividends the pie into small pieces and all else being equal, makes it more difficult to grow earnings per share.
From a technical analysis point of view, the shares appear frothy to me, especially on the weekly chart. It's all about guidance, if the company guides well, the shares have plenty of room to run. Otherwise, expect every bit of the 8% anticipated downside and more. The next major base of price support is near $26 a share.
Short sellers, or what many refer to as the smart money, aren't interested in Hertz. Short interest is small at 2.4% and that bodes well for shareholders.
Disclosure: I have no positions in any stocks mentioned, and no plans to initiate any positions within the next 72 hours. I wrote this article myself, and it expresses my own opinions. I am not receiving compensation for it (other than from Seeking Alpha). I have no business relationship with any company whose stock is mentioned in this article.