All Type 2 diabetics, if they live long enough, will eventually need insulin. Different than Type 1s, the Type 2 pancreas still produces insulin, but tissue becomes insulin-resistant, barring entry of glucose into cells and raising blood concentration to dangerous levels, causing eventual damage to the kidneys, heart, eyes and nerve endings. Type 2s typically start with anti-diabetic pills like metformin until they stop working, then turn to injections. Insulin by mouth would imitate nature - pass through the stomach and intestines, enter the liver for processing, then disperse into circulation. Oral insulin is what diabetics (and their doctors) want.
No wonder companies like Oramed Pharmaceuticals (NASDAQ:ORMP) and Novo Nordisk A/S (NYSE:NVO) get a lot of attention when perfecting oral techniques. Data from Oramed's recent Phase IIa clinical trial, done in order to observe ORMD-0801 at bedtime during fasting, showed the drug to be safe and tolerable, reduced night time (and daytime) blood glucose levels compared to placebo, and presented encouraging information about patients' physiological responses. Novo Nordisk, whose secretive clinical trials mirror Oramed's in many ways except for transparency of results, yearns for oral insulin in hopes of gaining a better competitive edge.
To get a balanced opinion of Oramed's claims, I spoke to Joel Neutel, MD, founding partner of Integrium Clinical Research, who conducted data analysis for the trial. Dr. Neutel said that ORMD-0801 displayed a "very strong trend" in not only lowering blood sugar (a clear sign that oral insulin is absorbed by the small intestine to create its desired effect in circulation), but also in dropping C-peptide levels that suggest the pancreas did not have to work as hard to produce insulin, due to the presence of ORMD-0801. He was also impressed with the consistency of results - very important with a smaller trial, where he "usually sees more variability", and lack of placebo effect often found when diabetics in clinical trials are fed nutritiously, something they may neglect in the rush of everyday life. Dr. Neutel verified that adverse effects, though mild, were not related to ingestion of the drug, and feels efficacy will be shown in a larger patient group.
Diligent readers of Oramed's data will note that the study was not powered to show statistical significance; it was not intended to be. However, decreases in blood glucose did not lead to an adverse hypoglycemic event, an important point for an early study. One glitch - the 16mg capsule had not been mixed rigorously enough. This has been resolved, and the 16mg dosage will be included in Phase IIb to keep the same protocol that resulted in the good safety and pharmacokinetic/pharmacodynamic findings from Phase IIa. Study results only included patients receiving the two 8mg dosage, so interpretations were not compromised.
The intent of Oramed's technology is not to entirely replace subcutaneous insulin, but to reduce the number of daily injections with an appropriately-timed capsule, particularly between meals. The key is catching diabetes early, before tissue and organs become affected. Delaying the need for insulin replacement therapy is the ultimate goal. Oramed's contention is that the simplicity of taking a capsule would induce new diabetics to start treatment earlier - no one likes needles, no matter how thin their gauge - and insulin injections carry the psychological stigma of being sick. Earlier treatment means less chance of diabetes' damage to the body, perhaps by years. People live longer today and strive to stay young and healthy; a capsule wins as a lifestyle choice.
Oramed's next trial using ORMD-0801 in Type 2 diabetics, a Phase IIb whose protocol is in the final stages of design, will begin enrolling approximately 200 patients in the fourth quarter in US-based clinics. Its goal is to provide the FDA with sufficient efficacy data powered to support continuation to the final testing phase.
While not an oral formulation, non-injected insulin therapy for diabetics got a boost in April with an FDA recommendation for approval for MannKind Corp.'s (NASDAQ:MNKD) Afrezza, the latest gadget for inhaled insulin. Questions surrounding the device involve a lower bioavailability versus injected insulin, not solved by simply increasing dosage. Lung effects remain a concern: A seminal study of a large cohort of individuals with chronic obstructive pulmonary disorder (COPD) revealed that 12.4% also had diabetes, making it a common comorbidity. Research is finding more links between diabetes and asthma, through obesity. While maybe less a clinical issue than a lifestyle one, Afrezza could be contraindicated for smokers. Despite grave health risks in a condition already earmarked for heart disease, the number of smoking diabetics has remained roughly 20% since 1994. Matters related to the lungs could impact Afrezza's eventual drug label, which cuts a meaningful chunk out of the inhaler's potential market.
Novo Nordisk and Oramed - Great Pharmaceutical Minds Thinking Alike
The hunt for optimal oral insulin converges on two companies - the Danish multinational, Novo Nordisk, and the small but scientifically progressive Oramed. The technologies, as revealed by patents, follow the same biological reasoning - how to effectively transport insulin through the gut without it degrading before it reaches the liver. Oramed, in one of the embodiments of its invention, uses a protease inhibitor to prevent deconstruction of the compound being swallowed, a variety of inactive "bulking agents" that are generally accepted by the US Food, Drug and Cosmetic Act, and an absorption enhancer; another embodiment may incorporate the disodium salt of modified amino acids to facilitate absorption into fatty tissue, known as N-(10-[2-hydroxybenzoyl]amino)decanoate, or SNAD, and N-(8-[2-hydroxybenzoyl]amino)caprylate, or SNAC. These were patented by Emisphere Technologies, Inc. (OTCPK:EMIS), and have long been studied to effect absorption of oral, low-molecular weight heparin and calcitonin. However, my communications with Oramed strongly suggest SNAD is not being employed in ORMD-0801.
SNAD, as a technology, has not had a successful run. In 2009, Emisphere announced the launch of its oral Eligen B12 nutritional supplement using SNAD, although none has been sold, as evident from its most recent quarterly release, where plans now call for a "late 2014" introduction in the US. In 2008, Novo Nordisk licensed SNAD for use in an oral formulation of its GLP-1 analogues for Type 2 diabetes in ongoing trials, but it is not clear whether Novo uses SNAD in its oral insulin formula.
Novo Nordisk starts with an insulin analog, a man-made substance with an altered molecular structure to aid absorption in the bloodstream (analogs may or may not have advantages over regular insulin, depending on whose research you read), and folds it into a self-micro or nano-emulsifying solution called SMEDDS, which is a mixture of oils and wetting agents. It then utilizes gastrointestinal permeation enhancement technology (GIPET), licensed from Ireland-based Merrion Pharmaceuticals Plc in 2008, who had acquired it from troubled Elan Corp. in 2003, that works on the principal of boosting absorption. Like Oramed's inactive agents used in its formulation, GIPET has food additive status from the US, so safety issues are moot.
In its own search for oral insulin, Novo Nordisk's clinical timeline is similar to Oramed's. Roughly one year after licensing GIPET, the first of Novo Nordisk's oral insulin analogs, NN1952, was tested in 80 people, either healthy or with Type 1 or Type 2 diabetes, in a Phase I trial to determine safety, tolerability, pharmacokinetics, and pharmacodynamics. In May of 2011, NN1952 was discontinued for reasons unknown.
Not to be deterred from a project that CEO Lars Sorensen, with over 30 years at the company, has shown strong dedication to, Novo completed in February 2012, a single-dose Phase I study of NN1953, again using Merrion's technology. In March 2013, a Phase I trial for NN1954 was completed following a similar design to its predecessors, only to be discontinued earlier this year.
The fourth analog, NN1956, suffered the same fate: 84 healthy males entered the study in March 2013 to assess safety and patient exposure under a regimen of seven dosing levels versus an injected insulin analog or placebo. Completed in September of that year, trials of NN1956 were discontinued. Novo Nordisk chose its first-quarter conference call to provide an update on the oral insulin analogs, where Mads Krogsgaard Thomsen, CSO, announced abandoning NN1954 and NN1956, but continuing NN1953 into Phase IIa testing in the first half of 2015. The table below summarizes this timeline.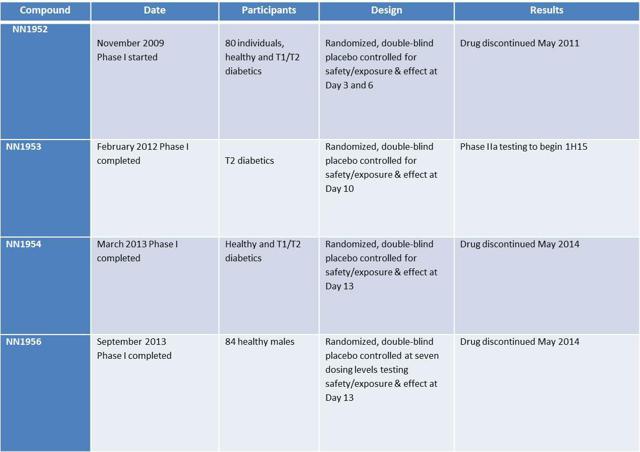 A look at ORMD-0801's early clinical trial history tells a comparable story, with an exception. Various formulations were tried at once, instead of in different trials, most likely due to Oramed's more constrained research budget. Readers will note that time frames for these early trials are not dissimilar to those chosen by Oramed: in most cases, testing for safety, tolerability, pharmacokinetic, and pharmacodynamics data was between 10 and 13 days. This makes sense - either oral insulin will pass through the gut or not, no matter how many patients enroll. It doesn't take long to determine. Other points to consider in Novo Nordisk's oral insulin odyssey: abandoning three drugs over five years of testing in favor of one means the company threw enough SMEDDS against a wall to see what stuck, and that it is true in its devotion to the dream of oral insulin.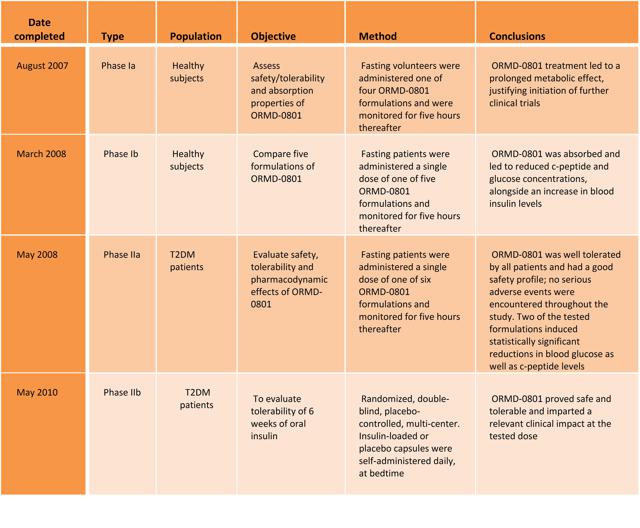 Unfortunately, Novo Nordisk did not publish results for its Phase I trials, so comparisons of patient response between ORMD-0801 and the NN compounds cannot be done. Neither is the company forthcoming with data. In the call, Thomsen merely stated that NN1953, an "enzyme-stabilized novel ultra-long acting basal insulin analog in a tablet formulation utilizing the GIPET carrier system" performed better than the others and would move ahead in the clinical process.
Oramed and Novo share the same philosophy about oral insulin: less supplies to carry, needle-sticks are decreased, and insulin delivered by mouth would mimic pancreatic insulin by traveling the same route via the portal vein to the liver, where it can better regulate glucose metabolism and reduce excess glucose in the blood. Novo's Thomsen echoes Oramed's CEO, Nadav Kidron by saying that oral insulin will not completely replace injections, because only Type 2 diabetics that still produce some insulin would use them. Availability of oral insulin will induce diabetics to start treatment earlier, because their doctors are more likely to prescribe them sooner than they would injections.
For both Oramed and its larger competitor, these are early trials, and much can go wrong, whether using SNAD or SMEDDS or another delivery technology. Oramed bears the greater onus of risk due to its size and ongoing need for additional funds to support larger trials. Its small capitalization status offers a unique level of risk to investors even outside of a brutally competitive market, where bigger means more money to spend - there is risk of illiquidity, inadequate analyst coverage, and less-frequent news flow. From a scientific standpoint, using regular insulin versus a long-acting analog may hamper efficacy and force Oramed to reformulate ORMD-0801, at the expense of time and resources. On the other hand, if success in making oral insulin is achieved, investors risk missing acquiring Oramed's shares at its current low price.
Diabetic patients know oral insulin is best, and hope for clinical results to bear this true. Which company comes first in a global market exploding toward $120 billion over the next two years is not as important as finally bringing this technology home to those who need it most. In this light, Oramed should be viewed as the best bet in diabetes' next potential winner.
Disclosure: I am long ORMP. I wrote this article myself, and it expresses my own opinions. I am not receiving compensation for it. I have no business relationship with any company whose stock is mentioned in this article.
Editor's Note: This article covers one or more stocks trading at less than $1 per share and/or with less than a $100 million market cap. Please be aware of the risks associated with these stocks.