Private equity and strategic buyers alike prefer to pick up companies cheap, and targets with relatively strong free cash flow have the ability to finance acquisition debt taken on to buy them. Hence Barron's, in an article this past weekend on potential takeover stocks, presented the ten examples with EV/EBITDA, a favored valuation metric, and free cash flow yield.
Barron's dug up Kohl's (NYSE:KSS) among the ten takeover candidates and mentioned that it's cheap enough that even private equity firms might be interested in the discount department store operator. Its forward EV/EBITDA is below 6 and free cash flow yield above 9.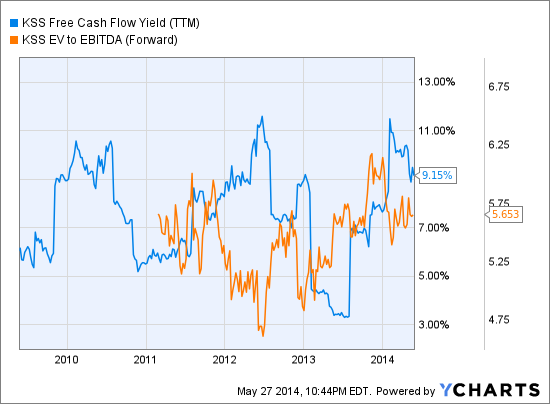 KSS Free Cash Flow Yield (TTM) data by YCharts
Rock-Tenn (RKT), a containerboard makers, and Xerox (NYSE:XRX), the former copier king now getting most of its revenue from outsourcing services, also show relatively low EV/EBITDA and high cash flow yield.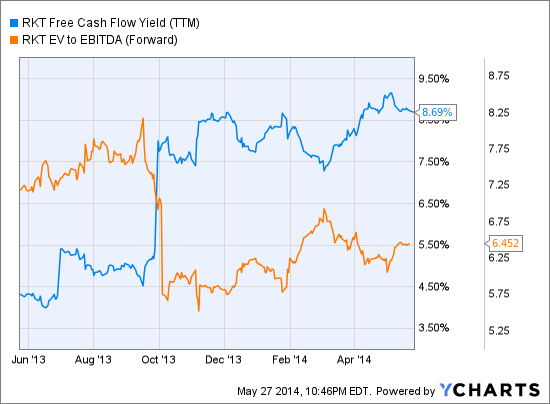 RKT Free Cash Flow Yield (TTM) data by YCharts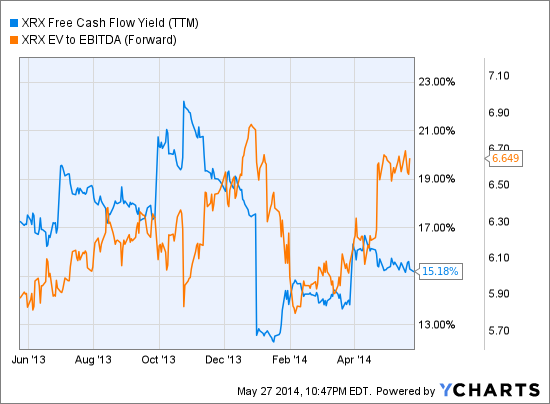 XRX Free Cash Flow Yield (TTM) data by YCharts
Two favorable metrics does not a takeover make, of course. But the Barron's run-through of ten stocks makes each seem at least plausible. The others are Interpublic Group (NYSE:IPG), the ad agency; AMC Networks (NASDAQ:AMCX) and Scripps Networks Interactive (NYSE:SNI) , broadcasting stocks; Jazz Pharmaceuticals (NASDAQ:JAZZ), whose Ireland domicile might attract a U.S. pharma company seeking lower tax rates, Barron's theorizes; Alaska Air (NYSE:ALK), a sturdy regional competitor in the mostly consolidated airline industry; Citrix Systems (NASDAQ:CTXS), a software concern; and Fluor (NYSE:FLR), the big engineering and construction company that could benefit from a spurt in international capital spending.
Jeff Bailey, The Editor of YCharts, is a former reporter, editor and columnist at the Wall Street Journal and New York Times.
Disclosure: None
- See more at: http://ycharts.com/analysis/story/takeover_stocks_screening_for_value_cash_flow#sthash.j13CpGz2.dpuf