Real estate relative stocks took an early hit Monday on an apparently poor construction spending report and a flawed ISM data point, but recovered shortly thereafter. Weak construction spending data should have impacted the group in a profound manner that certainly would have run through the course of the day under normal circumstances. However, closer inspection of the data reveals that the report only seemed depressing based on the headline figure change, and that actual construction spending activity was not so bad in April. A second economic report released simultaneously offered further anomalous reason for significant decline, but that data was immediately revised. So, within an hour, the reasons for decline in the group were cured and the stocks recovered.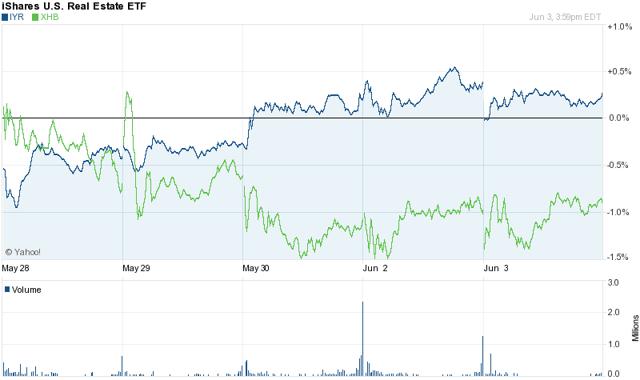 Construction Spending was reported increased by just 0.2%, which was significantly slower growth than economists had projected. The consensus forecast was for 0.7% growth, so real estate relative stocks took a dive just after the news was published on Monday, June 2nd at 10:00 AM ET. You can see the dip in the chart above of the SPDR S&P Homebuilders (NYSEARCA:XHB) and the iShares U.S. Real Estate ETF (NYSEARCA:IYR). On June 2nd there's an abrupt decline followed by immediate recovery. In fact, much of the real estate relative group depicted below here finished in the green on the day. The reason for that was two-fold in my opinion.
| | |
| --- | --- |
| Real Estate Relative Stock | Monday June 2, 2014 |
| SPDR S&P 500 (NYSEARCA:SPY) | +0.1% |
| iShares US Real Estate | +0.2% |
| SPDR S&P Homebuilders | +0.03% |
| PulteGroup (NYSE:PHM) | +0.5% |
| Annaly Capital (NYSE:NLY) | -0.2% |
| Bank of America (NYSE:BAC) | +0.8% |
| MGIC Investment (NYSE:MTG) | -0.2% |
| Home Depot (NYSE:HD) | +0.8% |
First of all, the Construction Spending data requires closer inspection. The miss against economist expectations was not as bad as it first seemed. That is because the prior month figure (March) was revised significantly higher from the initial reporting of 0.2% growth, to a revised level of 0.6% growth. When we consider that the base we calculate growth off of was revised so much higher, we can see that this month's shortfall in growth does not represent a miss in terms of absolute value, and so should not be considered disappointing. The level of construction spending was therefore in actuality about what was expected. I expect this information was very quickly understood by the efficient market, though probably not immediately. Therefore, it may be illustrated in the chart reflecting the abrupt drop and subsequent improvement.
However, there was also the important reporting and nearly immediate revision of the ISM Manufacturing Index, which drove anomalous action across the whole of the market on Monday. ISM initially reported an unexpected drop in its index, however, it nearly immediately revised the data to a level of 55.4, which was just slightly lower than what economists expected. The initial surprise stunted stocks immediately and sent gold higher, as detailed in my article on the impact here. It was a big reason why the market and economically sensitive and real estate relative stock Bank of America dropped and recovered quickly. It likely played a role in the whole group's movement, as real estate is economically sensitive.
So, each of these two relative and important economic data points offered initial reason for concern for holders of the real estate relative group. But as construction spending data was understood and as the ISM Manufacturing Index was revised, the causes of concern were removed. This is the reason why your real estate relatives appeared to shake off what seemed like bad news.
Disclosure: I have no positions in any stocks mentioned, and no plans to initiate any positions within the next 72 hours. I wrote this article myself, and it expresses my own opinions. I am not receiving compensation for it (other than from Seeking Alpha). I have no business relationship with any company whose stock is mentioned in this article.