Cirrus Logic (NASDAQ:CRUS) steadily climbed today, perhaps coincidentally, just one day following the keynote address at Apple's (NASDAQ:AAPL) Worldwide Developer's Conference, or WWDC, in San Francisco. However, what exactly has made this Apple supplier shoot up almost 5% when, not even a month ago, investors were calling it quits on the company?
Apple's WWDC Announcements
Although this year's WWDC did not feature new hardware, Apple did reveal some big plans in terms of iOS and software updates. It seems investors are starting to connect the dots here, sensing key hardware updates waiting in the wings.
For instance, the new HealthKit app appears to differentiate itself from other health-related apps in a useful way. As Craig Federighi, Apple's Senior Vice President of Software Engineering, put it: "HealthKit provides a single place that applications can contribute to a composite profile of [user] activity and health." In other words, HealthKit will aggregate user data such that these data become more actionable by, say, a local hospital that gets alerted by the HealthKit app when your Pop Pop's blood sugar levels drop precipitously low, a warning sign of an impending fall. It sure sounds like insurance companies will dig into this soon enough, too.
Importantly, Apple appears serious about this as it has already established close ties and partnerships with the likes of Nike and, just announced at the WWDC, the Mayo Clinic. With these relationships, Apple appears poised to make a strong push into the health arena, which dovetails nicely into Apple entering into the wearables market. As such, perhaps what many investors have long been anticipating Apple to release in some form, i.e., the iWatch, now appears that much closer thanks to yesterday's WWDC.
As close followers of Cirrus Logic already understand, this company excels at supplying audio parts for small form factors. An iWatch, therefore, seems right in its wheelhouse. Cirrus Logic's strong relationship with Apple makes this speculation a worthwhile proposition for some. Couple this upside risk with some recent IDC numbers forecasting iOS mobile handsets to sell roughly 180 million units this year, and one can easily see why Cirrus popped today like it did.
People need to remember that companies can still increase their bottom-line number, even with shrinking margins, with huge volume increases. (Remember, Cirrus Logic finds itself in every iOS device in some way or another, period, not just mobile handsets.)
Yet perhaps today has less to do with the WWDC, and instead more to do with another key Apple supplier: Skyworks Solutions (NASDAQ:SWKS).
The Ripple Effect
Interestingly, although the above analysis will play a role in Cirrus Logic's fortunes over the long term, a Skyworks Solutions press release was likely more directly responsible for the surge in Cirrus Logic's share price today. In a statement today, Skyworks Solutions raised its Q3 revenue outlook about 6.5% to $570 million. Even though the company will not release official numbers until July, Skyworks Solutions felt the need to signal to the market that not only will Q3 be strong, but the company "anticipate[s] continued strength beyond the June quarter as [its] products continue to gain momentum."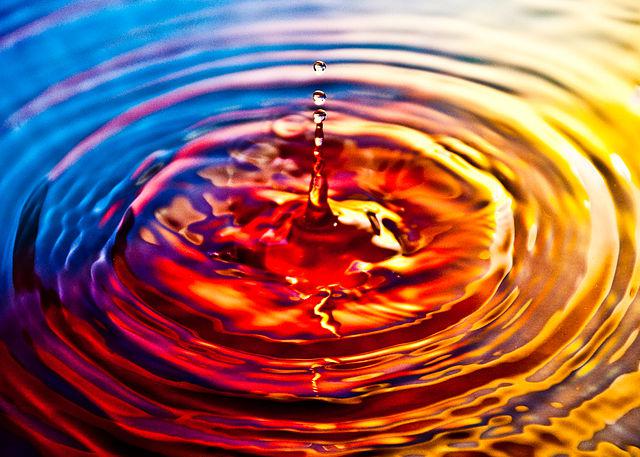 Source: wikimedia.org
Since Skyworks Solutions derives some 36% of its revenue from Foxconn, a major Apple supplier, this likely serves as a harbinger of good fortune for Cirrus Logic, which derives the majority of its revenues from Apple. As such, given this nice announcement, old and new Cirrus Logic investors likely cheated a bit today and saw this as a good point to add to their positions, or to enter into new positions, with this beaten down company. With the aforementioned signals carried on the breeze, coupled with the downright giddiness sounded off by Skyworks Solutions today, investors may have all the answers they need regarding Cirrus Logic's 5% pop today.
Looking Out Ahead
Despite many factors going into a stock's movement, Cirrus Logic's upward trajectory today appears to get explained away given the above developments. However, investors likely are combing the above analysis with what Cirrus Logic has been able to accomplish of late. Within the last year, the company has acquired two big pieces to its puzzle that will help free itself from what many consider to be an over reliance on Apple.
Both Acoustics Technologies and Wolfson Microelectronics, acquired in October 2013 and April 2014, respectively, will be accretive to Cirrus Logic's bottom-line in due time. However, more importantly, both companies open doors to potential new customers, a major one being Samsung since Wolfson had major inroads established at that customer already. Looking out ahead, investors can now easily see the way in which Cirrus Logic has positioned itself to rebound nicely despite compressing margins and a loss in confidence from various analysts over the past year.
And considering Cirrus Logic is still about 11% off of its yearly high, the fact that it has rallied 13% year-to-date should not deter investors from doing more due diligence on this solid company. Until it quells investor fears regarding its perceived lack of a customer mix and starts delivering more on top of its status as a cash cow, this company may struggle to break out too much higher.
Yet if one considers the way the winds are now blowing, given the latest Apple developments along with Skyworks Solutions' latest press release, the time looks right to dive in and not look back.
Disclosure: I am long CRUS, AAPL. I wrote this article myself, and it expresses my own opinions. I am not receiving compensation for it (other than from Seeking Alpha). I have no business relationship with any company whose stock is mentioned in this article.