GreenTechMedia reported on Tuesday that the U.S. Department of Commerce issued preliminary finding in the Chinese solar module trade investigation.
The results, shown in the table below, are not pretty for Chinese solar companies and any companies that use China as a source for cells, wafers or other materials used to make solar modules.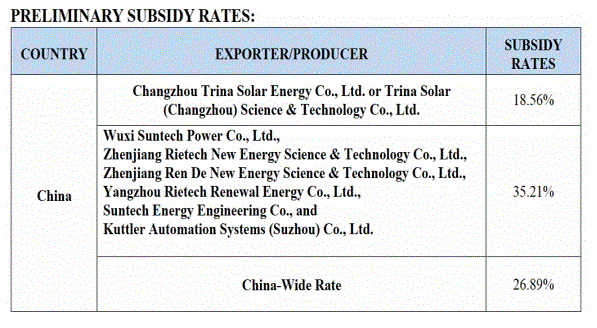 This finding essentially eliminates the loophole from past trade ruling that allowed Chinese companies to shuffle the wafer/cell production across Taiwan border to bypass the tariffs. The revised language (see below) is much tighter and removes the loophole.
"For purposes of this investigation, subject merchandise also includes modules, laminates and/or panels assembled in the subject country consisting of crystalline silicon photovoltaic cells that are completed or partially manufactured within a customs territory other than that subject country, using ingots that are manufactured in the subject country, wafers that are manufactured in the subject country, or cells where the manufacturing process begins in the subject country and is completed in a non-subject country. Subject merchandise includes crystalline silicon photovoltaic cells of thickness equal to or greater than 20 micrometers, having a p/n junction formed by any means, whether or not the cell has undergone other processing, including, but not limited to, cleaning etching, coating, and/or addition of materials (including, but not limited to, metallization and conductor patterns) to collect and forward the electricity that is generated by the cell. Excluded from the scope of this investigation are thin film photovoltaic products produced from amorphous silicon (a-Si), cadmium telluride (CdTe), or copper indium gallium selenide (CIGS)."
Even though the finding is preliminary, the Department of Commerce will be instructing U.S. Customs and Border Protection to require cash deposits based on these preliminary rates. This is not a good news for most of the solar module manufacturers around the world.
Given the gravity of the situation, a negotiated solution is likely but trade disputes can be emotionally and politically charged and the final outcome is far from certain. If there is no settlement and this preliminary finding holds, here is a quick summary of impact by the major companies that we cover:
First Solar (NASDAQ:FSLR) (see thesis): With excess capacity, FirstSolar is likely to benefit the most from this tariff regime and supply disruption. We expect to see a very strong uptick in volumes and ASPs.
SunPower (NASDAQ:SPWR) (see thesis): SunPower is capacity constrained and may not benefit much in terms of volumes but is likely to benefit from increased ASPs.
SunEdison (SUNE) (see thesis): SunEdison in the past has sourced much of its production from China but appears to have created enough flexibility in the business model in anticipation of the ruling. It seems to have a viable option to source the required material from Korea but is unclear at this point what the impact on SunEdison is likely to be. At the minimum, we expect a transitional gross margin impact.
Trina Solar (NYSE:TSL) (see thesis): Trina Solar has the lowest tariff of the Chinese players (18.56%) but in spite of that is likely to be negatively impacted. Its cell capacity is all China based and Trina may find it difficult to adjust manufacturing capacity. It does not help that Trina gets a significant part of its business from the US. Trina will likely take a big hit in terms of units and ASPs.
JinkoSolar (NYSE:JKS) (see thesis): With a 26.89% tariff, and manufacturing based entirely in China, JinkoSolar is highly susceptible to the new tariffs. It helps that JinkoSolar's business is spread across the globe. It also helps that much of the second half is tied to China business. JinkoSolar's U.S. business will take a substantial hit but given the company's excellent gross margin structure, the company has the wherewithal to find alternative solutions for the Chinese market. Overall, the company is going to take a small hit in terms of volumes and ASPs.
ReneSola (NYSE:SOL) (see thesis): ReneSola has outsourced much of its production to multiple locations outside of China. It is conceivable that it can use Korean or other wafer capacity to fulfill the U.S. market needs. In spite of its other shortcomings, ReneSola may be better prepared to survive these tariffs than other Chinese suppliers.
Canadian Solar (NASDAQ:CSIQ) (see thesis): Canadian Solar has indicated that its Canadian plant can supply modules to the U.S. market but currently the cells used in the Canadian factory are from China. Canadian Solar needs to find alternate sources for its cells but otherwise is positioned better than most of its Chinese peers to handle the tariffs.
Yingli (NYSE:YGE) (see thesis): Yingli is one of the companies most impacted by the tariffs and it may not have the wherewithal to find alternate solutions to the U.S. market. This development may very well push Yingli into a bankruptcy.
Hanwha SolarOne (HSOL) (see thesis): Hanwha SolarOne does not have much business in the U.S. and its prognosis is not going to be much different under the new tariff regime.
SolarCity (SCTY) (see thesis): SolarCity's panel suppliers are primarily Chinese and the company may see a significant uptick in panel prices until new supply chain is identified.
RGS Energy (NASDAQ:RGSE) (see thesis): RGS Energy's panel suppliers are primarily Chinese and the company may see a significant uptick in panel prices until new supply chain is identified. Given the company's low margin structure, it is likely to face some negative headwinds.
In addition to the impacts to the individual companies, this tariff has the effect of dramatically reducing the value of Chinese solar cells and modules. Companies need to find homes for these products that were originally intended for the U.S. market. In other words, companies will flood the market with excess solar cell/module capacity.
We expect spot markets to start reflecting this reality immediately. There is likely to be significant compression to Chinese solar Cell and Module prices across the board.
Disclosure: I am long FSLR, JKS. I wrote this article myself, and it expresses my own opinions. I am not receiving compensation for it (other than from Seeking Alpha). I have no business relationship with any company whose stock is mentioned in this article.